As mentioned in yesterday's blog, I've been financially unable to add new things to my collection for almost a year and, as a result, I am very behind on the last few seasons of toys. So I decided to try to catch up on Power Rangers R.P.M Full Throttle figures first as these are selling quite cheap and are in a fairly plentiful supply on eBay at the moment.
With previous Power Rangers seasons, I have left the female figures to the last minute and have noticed that they tend to sell out first as Bandai must manufacture a smaller stock of the female figure as they are less popular with the mostly male demographic. Consequently, I've had to pay some steep prices to add the female rangers to my collection at a later date. So this time, I figured I would buy the female rangers first before they became expensive, difficult to find or both.
Initially I also bought the Red and Blue rangers too but, foolishly, I did not properly read the eBay auction for the Blue Ranger figure and bought the wrong one by mistake. I mistakenly bought the Rapid Pursuit figure when I wanted the Full Throttle. Of course, it didn't help that the seller had the Full Throttle figure pictured in the auction listing but in the small print stated that it was actually the Rapid Pursuit. Hopefully, I can return it.
These figures lack the light up / sound effect features of previous seasons but come with some great accessories, most of which are show accurate. Nice to see a return of weapons that join together like they do in the show too.
The first thing I noticed about them when I added them to my existing display was how much smaller they are than previous seasons. They are at least an inch smaller than the Power rangers Jungle Fury figures I have. I was deliberatly holding off buying the new Power Rangers Samurai figures due to the smaller size but I didn't realise the shrinking of standard Power Rangers figures began with Power Rangers R.P.M. A sign of troubled economic times I guess.
The Red Ranger figure looks great but I wish they would have painted the arms and backs of these figures. Also the angle of this figure's neck / head looks a little strange in my display. It does not look so bad in the odd pose the figure is assuming while still in the packaging but, in my display, he looks like he's staring at the floor instead of facing forward like my other figures.
While I was impressed with the design of the new female figures since Jungle Fury, they are a REAL pain to stand up in my figures display and look too thin in the arms and legs compared to their male counterparts. The legs and joints also feel very flimsy and it is very difficult to stand them without them falling over. I managed to get around this with Jungle Fury Cheetah Ranger by using her staff to assist her in staying upright but these R.P.M figures are not so easy.
I'm thinking of investing in some peg type figure stands anyway as my figures collection sits on a shelf that is connected to the outside wall of my house and, whenever someone slams the front door too hard, my figures fall on the floor.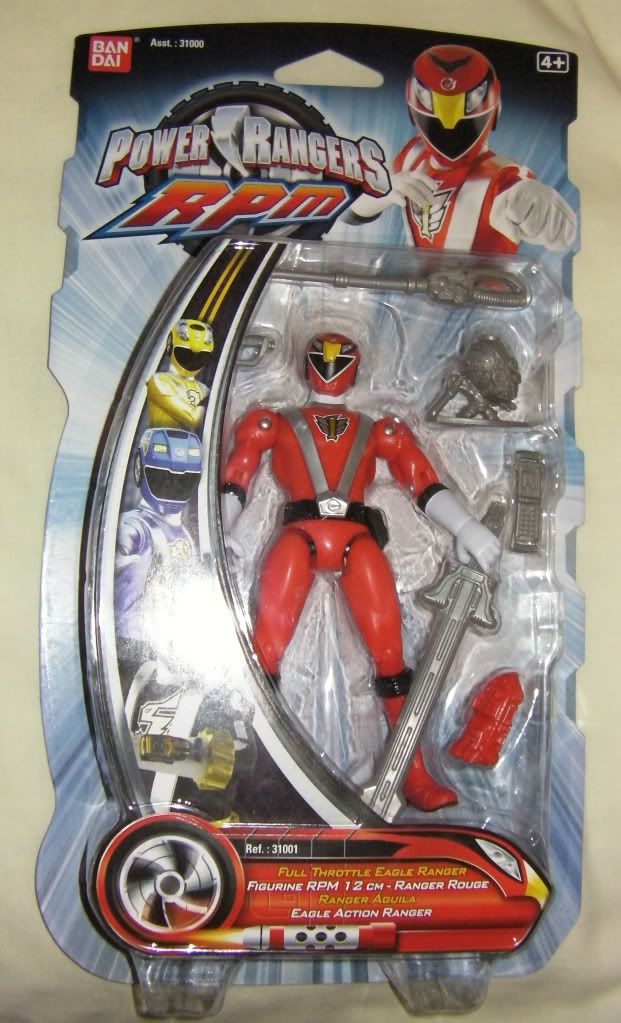 Power Rangers RPM Full Throttle Red Eagle Ranger (boxed)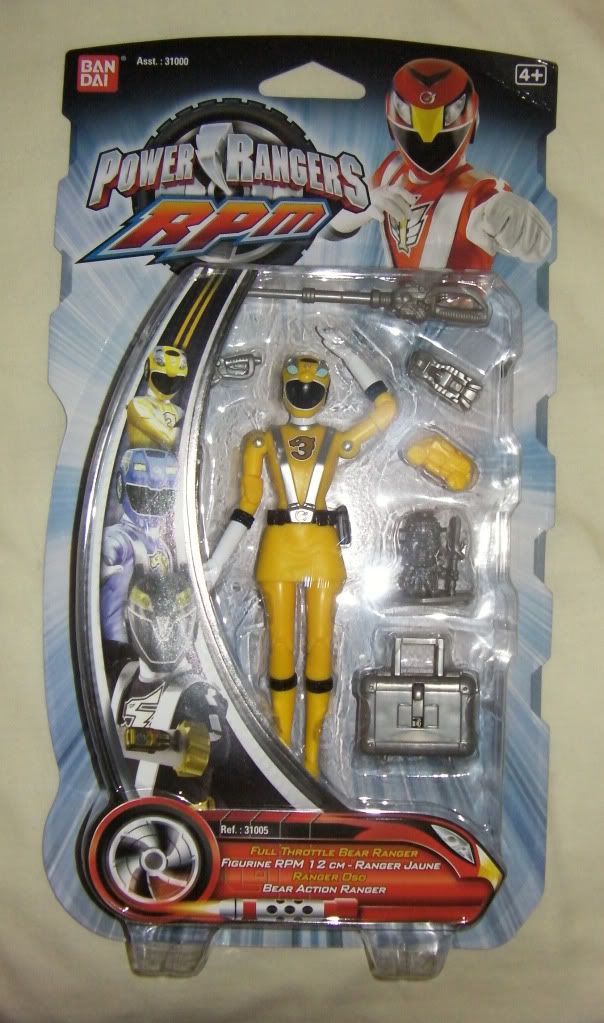 Power Rangers RPM Full Throttle Yellow Bear Ranger (boxed)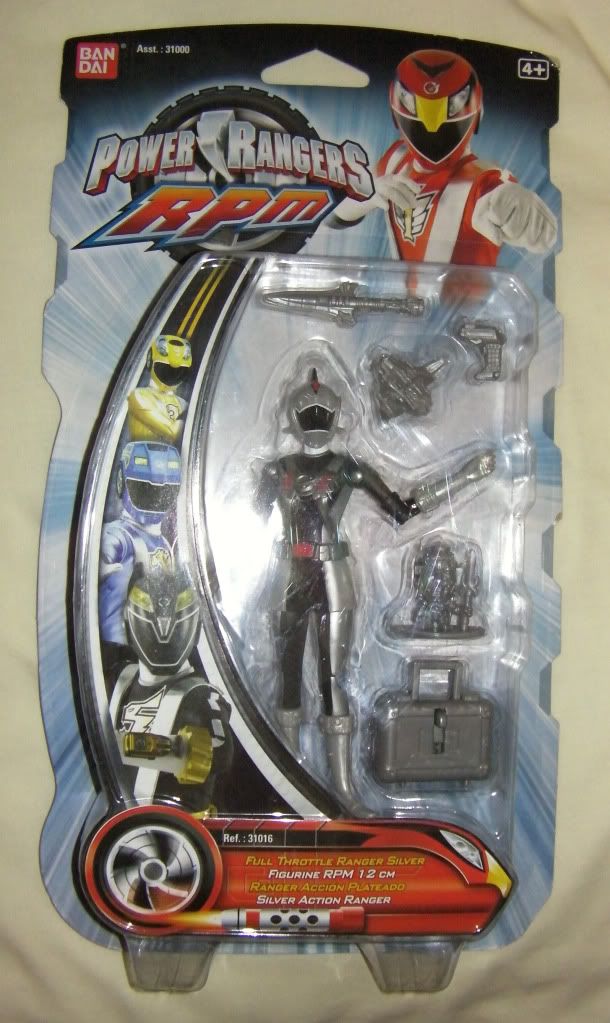 Power Rangers RPM Full Throttle Silver Ranger (boxed)

Power Rangers RPM Full Throttle Red Ranger, Yellow Ranger and Silver Ranger figures