As you may have noticed, I've been on a bit of a figures kick lately and have managed to fill in many blanks in my Power Rangers figures collection. As mentioned before, I stopped collecting during the Power Rangers Turbo era but picked up the habit again during Power Rangers Dino Thunder. Unfortunately, this hiatus means I have some rather expensive gaps in my collection.
This month has been great for finding good deals on ebay on some of the older figures I'm missing as well as some of the newer figures too. I received my Power Rangers Wild Force Red Ranger figure today. I've noticed that Wild Force is the one season that I own the least items from (aside from my Growl Phone) and have also managed to find the Black and Yellow Wild Force Rangers. Sadly the Wild Force figures seem to be quite rare on eBay and are often more expensive than a lot of the Time Force figures, which is strange as Time Force is the older season.
Sadly the packaging was quite damaged for this figure but the seller mentioned this in the auction and, though I insist on only collecting MISB toys, I usually remove them from the packaging for display anyway. The figure itself comes with some great accessories that are painted for a change! But the paint job on the figure itself is not the best. You can see in the last picture (see below) that the his left glove has some paint missing. Also, as this figure line's gimmick is the dual action feature, his legs are not posable which makes standing him up in my display a little difficult. I MUST invest in some figure stands!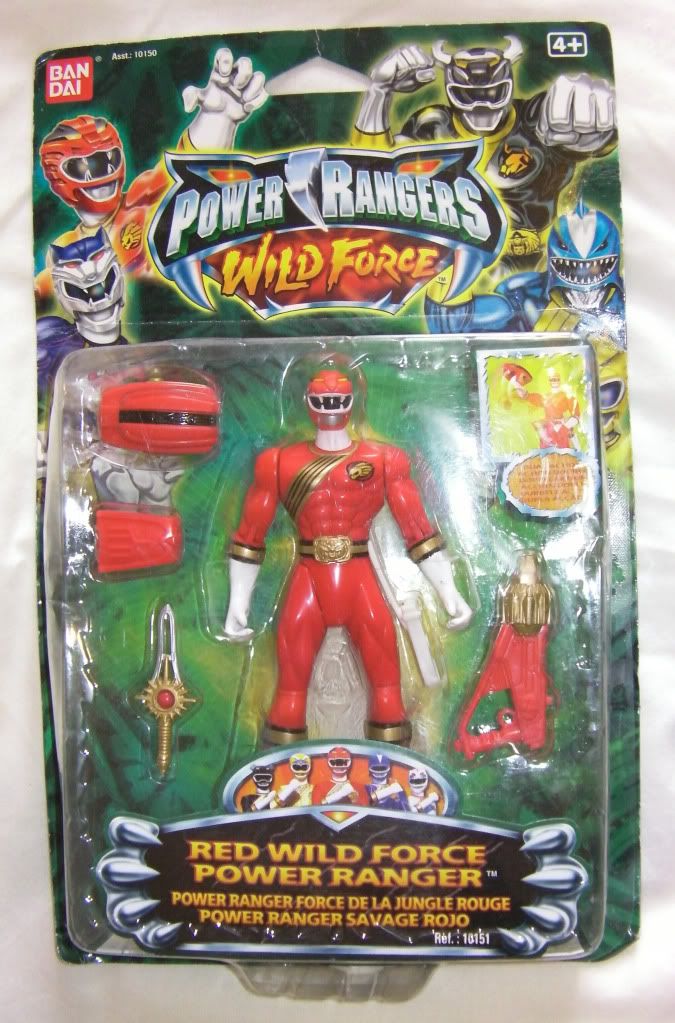 Power Rangers Wild Force Red Ranger (boxed)

Power Rangers Wild Force Red Ranger