Archive for the 'Toy Customs' Category
Wednesday, August 11th, 2010
Here's a quick video tour of my current collection display.
Friday, July 16th, 2010
I started a project in May to customize my MMPR Ultrazord with stickers from Reprolabels.com and I have completed the Tyrannosaurus Zord so far.
Today, it's Dragonzord's turn!
As many Power Rangers fans are aware, Bandai America changed the Dragon Ceaser (Japanese Dragonzord) stickers for the original Mighty Morphin Power Rangers toy line. This was always a disappointment to me and many other fans as the toy I wanted the most did not look as it did on the TV show (thought future western releases would see even more drastic changes from their Japanese counterparts). Many of the symbols on the Japanese sticker sheet were replaced with lightning bolts and the letter "M" including the Dragonzord coin emblems.
I really felt this ruined the toy when I discovered that my Dragonzord had lightning bolts on his feet instead of the letter "Z" I had seen on the show (though this was obviously an attempt to remove Zyuranger references for the western audience). I'll never understand why Bandai go to the trouble of changing the superior Japanese toys. Surely its easier and cheaper to use the same mold / sticker sheet?
As for my own Dragonzord, it is now 16 years old, the stickers are damaged in places and have really started to peel over the years. Also, I didn't do the neatest job of applying the stickers in the first place when I was 10 as I couldn't wait to play with Dragonzord!
Here is the finished, cleaned Dragonzord with new show accurate stickers:
Before

Dragonzord before new stickers (front)
After

Dragonzord after a good clean with new stickers from reprolabels.com (front)
Before

Dragonzord before new stickers (side)
After
Before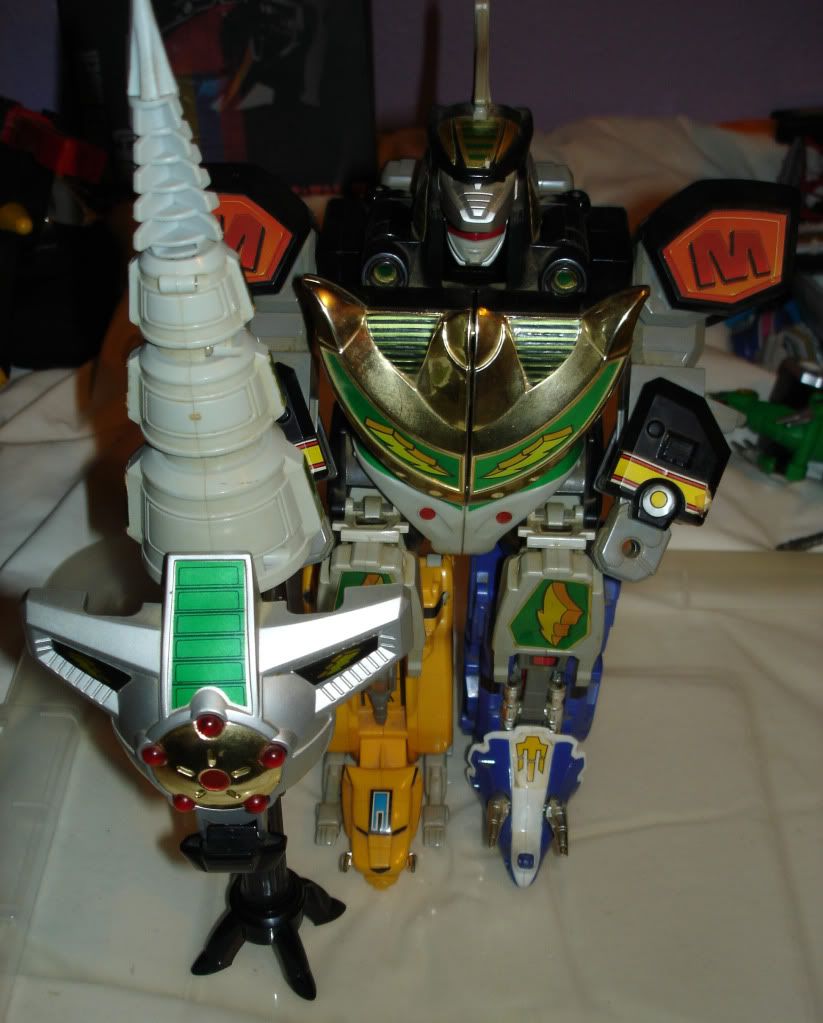 Mega Dragonzord Fighting Mode before new stickers
After

Mega Dragonzord Fighting Mode new Dragonzord stickers from reprolabels.com
An finally, here's a picture of the Ultrazord.

Ultrazord new Dragonzord stickers from reprolabels.com
This is how the US / UK release of Dragonzord should have looked! They have even made extra stickers that were not included with the original toy for extra show accuracy! For example, my original never had bands around it's tail or stickers for the horn on top of his head.
The stickers for this zord are mostly metallic and the photos do not do the shiny finish justice, they look fantastic!
Sadly, I'm told that the remaining sticker sets (Triceratops, Pterodactyl, Mastodon, Saber Tooth Tiger and Titanus) are missing some stickers. Reprolabels.com have assured us that they will release the missing stickers soon. I'm debating whether to wait till the missing stickers are released or do without them for the time being.
Wednesday, July 7th, 2010
I received my custom Morpher Display Case today from www.acrylicdisplaycases.co.uk.
I am very impressed with their service and quality as it only took 12 days for them to make and ship me this perfect display case. The base is felt lined top and bottom, the clear parts are made from perspex that protects from dust, smoke and UV light!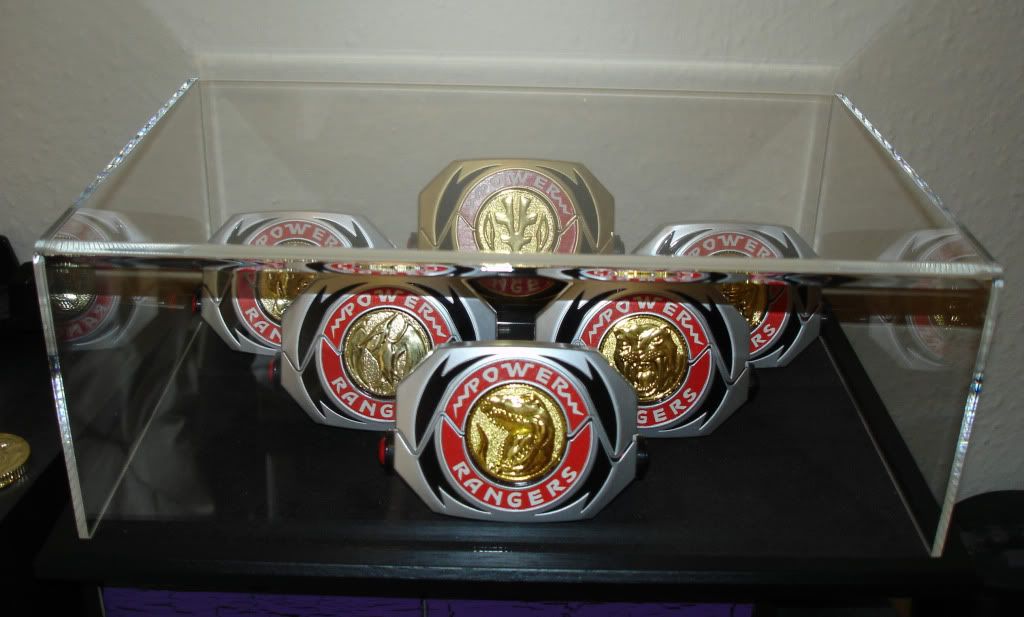 New Custom Display Case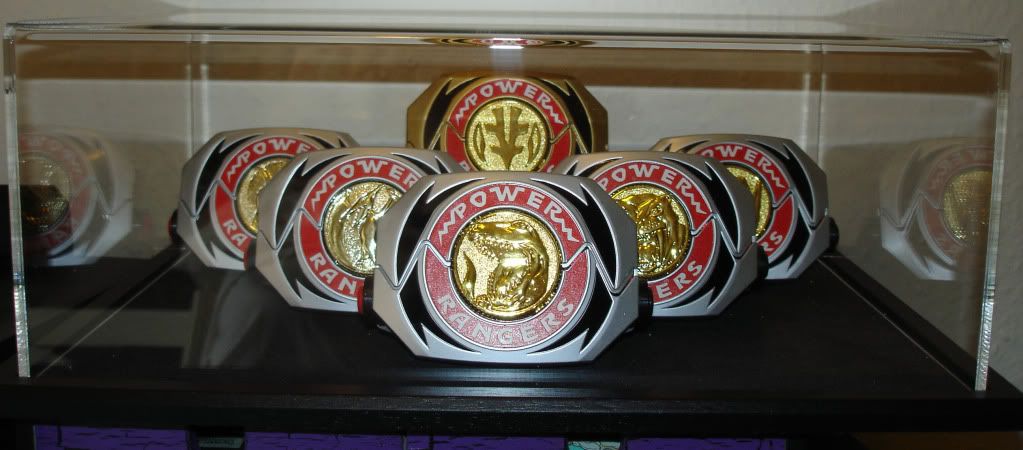 New Custom Display Case (front)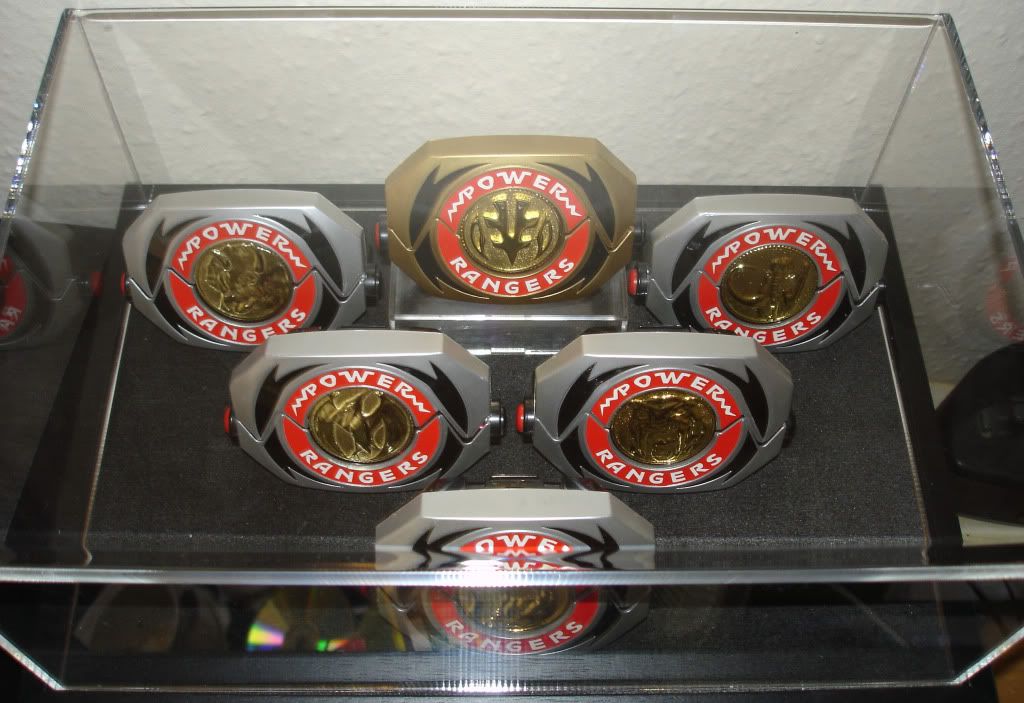 New Custom Display Case (top)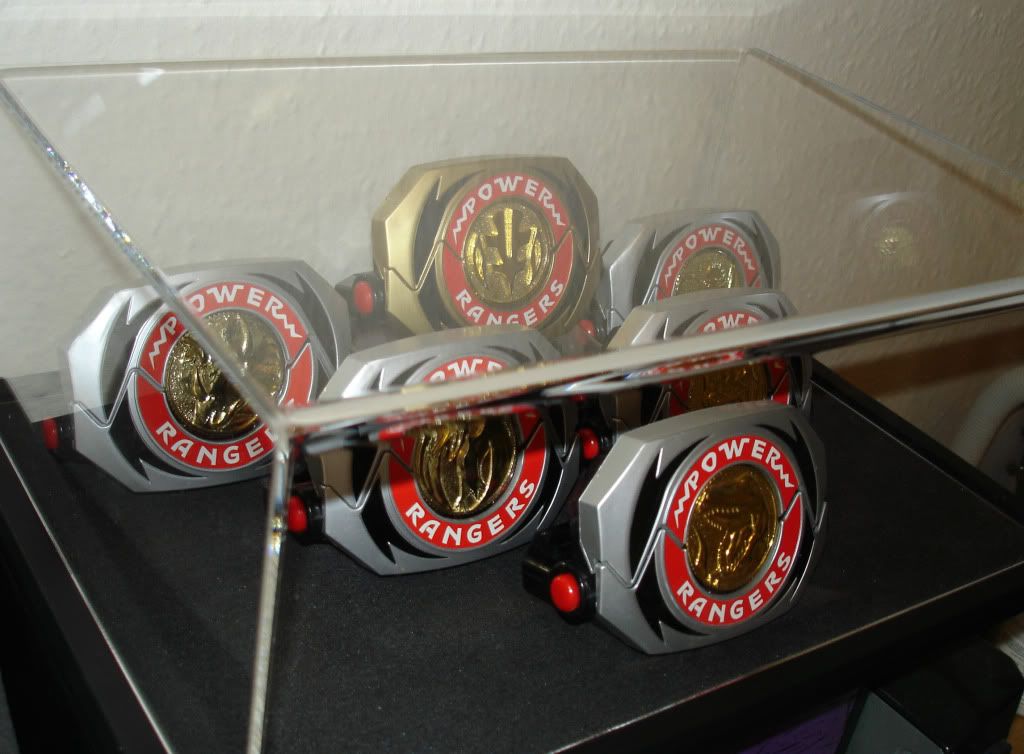 New Custom Display Case (side)
Tuesday, June 8th, 2010
Those of you that have been following my blog will know that I've had to keep most of my beloved collection in plastic storage boxes since I returned to collecting in 2004. Since I've been redecorating my room, I decided it was time to display (and enjoy) as much of my collection as my small room will allow. I'm also worried about things getting damaged in the storage boxes and also I'm not really appreciating each piece properly (and I should as it's cost me thousands. I still don't think I'll be able to have the lot on constant display but I'm slowly adding new shelves and breaking stuff out of their storage boxes.
Here's my new figure shelves for my Toku Figures: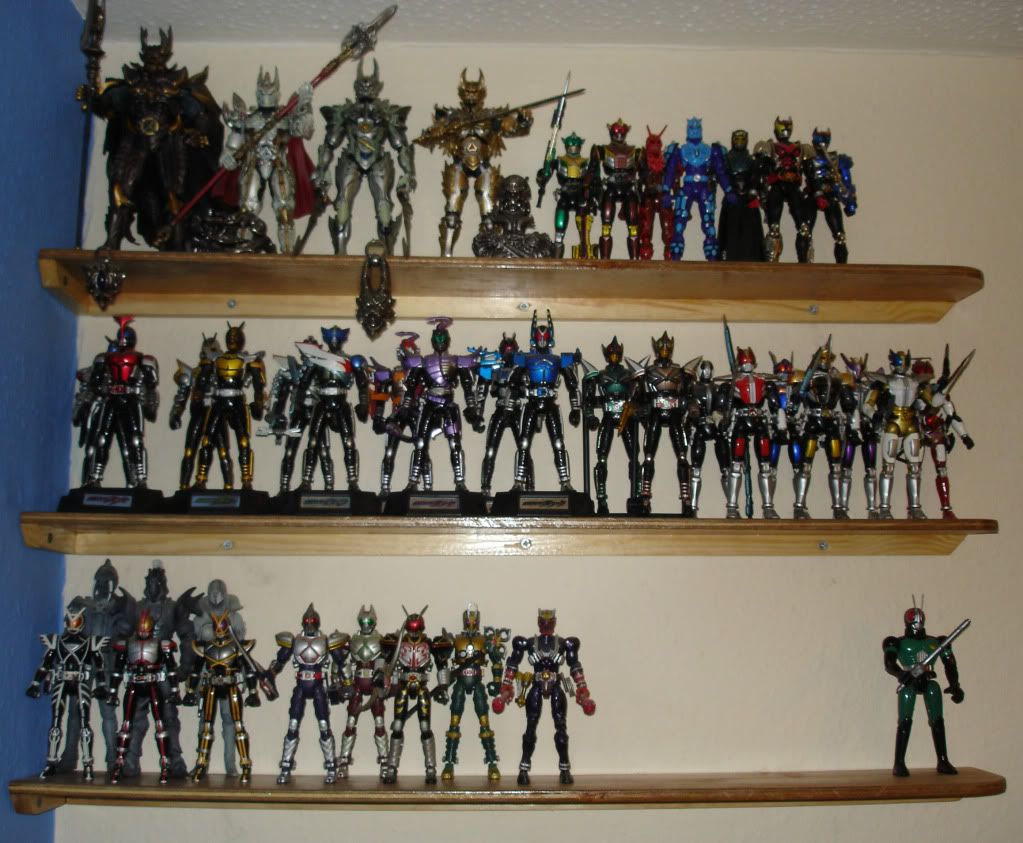 (Top Shelf) Garo Equip and Prop Collection, Miscellaneous Kamen Rider Den-O and Kiva SH Figures and Figuarts. (Middle Shelf) Kabuto SH Figures and Den-O SH Figures. (Bottom Shelf) Faiz SH Figures with RH Orphenocs, Blade SH Figures, Hibiki SH Figure and Saban's Masked Rider Figure.
I've also displayed my Power Rangers Figures on my pelmet above my window.

Power Rangers Auto Morphin Figures (I have Green too) with Ninja Ranger Figures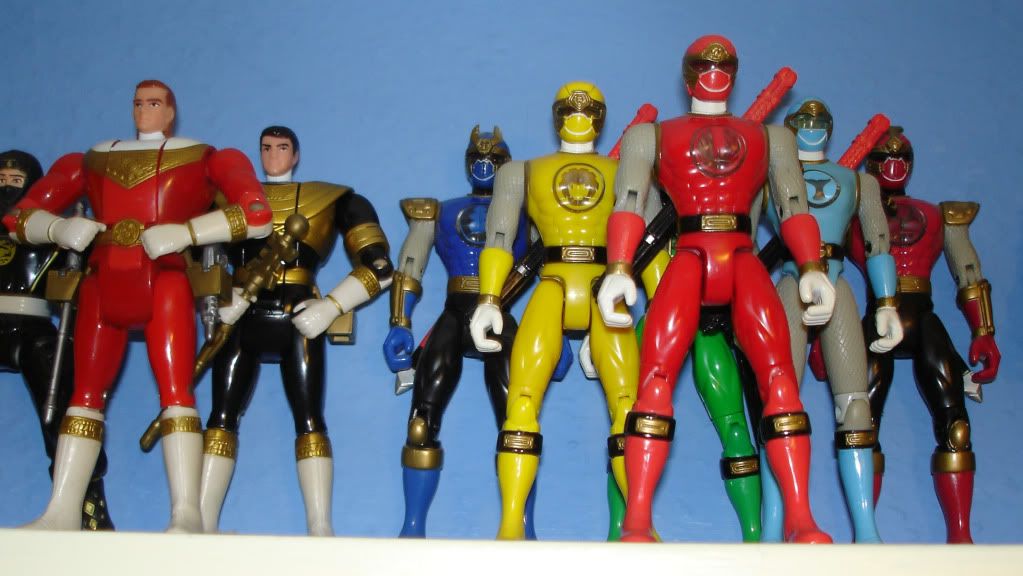 Tommy and Jason Power Rangers Zeo Auto Morhpin Figures and Power Rangers Ninja Storm Team.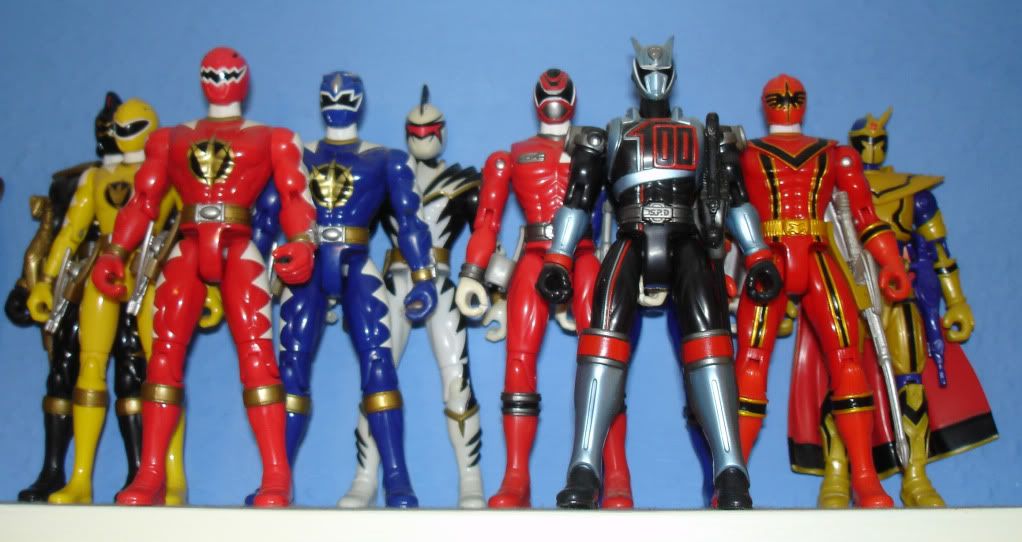 Power Rangers Dino Thunder Team and miscellaneous Power Rangers SPD and Power Rangers Mystic Force Figures.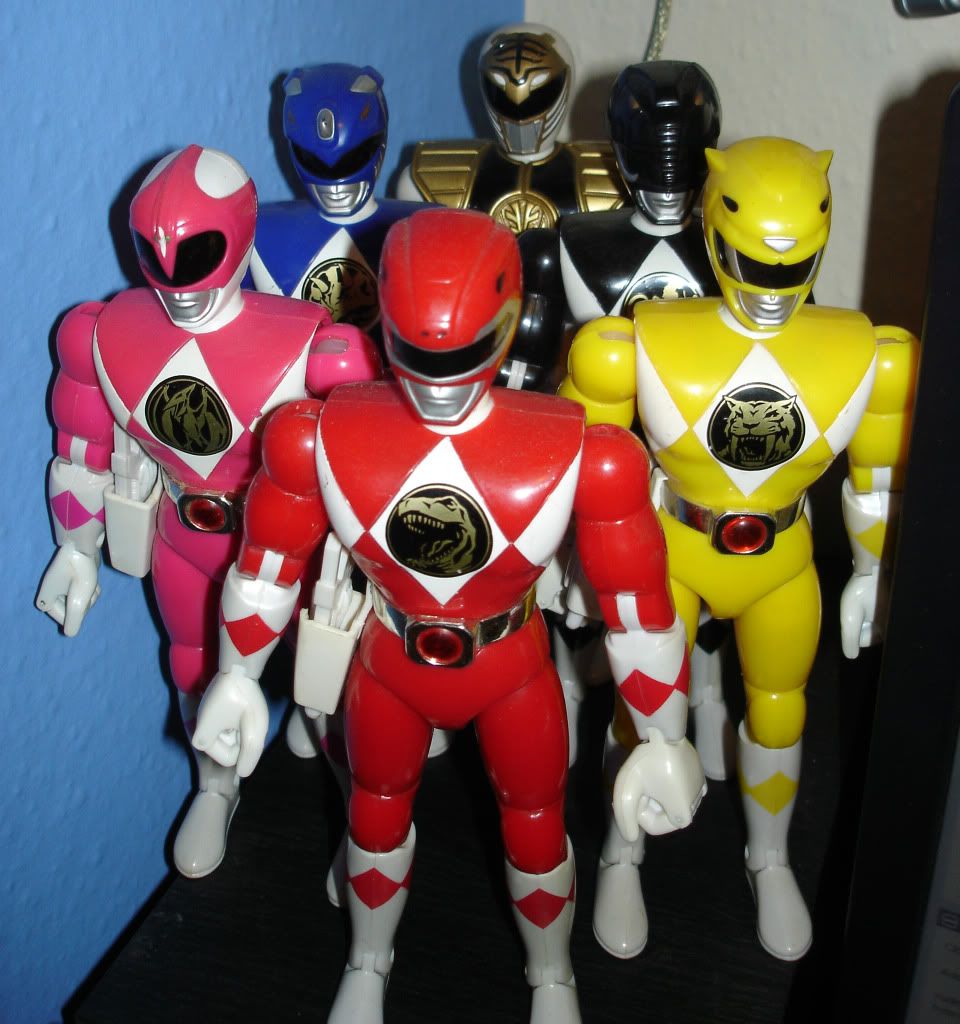 8″ Power Rangers Figures (I have Green too).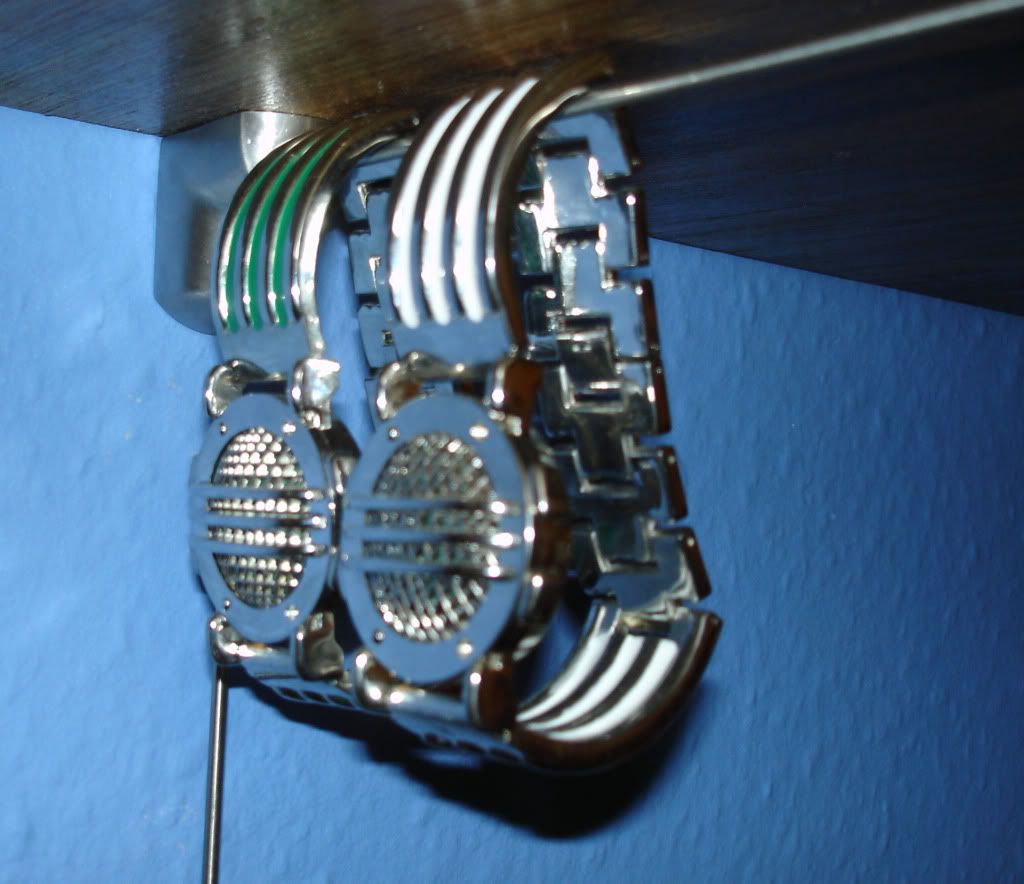 My starlight.studio communicator collection so far.
I just need to make one more shelf for the rest of my ranger figures and to allow room for my collection to grow. I still have some of my collection in storage boxes as I do not have room to display them (morphers, weapons etc).
Tuesday, May 11th, 2010
Due to the eye pleasing success of my first toy custom, I decided to give my old zords the same tender loving care. Reprolabels.com is an excellent website, I used them many times when acquiring the necessary stickers for my last project and their stickers are show accurate, good quality and their service is excellent!
I'm starting with my Mighty Morphin Power Rangers Ultrazord and will be gradually cleaning each individual piece and will purchase the necessary replacement stickers as I can afford them (as with my morpher project).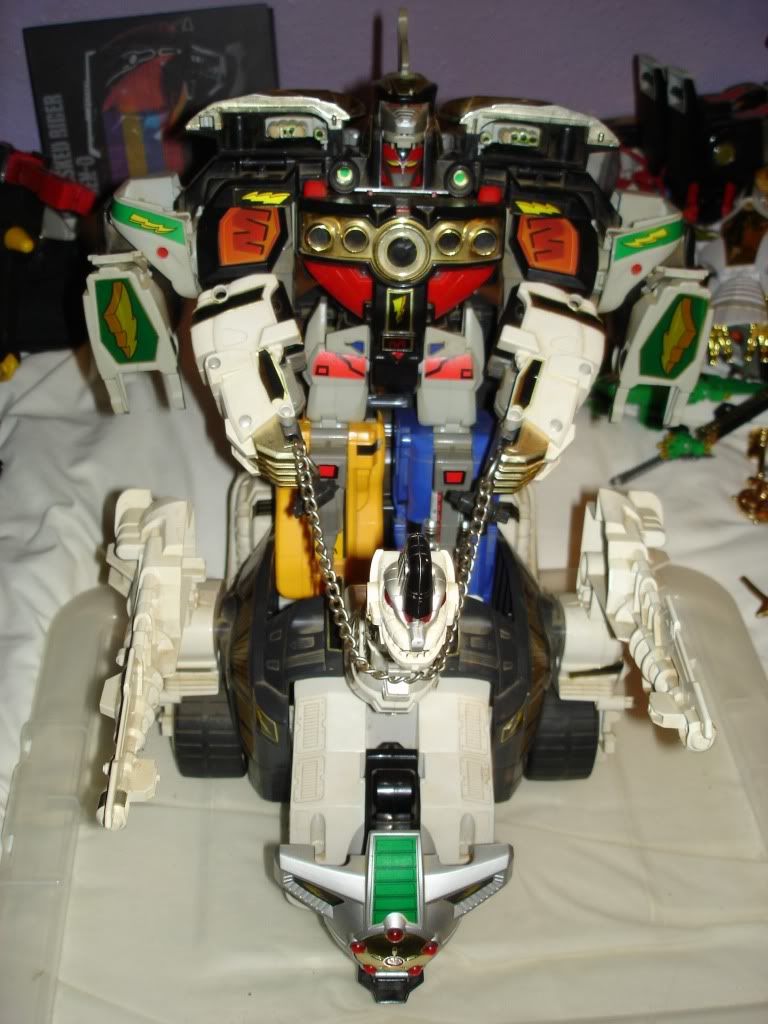 DX Ultrazord
First here some history on my Ultrazord for those who don't already know. I got all my MMPR Zords when I was a kid during the original run of the toys and show. In the UK, Toys R Us were the only shop that had any Power Rangers toys left in stock during the lead up to Christmas! Queuing started at 7:30am and, in an attempt to prevent crazy and unfair buying from desperate parents, each customer was allowed only one item! I queued with my Mum the first day and we got the Megazord that was intended for my birthday (day before Christmas). My Mum has always been good with Christmas presents but she must have queued up another 10 days in order to get the complete set that I ended up getting for Christmas. I was touched by this gesture even as a wild eyed kid desperate to open my presents and was a bit overwhelmed at how she had got all the toys I asked for given the magnitude of the show at the time and difficulty in finding the toys. Thanks Mum!
I left the fandom for a while shortly after the the first few episodes of Power Rangers Turbo. I wrapped all of my old toys up very carefully and stored them in the attic. Imagine my delight when my passion for the show and collecting started up again 10 years later and I remembered the Power Rangers treasure trove in my attic.
Sadly the attic had not been ever so kind to my toys and many of the stickers were peeling and they were in dire need of a good clean. Titanos is particularly in need of cleaning as he is mostly white plastic. So it's time to restore them to their former glory.
Reprolabels have release three sets of replacement stickers for the original Megazord. Tyrannosaurus, Mastpterzord (Mastodon and Pterodactyl) and Trisaberzord (Triceratops and Saber Tooth Tiger).
First up is my Tyrannosaurus Zord!
Before

Tyrannosaurus Zord before new stickers (front).
After

Tyrannosaurus Zord after a good clean with new stickers from reprolabels.com (front)
Before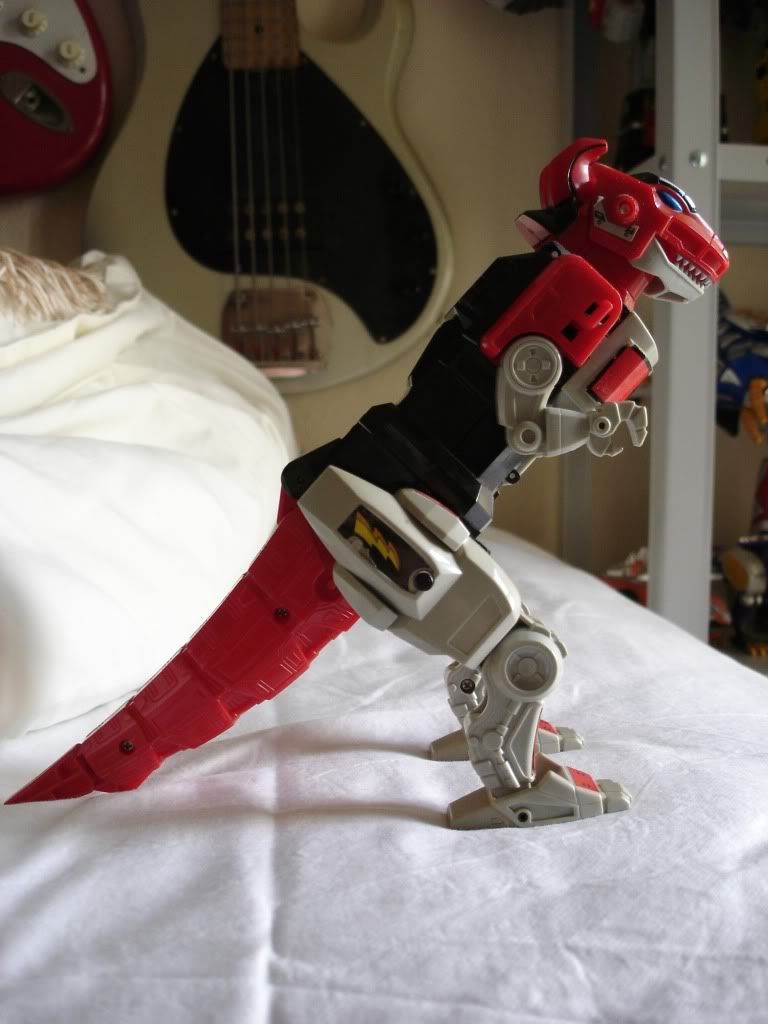 Tyrannosaurus Zord before new stickers (side)
After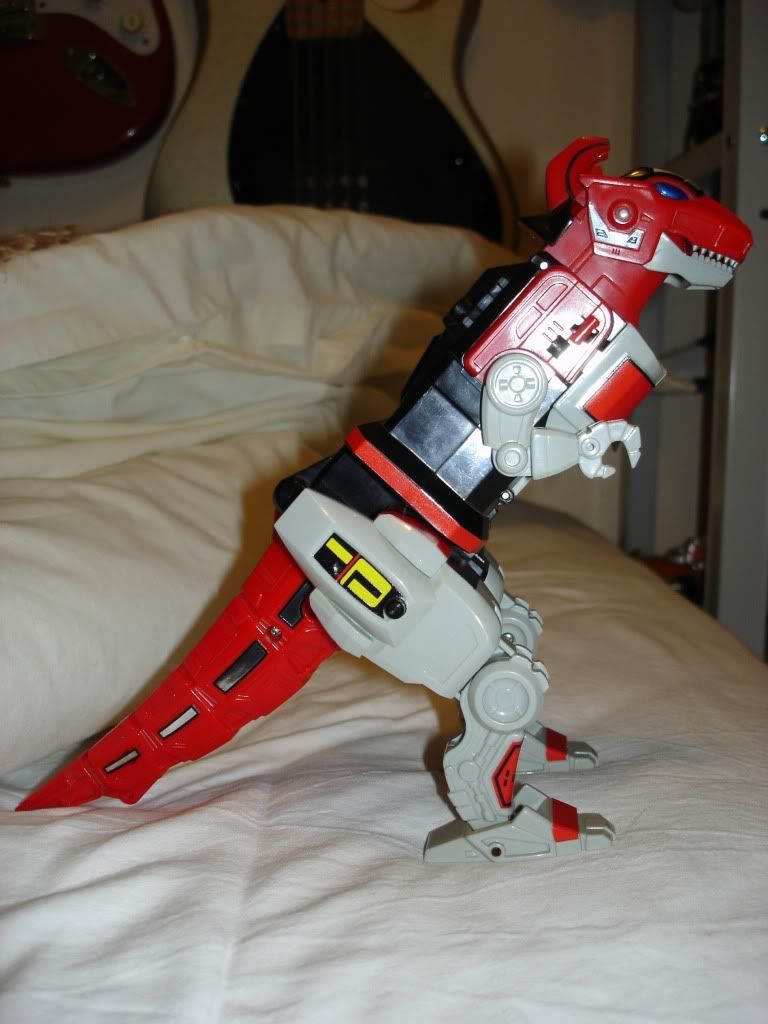 Tyrannosaurus Zord after a good clean with new stickers from reprolabels.com (side)
I'm really pleased with the overall look of the stickers for this zord. They have even made extra stickers that were not included with the original toy for extra show accuracy! For example, I'm fairly sure my original never had tail stickers or stickers on his waist or backs of the legs. I would post another pic of the Ultrazord but, aside from his legs, the overall look has not changed that much. Now I'm debating whether to finish the Megazord (sadly there are stickers missing from the other Megazord sets) or move onto Dragonzord (as his sticker set is complete).
As before, I'll be sure to post pics of the finished product as and when :).
Monday, April 19th, 2010
I thought I would create a tutorial on this in case anyone else has a similar problem and is not aware of such an easy fix 😀
Please note: This is not a fix for a morpher with unwanted gaps between the plates when closed. King Ranger's thread shows a very helpful fix for that problem.
This thread will deal with fixing a morpher where the X Lock is broken beyond repair and needs to be replaced.
A few years ago, I found a seller on ebay with a box of 10 MISB Power Morpher / Gunswords. I ended up buying 5 from him so I would have all 6 plus my original morpher from 1993. It was too good an offer to pass up, though it cost me over $400 in total.
Imagine my horror when I received the last one, only for the morpher to snap inside the first time I pushed the button! :(. I decided to use this one as the Pterodactyl Morpher in my display, as I figured this was the one I was least likely to play with lol (apologies to any pink ranger fans).
I could hardly blame the seller as he had found them sitting in a Japanese warehouse for 17 years. The 4 others I bought were as perfect as the day they were made and so I decided to chalk it up to bad luck. I thought about replacing it by buying another one but he had sold out by then.
I've been putting off fixing this for a while now, partly because I intended to customize them with accurate stickers eventually etc and also because I was petrified of damaging the morpher further by opening it up and tampering with the insides.
I'd seen many threads on here in my searches for a solution that made it sound like a pretty daunting task to even open up the back of a morpher, let alone fix the spring mechanism. But I have to say, once I'd found the parts I needed, I found it really easy to replace the parts and put it back together.
So here's the problem:
The first time I pressed the button, the morpher made an awful snapping sound inside and will no longer open on its own accord. To open the morpher, I have to press the button and open the plates manually. There was also a small piece of plastic now rattling around inside the morpher. Thankfully the electronics and everything else was intact.
So I decided it was high time I tried to fix this and here's how I did it:
How to fix a Power Morpher X Lock the easy way
First, remove the batteries. The are sitting on a spring which may cause them to fly out (taking other small parts with them) when you open the back of the morpher.
Locate the screws that will allow you to remove the back of the morpher. Bad news for those with BoJ Bucklers or Zyuranger reprolabels, you will have to remove or damage the stickers to get at these screws. There is a spring located near the button that often flies out when you open the back so be careful not to lose it. There is also a wire that connects the back piece to the rest of the morpher. Be careful not to pull on this wire or you may have some soldering to do.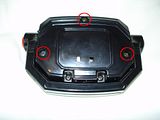 Keep any small pieces in a container to avoid losing them while you work.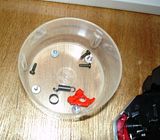 Here, you can see the X Lock and the particular piece that has broken on mine. The lower part of the X shape has a piece that attaches to the other side of the spring. This piece has snapped off on mine and so the spring can no longer power the mechanism to open the plates.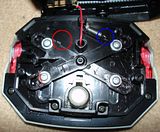 However, it does not really matter which piece of your X Lock snaps off. If your X Lock is broken in any way, you can buy replacement metal parts on ebay from http://myworld.ebay.com/cowbenzer/.
First, remove the handle (this just slides out) and remove the small red piece of plastic next to the button side. Undo the silver screws to remove the old X Lock. It will then look like this.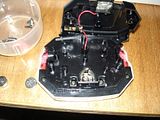 Here are my new Aluminum X Lock pieces with their plastic counterparts.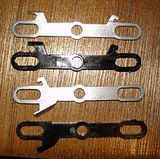 Here you can clearly see the piece that broke off on mine.

At first I tried replacing both parts but it seems, while the bottom piece is identical to the plastic original, the top piece is not and my morpher kept getting stuck when opening. I could easily file off the button end of the top piece to make it identical though, it is very close.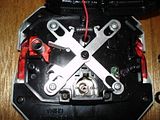 In the end, I decided to just replace the piece that was broken and keep the other plastic piece. As you can see, the spring should fit over the two hooks on the X Lock pieces as shown.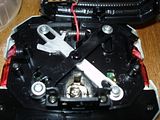 When fixing the silver screws back in, you may have to experiment with how tight you have them to achieve the desired smooth opening effect from the mechanism. Also, the original pieces seem to be covered in some sort of grease at the ends to allow the morpher to open smoothly. You may need to grease the area where the silver screws make contact with your new X Lock pieces to make the opening mechanism function smoothly.
I was very pleased with the results of this fix as my morpher now functions just as well as my others and I am now able to add the back stickers I have to complete my display. The new metal part is not likely to break like the original did. Cowbenzer did an excellent job of recreating these parts in metal (though the top piece needs a little filing on one end to make it match the plastic original) and they fix this problem perfectly. Also, my morpher does not have quite such a large gap between the plates when closed anymore but I think I'll have to employ King Ranger's method to eliminate the gaps entirely.
So there you have it, as easy as buying some new replacement parts and fitting them. 😀
On another note, I received my Starlight.Studio power coins today but there was a problem. Starlight.Studio have been awesome (as always) and are going to send me another set. I will take some photos when they arrive!
Sunday, April 11th, 2010
I finally finished my first customization project today! 🙂
I hope to give as much detail as possible about how I acquired the necessary parts, stickers and morphers etc in case anyone wants to try this themselves.
Here's my finished morpher customs:
Here's how they looked before:
So I've had my 6 Power Morphers for a few years now. The one at the back is my original from back in the day. Its been well played with and the plates were particularly worn.
The other 5 I got from a seller on ebay who had a box full of MISB Power Morpher / Gun Swords he found in an old Japanese warehouse! I originally intended to buy one to replace my well worn original but when he said he had 6 left I had to buy 4 more. They cost me about $80 each plus shipping to the UK. It wasn't cheap.
I was tempted to buy another so I had 6 brand new ones but the seller sold out before I had the chance. Then I figured that I could customize my original morpher gold to achieve the 6th gold morpher look.
Here's some more pics of the finished customs:

Season 1 style finished morphers (Dragonzord Coin by Buzzs_room)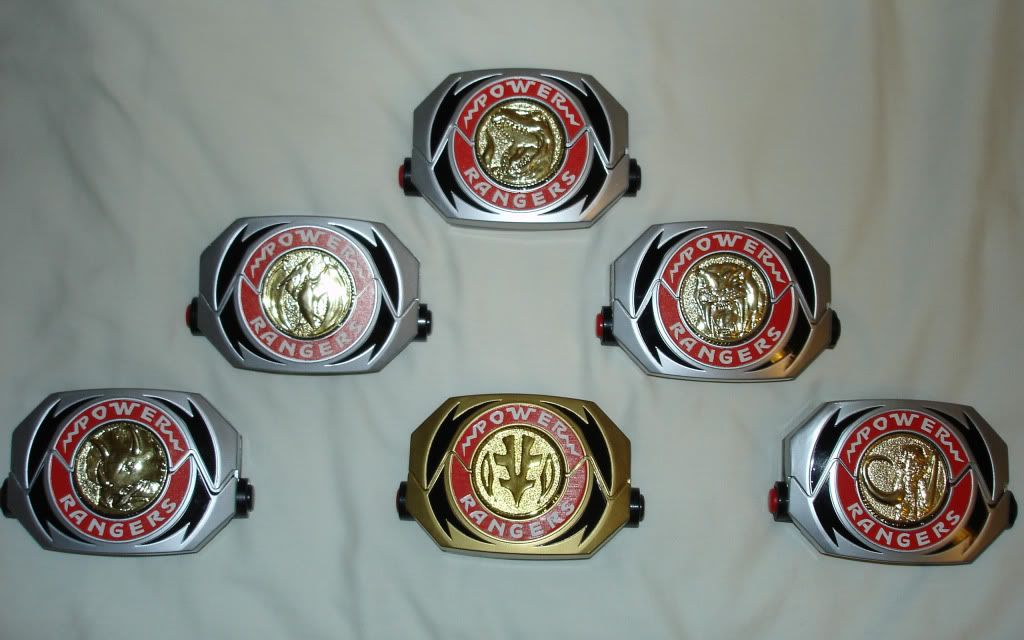 Season 2 style finished morphers (Tigerzord Coin by PowerProps)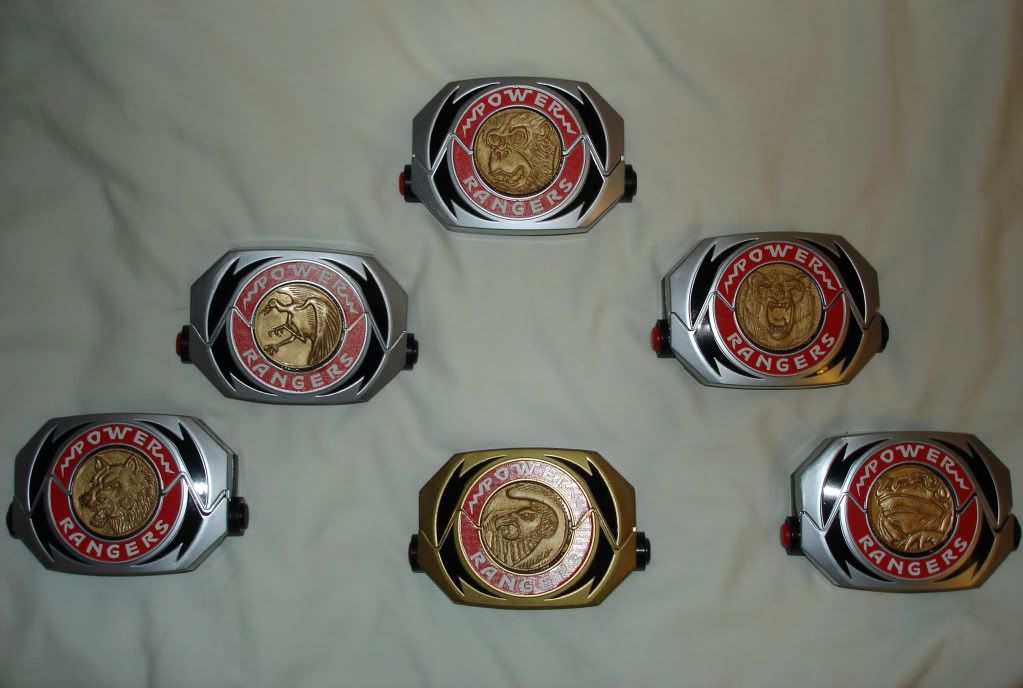 Season 3 style finished morphers (coins by Argus)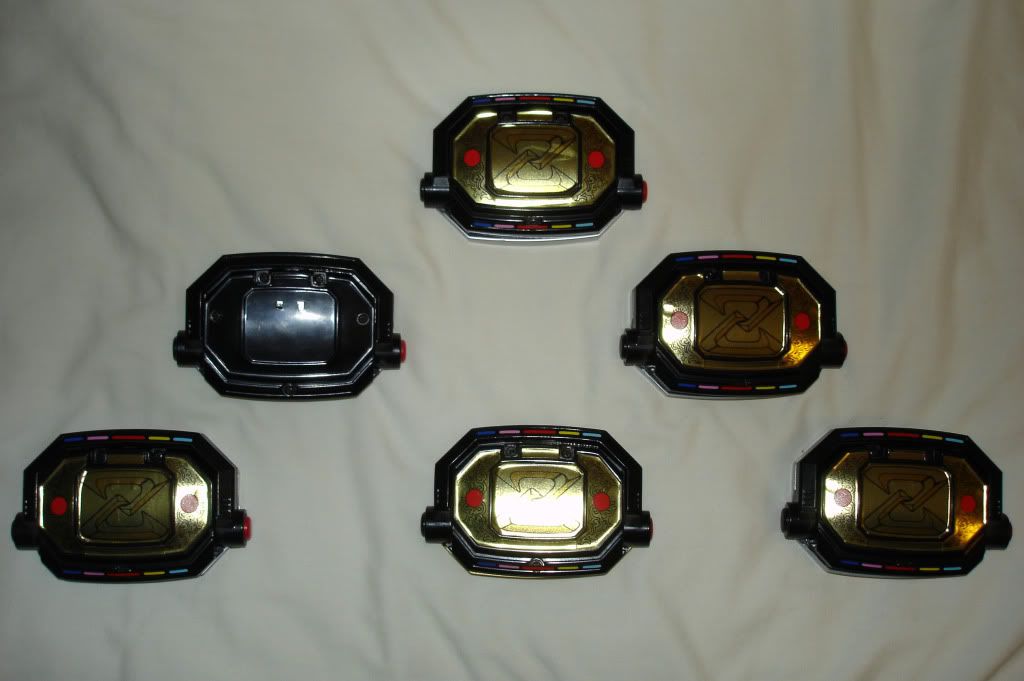 Finished Morphers (back) (The Pterodactyl morpher needs fixing inside so I have left off the back stickers for now)

Here is all the coins I own. Ninja Coins are by Argus and dragon / tigerzord coins are by Buzzs_Room. I also have 6 sets of the original 5 morpher coins and Jess's metal tigerzord coin. I have sets of starlight.studio's metal coins on their way too!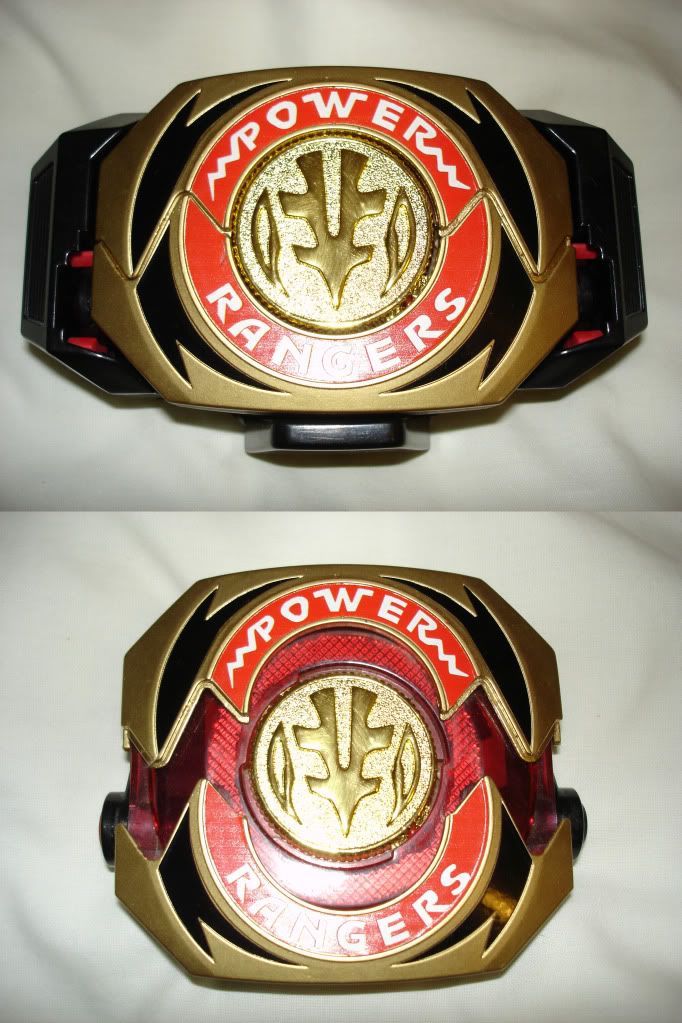 Finished Tigerzord / Dragonzord Morpher (Tigerzord Coin by PowerProps)

Finished Mastodon Morpher

Finished Pterodactyl Morpher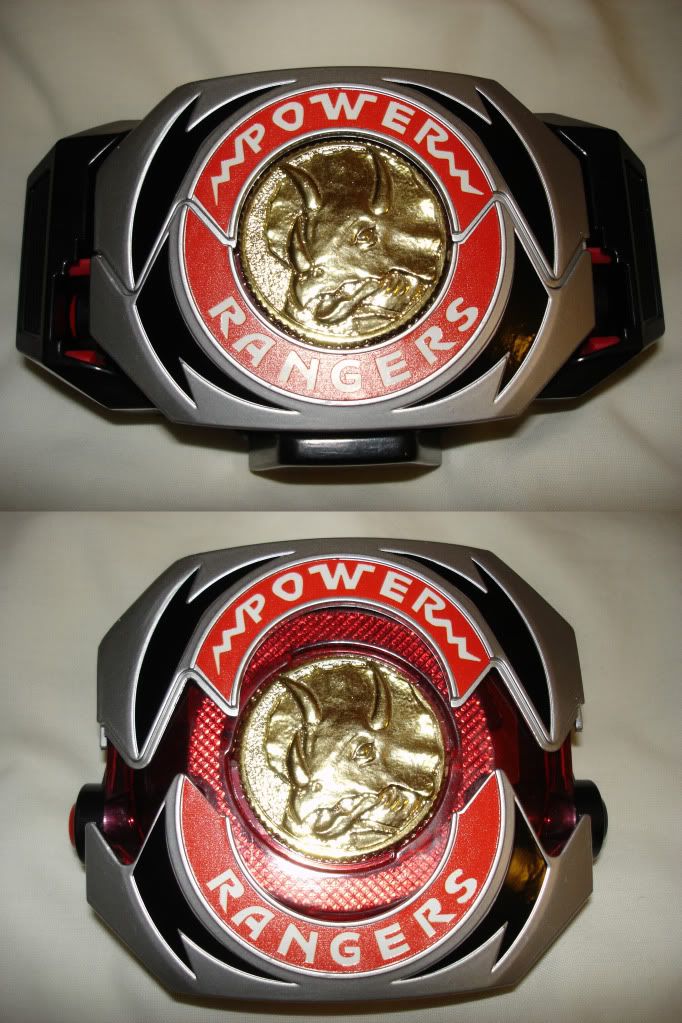 Finished Triceratops Morpher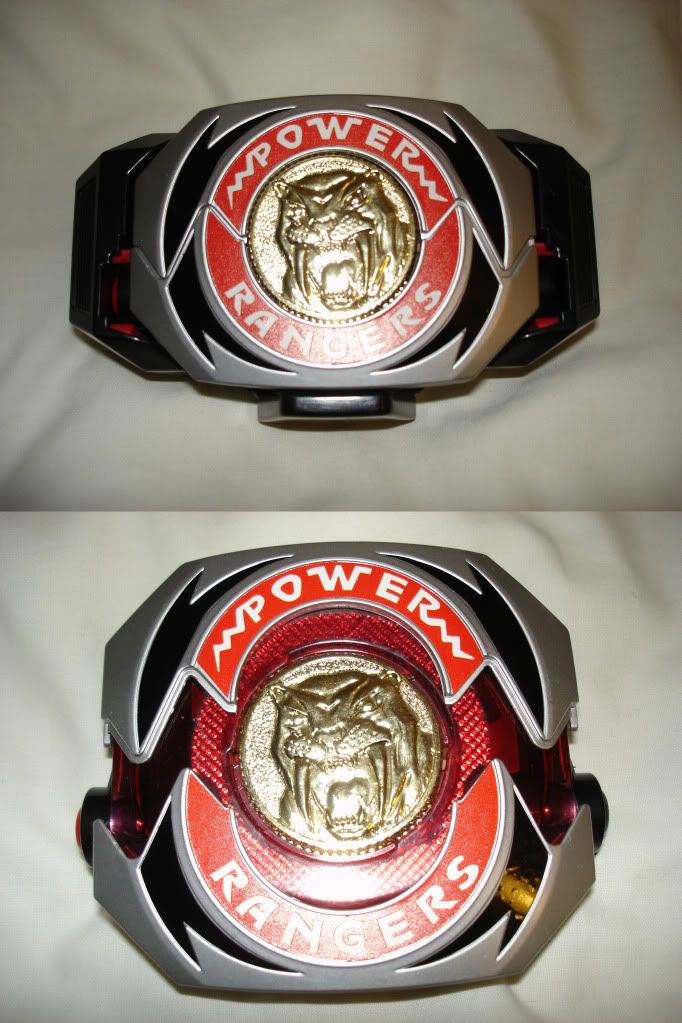 Finished Saber Tooth Tiger Morpher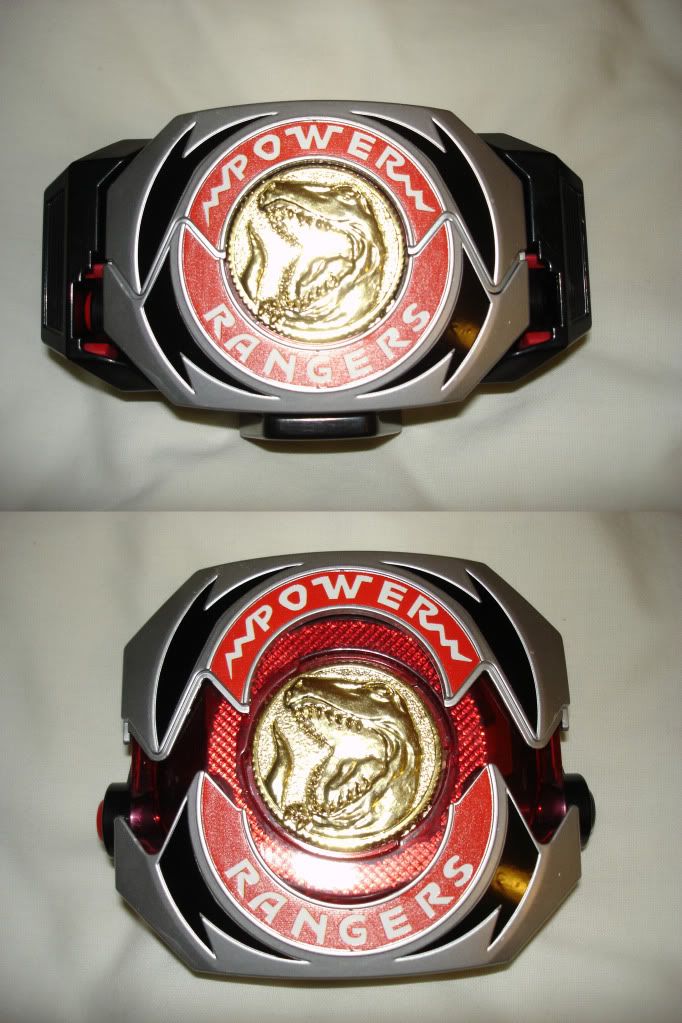 Finished Tyrannosaurus Morpher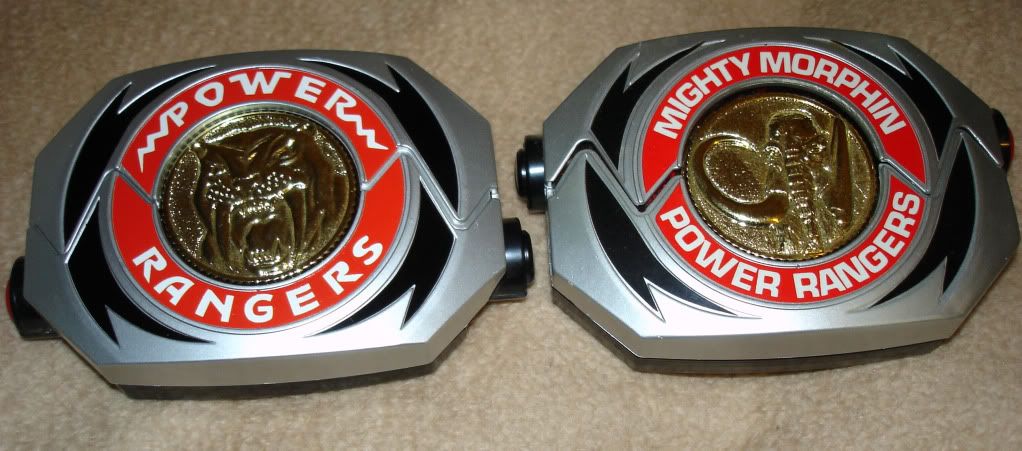 Comparison with an unfinished morpher. Reprolabel's stickers are much better quality than the originals. Bandai also did a pretty bad job of applying the stickers on some of my morphers.

Arrghhh the destruction! It's so scary removing the stickers from MISB Power Morphers!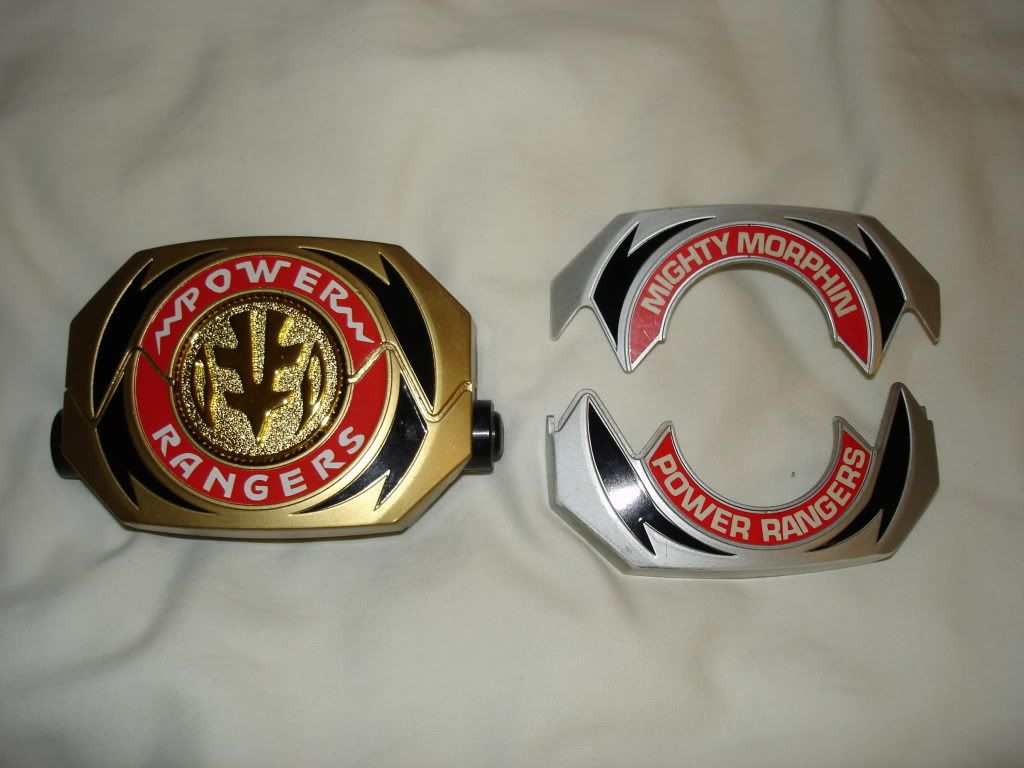 Finished Gold Morpher with my old plates still intact. The best thing about this project was that I did not have to damage my original childhood morpher at all.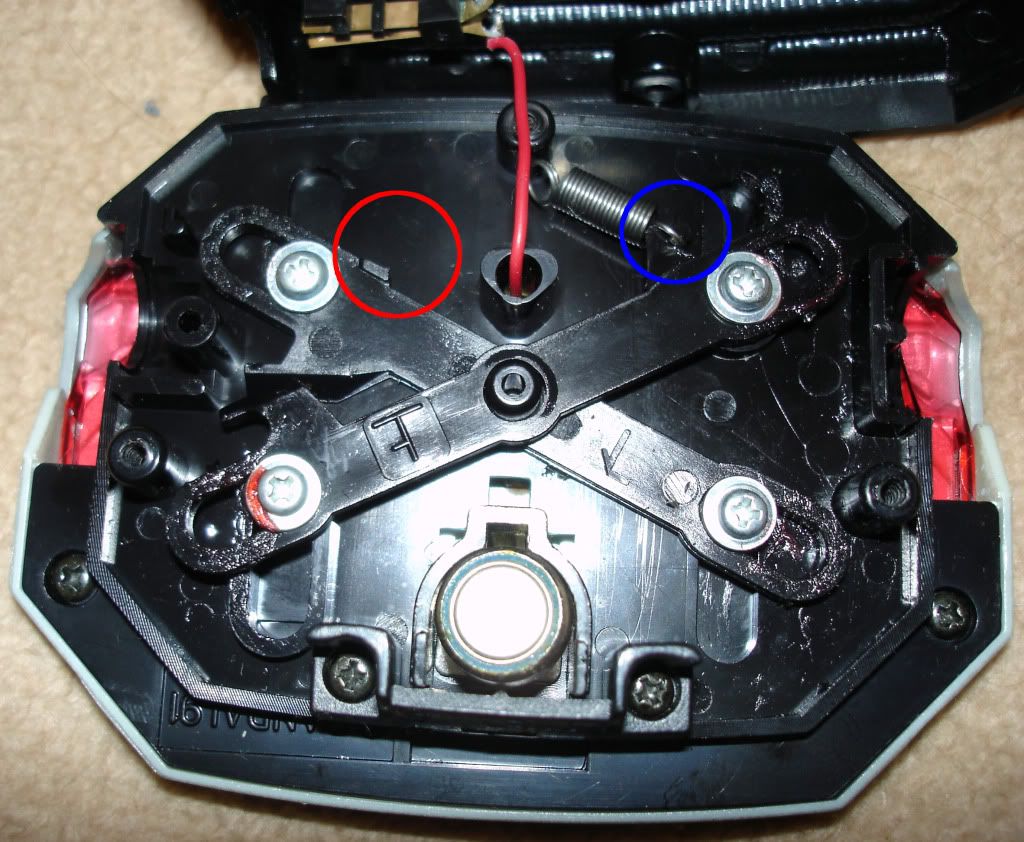 My Pterodactyl Morpher is broken inside and will need a replacement part before I add the back stickers. I've already ordered the part I need.
Hope you like them.
Also, check out my tutorial on customizing morphers.
UPDATE: 11/04/10
Someone on RangerBoard.com just asked me how much this project has cost in total:
My original Power Morpher: $25ish (way back in 1993)
5 MISB Power Morphers: $80 each
Replacement gold morpher plates: $14
6 Sets of TV Show Style Stickers and 6 Sets of Zyuranger Style Stickers: $122
Metal Coins: $85
Replacement X Lock for Pterodactyl Morpher: $19.99
Total: (roughly) $665 🙁
Damn wish I hadn't worked that out now lol. I had not really thought about how much it had cost so far. Damn you Bandai, why couldn't you have just got the morpher right in the first place lol! Well worth it though. It has taken me a while to gather the necessary parts and stickers but they look beautiful on display. I'm very pleased with my first toy custom project :).
Sunday, April 11th, 2010
I've received a lot of questions asking how I achieved the show accurate look on my recent morpher customizations so I thought I would create a "how to" style thread as I took lots of pictures at various stages in the customization process.
I'm certainly no artist so I've always shied away from customizing any of my beloved collection but the various prop / sticker makers in our fandom have made customizing a Power Morpher a really easy job.
So for those who don't know, here's how I did it.
How to make a show accurate Gold Dragon Buckler style morpher.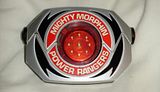 Here is my original childhood morpher before customization. As I've had it so long and it has some serious sentimental value, I really did not want to have to paint this morpher in order to achieve the gold morpher look.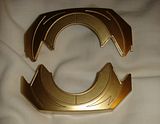 Thank goodness for prop makers! There's no need to paint and possibly ruin my beloved childhood toy as you can buy replacement front plates (already painted gold) from PowerProps on Ebay.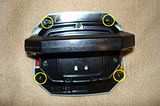 Locate the screws (pictured above) that will allow you to remove the original plates.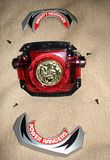 Carefully remove the original plates.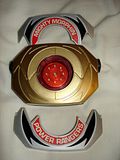 Et voila! One Gold Morpher without damaging my original plates. (Avoid over tightening screws)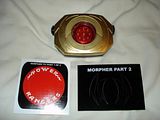 Next, purchase some replacement stickers from www.reprolabels.com. There is a choice of either TV Accurate Style, Movie Style, Zyuranger Style or Bandai Original Style front stickers. I have chosen to use the TV Accurate versions.

Carefully apply the stickers (you can use tweezers to help apply them accurately) and we have a finished Gold Morpher!
You can view more pics of my customs here.
How to make a show accurate Regular Buckler style morpher.

Here's another of my morphers that I am going to customize into a show accurate silver version.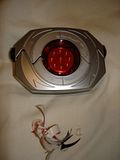 Carefully peel off the old stickers. I was lucky enough to get them off in one piece without much residue left behind. I then removed the plates (see instructions above) and washed them using soap and water to give the new stickers a clean surface to adhere to. However, you will need to clean any residue off to avoid bumps in your new stickers. Many users recommend products like "goo gone" and other solvents to remove stubborn residue but I was worried about the possibility of removing the original paint etc so I tried to remove the stickers as carefully as possible instead.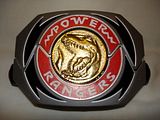 After carefully applying the new TV accurate stickers from www.reprolabels.com my morpher is finished.
You can view more pics of my customs here.
Back Stickers
I have also opted to add the original Zyuranger back stickers to my morphers too. This meant buying two sets of stickers but it was worth it in my eyes.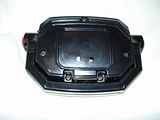 Before (Be sure to clean the back with a damp cloth to give the new stickers a clean surface to adhere to)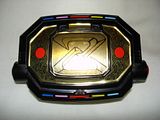 After
Gaps in your morpher when closed?

Finally, do you have gaps like this in your morpher when its in closed mode?
Then please check out King Ranger's very helpful tutorial on fixing this problem.
Hope this tutorial helps some folks to customize their morphers 🙂
Tuesday, December 8th, 2009
I finished another morpher custom today. Thats two down and four to go lol!
This has worked out to be a pretty expensive project. Thanks to BoA's notorious flipping of the morpher, inaccurate stickers and lack of Dragon Buckler release, my morpher display has cost a lot of money to make it show accurate. 🙁
I've had to take my time on this project as even the stickers have cost me $22 a pop. That might not sound like much but when I worked out that it would cost $132 to customise all my morphers :o, I decided to do them one at a time.
I probably won't post anymore pics after this until I've done the other 4 as once you've seen a gold one and a silver one, I'm sure you pretty much get the idea. Unless anyone would like me to post pics of the other customs when I get round to them?

Tyranno Morpher before adding / removing the stickers (front)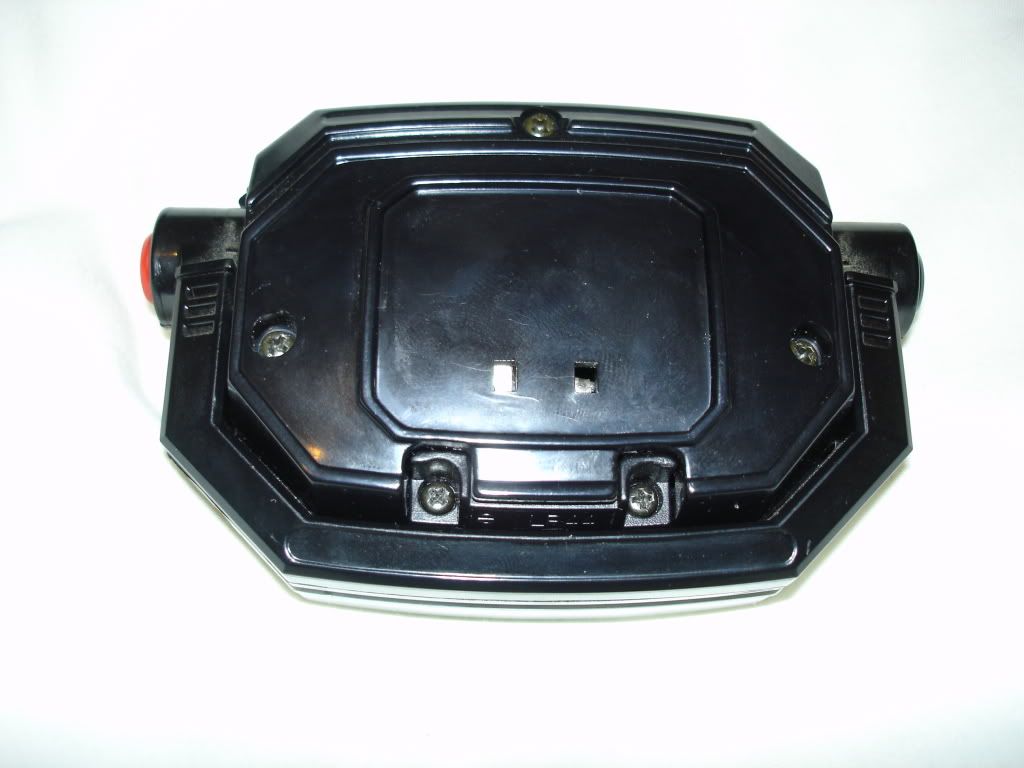 Tyranno Morpher before adding / removing the stickers (back)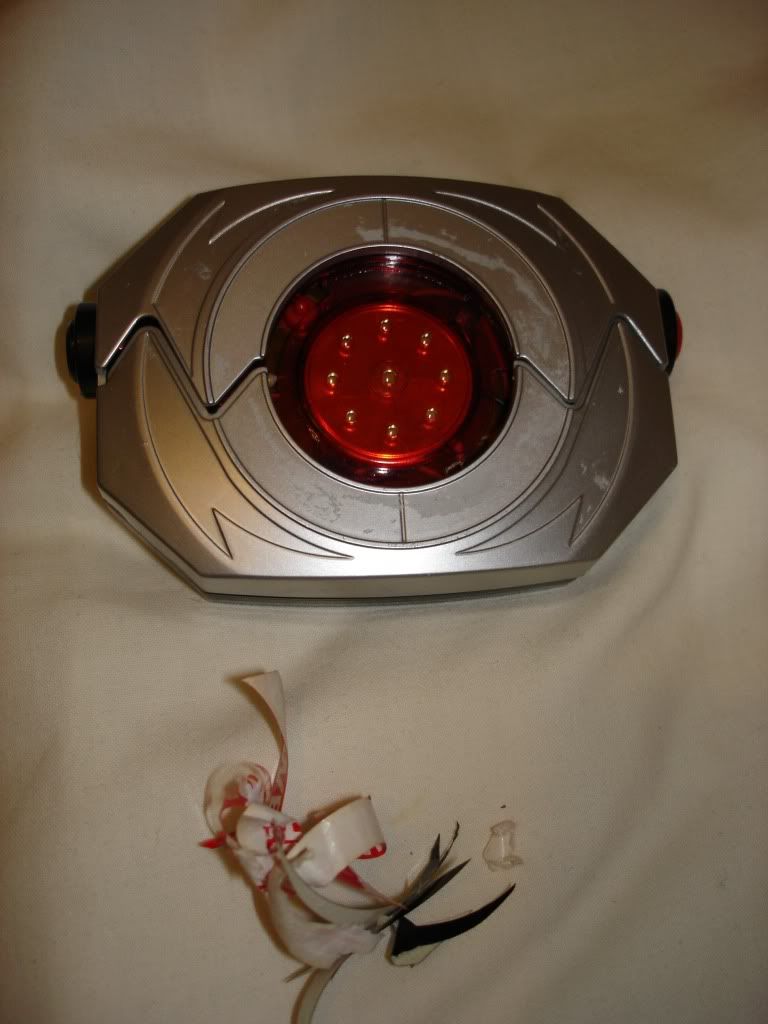 So scary removing the stickers from a MISB Power Morpher! Feels so destructive! I feel like that kid in Toy Story with the messed up toys lol.
I was trying to think of a less destructive way of changing the stickers. I toyed with the idea of asking Jess if she could do me some more plates but in the standard silver color but I decided removing the old stickers was the only way. Besides, reprolabels are much better quality and they also sell replacements of the original stickers in case I ever want to undo my custom work (which is highly unlikely).

New stickers I received from reprolabels.com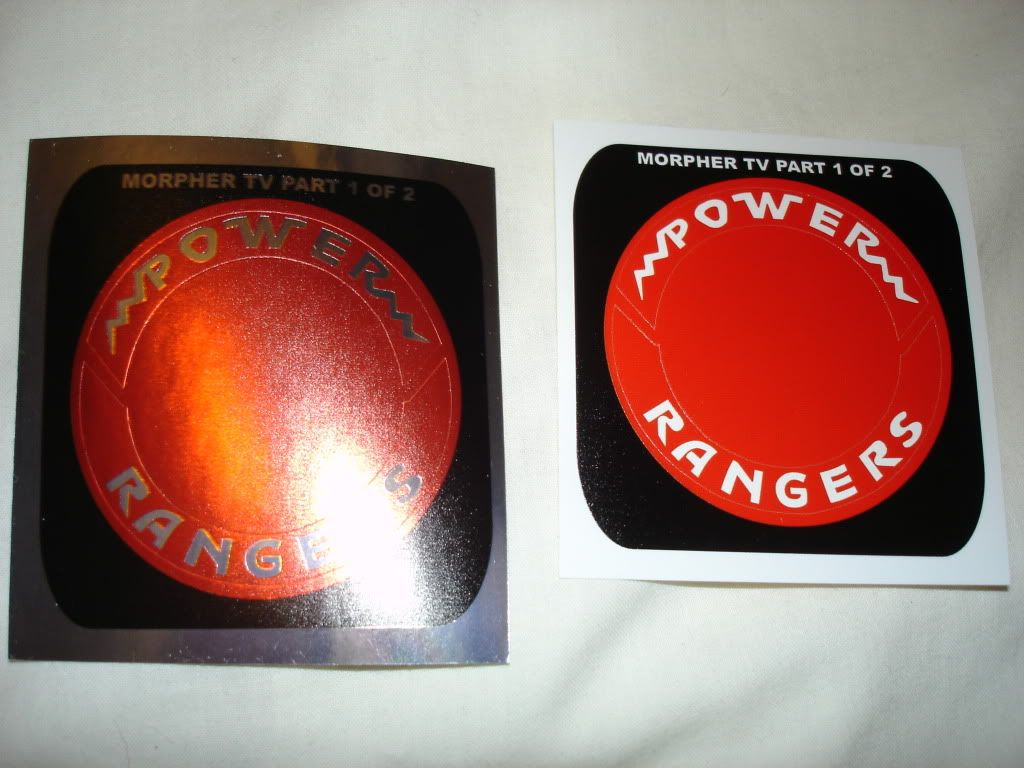 They also sent me two versions of the TV front stickers. The regular one is on the right and their new metallic finish version is on the left. I think the metallic finish looks great (the camera does not do it justice) but I'm obviously going for the show accurate look so I haven't used them.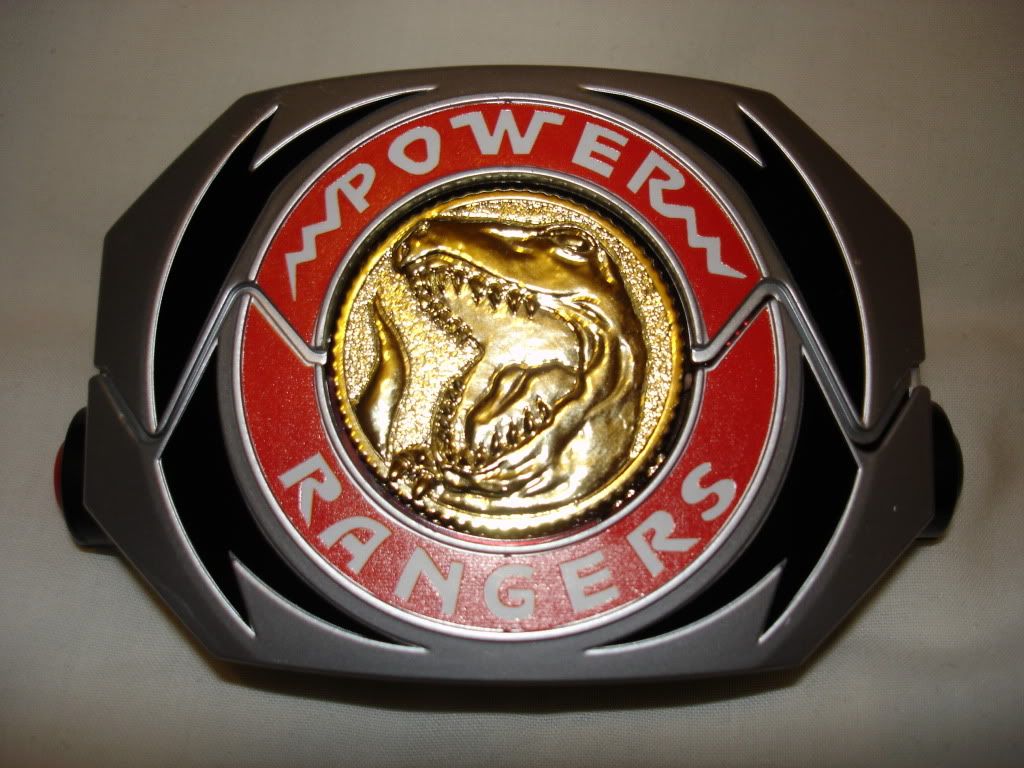 Finished Tyranno Morpher with its new show accurate stickers (front)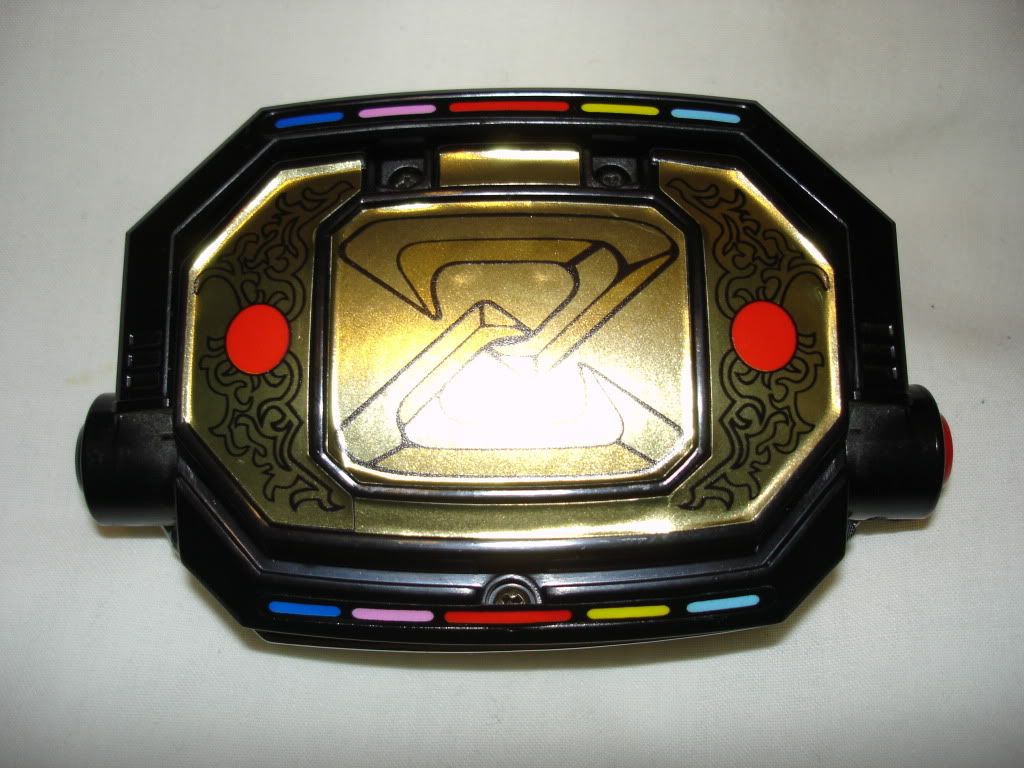 Finished Tyranno Morpher with its new show accurate stickers (back)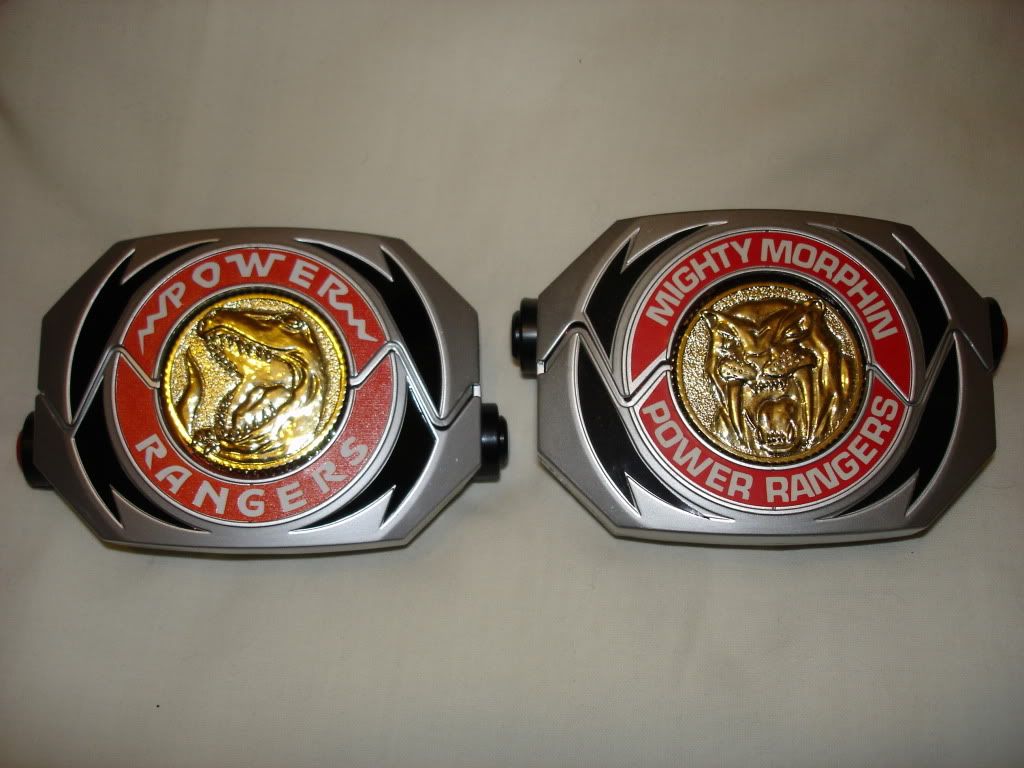 Finished Tyranno Morpher next to one of my other morphers that has yet to receive its new stickers. For the uninitiated: Notice that Bandai put the original stickers on upside down and that they are a different design to the ones on the show. 😡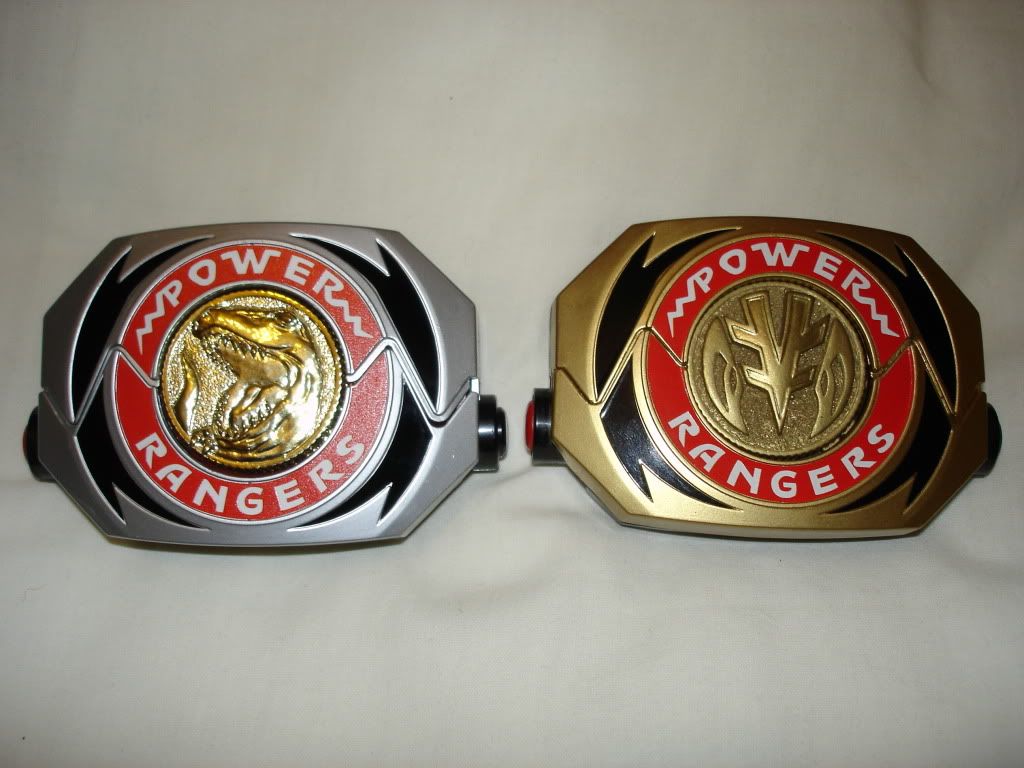 Finished Tyranno Morpher with my other recent custom – show accurate Green / White Ranger Morpher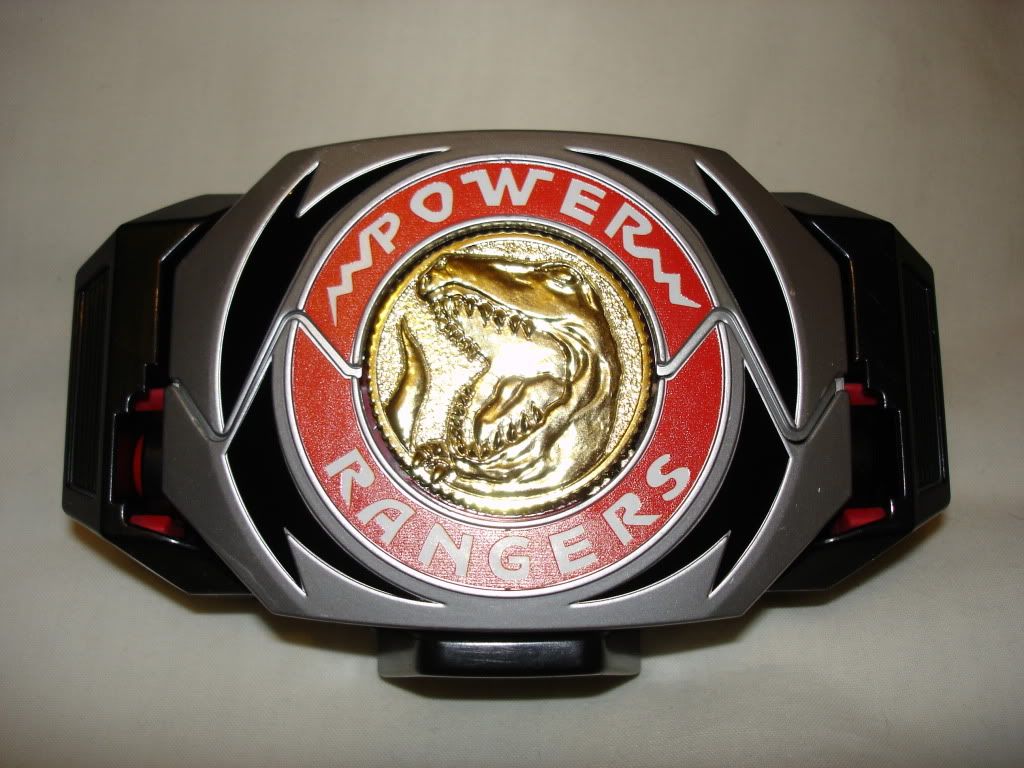 Finished Tyranno Morpher in my new Dino Buckler Holster (front)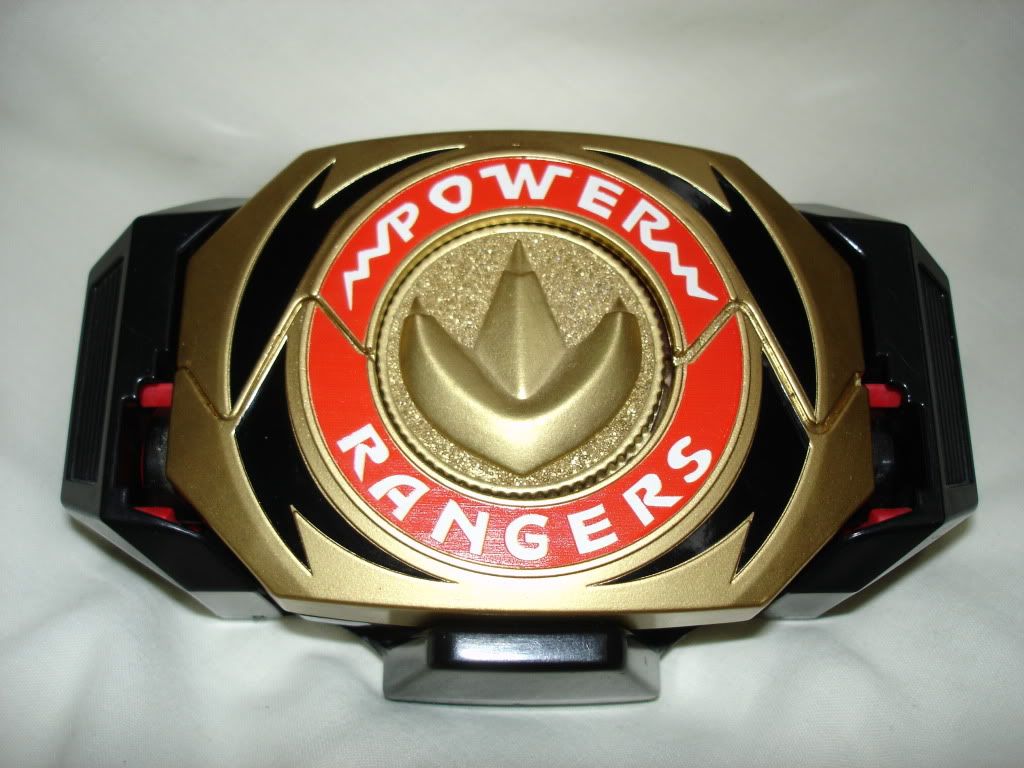 Dragonzord Morpher in Dino Buckler Holster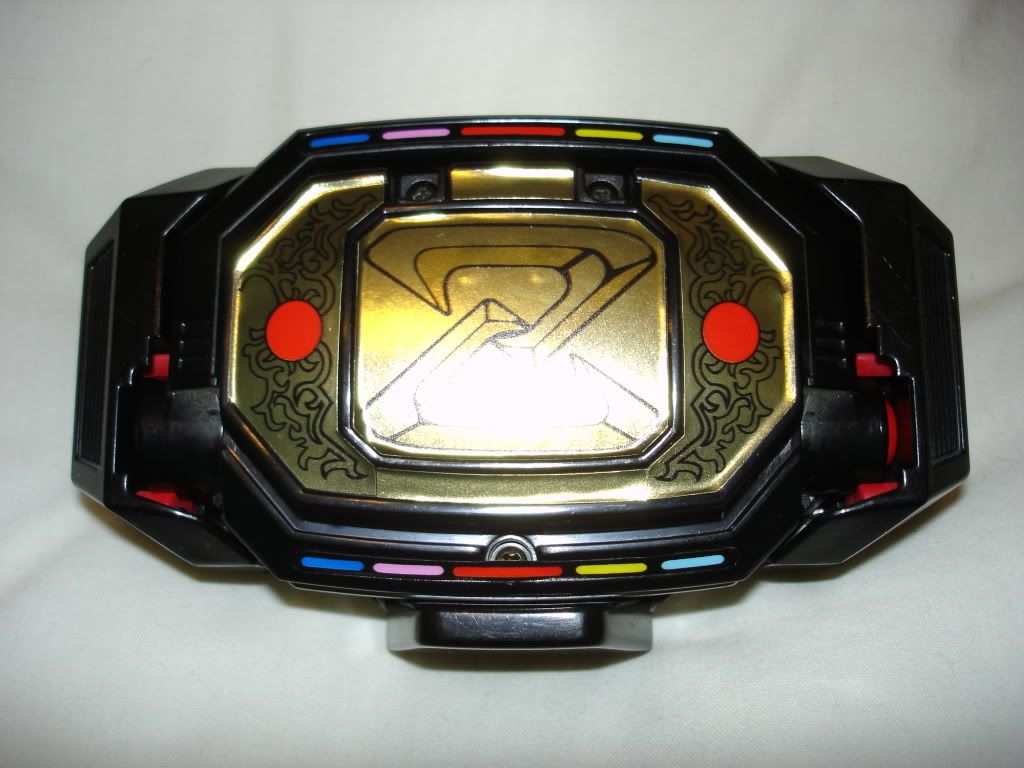 Finished Tyranno Morpher in my new Dyno Buckler Holster (back)
I've decided to add the holsters to the display. I'm going to use my real one for the dragonzord morpher and get some prop replica versions from Outatime on RangerBoard.com for the rest of them (one of which I've ordered already).
Hopefully, my next update on this project won't take too long. Stay tuned for pics of my 6 new morpher customs with holsters!
Saturday, November 21st, 2009
Got my new gold morpher plates from Jess (PowerProps on Ebay). They are replacement recasts painted gold for those of us who are not skilled enough to attempt to repaint them ourselves. Jess's paint job is way better than I could ever hope to achieve. Bless her, she also sent me a free falconzord coin!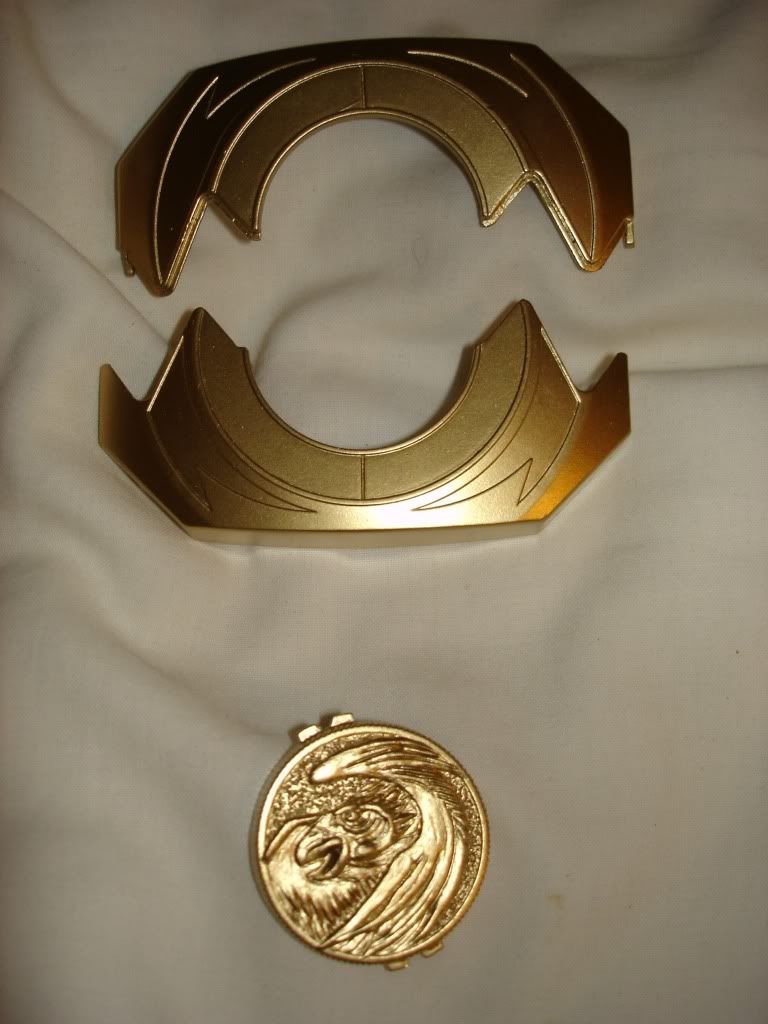 Here's Jess's coin next to the one I recently recieved from Argus. Jess's coin is on the left and Argus's on the right. Keep in mind that Jess's coin is an original sculpt. I think they are both awesome! Hail to the prop makers!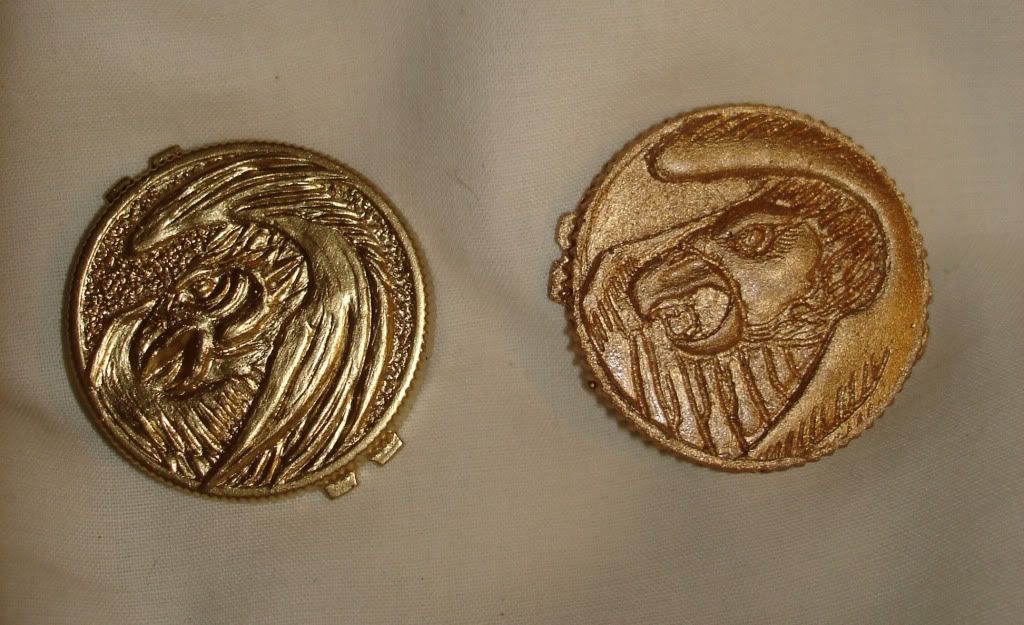 Here's my old original morpher (before). It has new bolts and zyu back stickers but I was waiting for the gold plates before I added the show accurate stickers.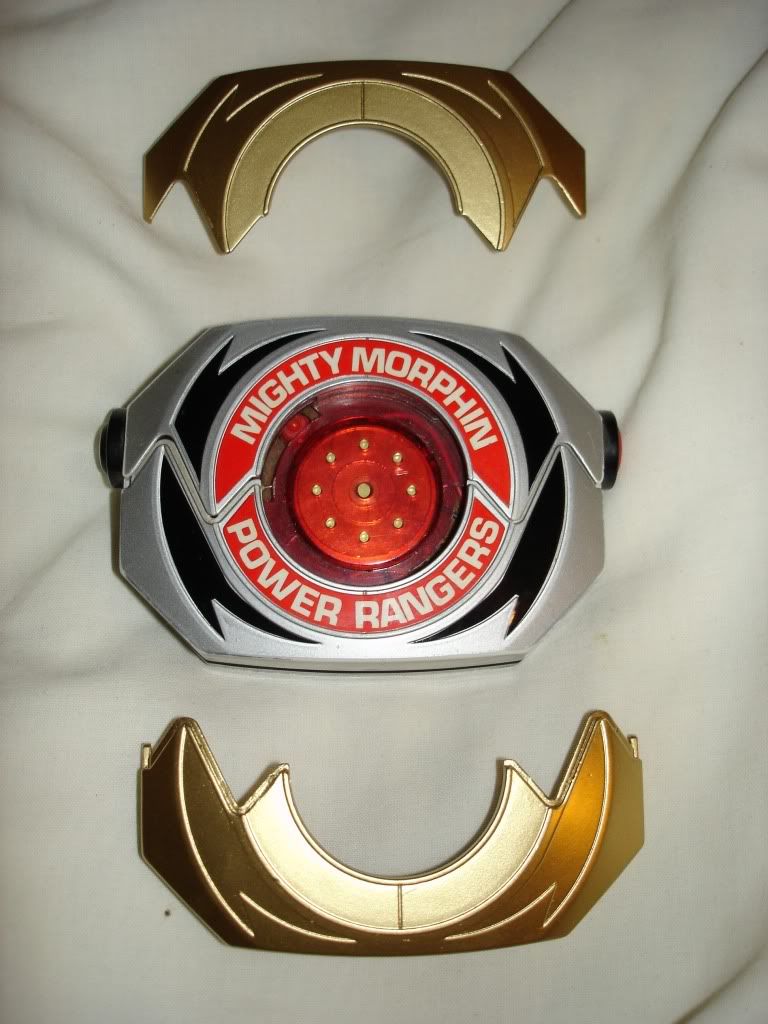 The new plates simply screw on just like the old ones. Man, the morpher looks wierd without the plates!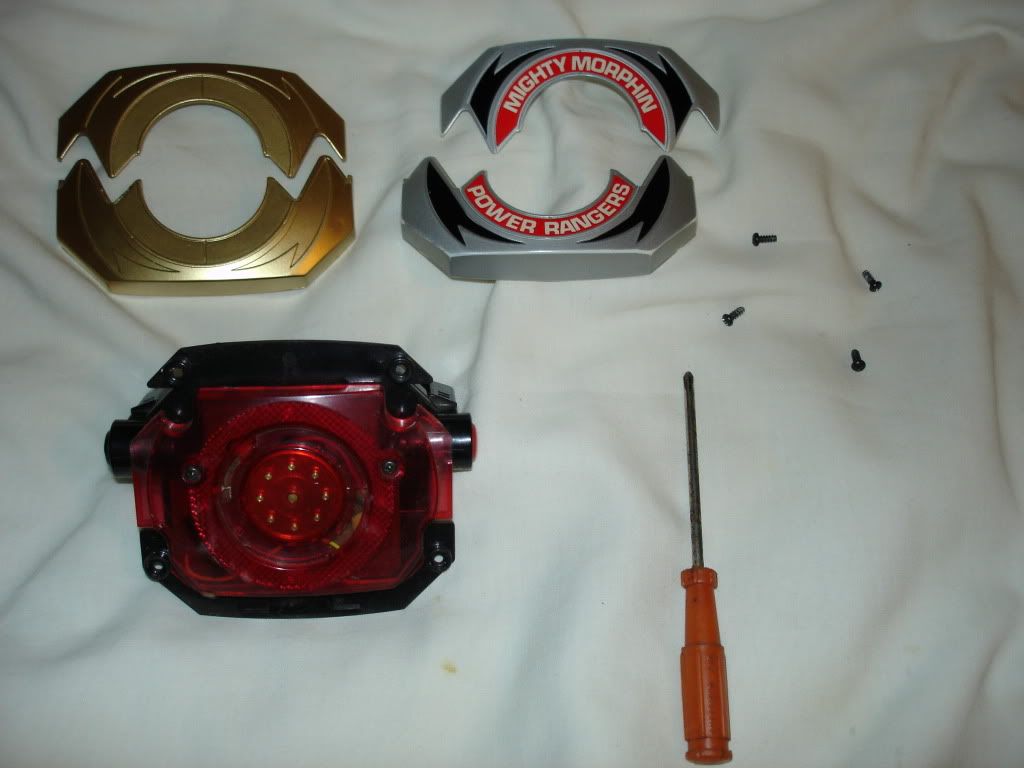 One complete gold morpher!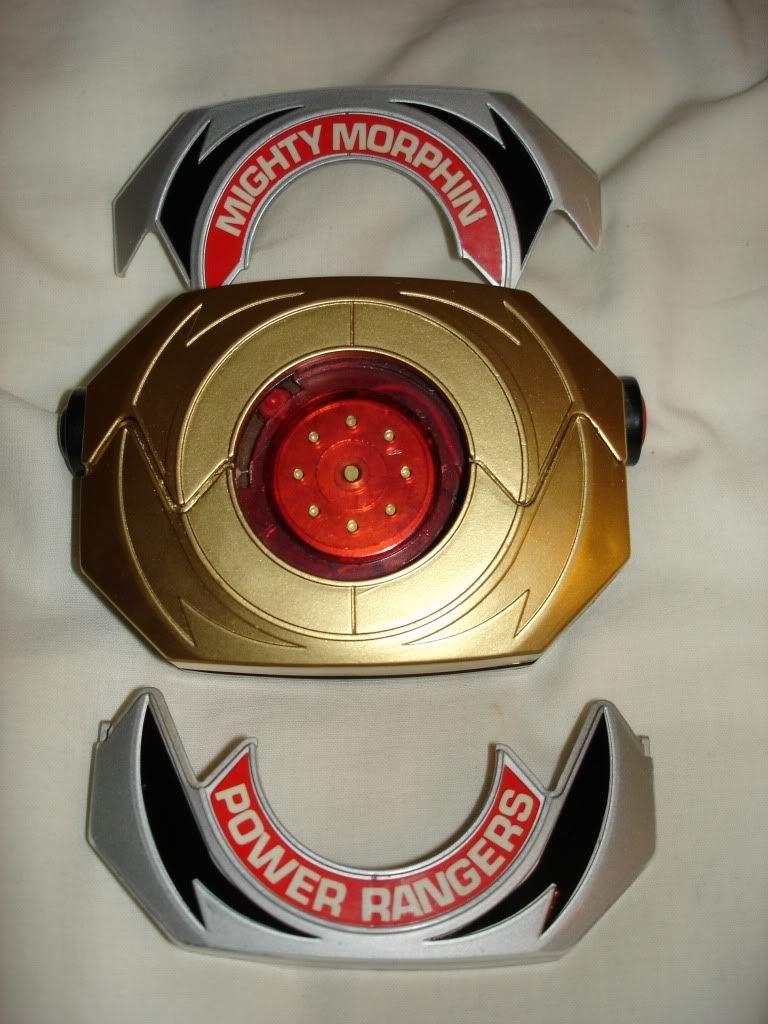 Ready to apply the rest of the reprolabels I bought.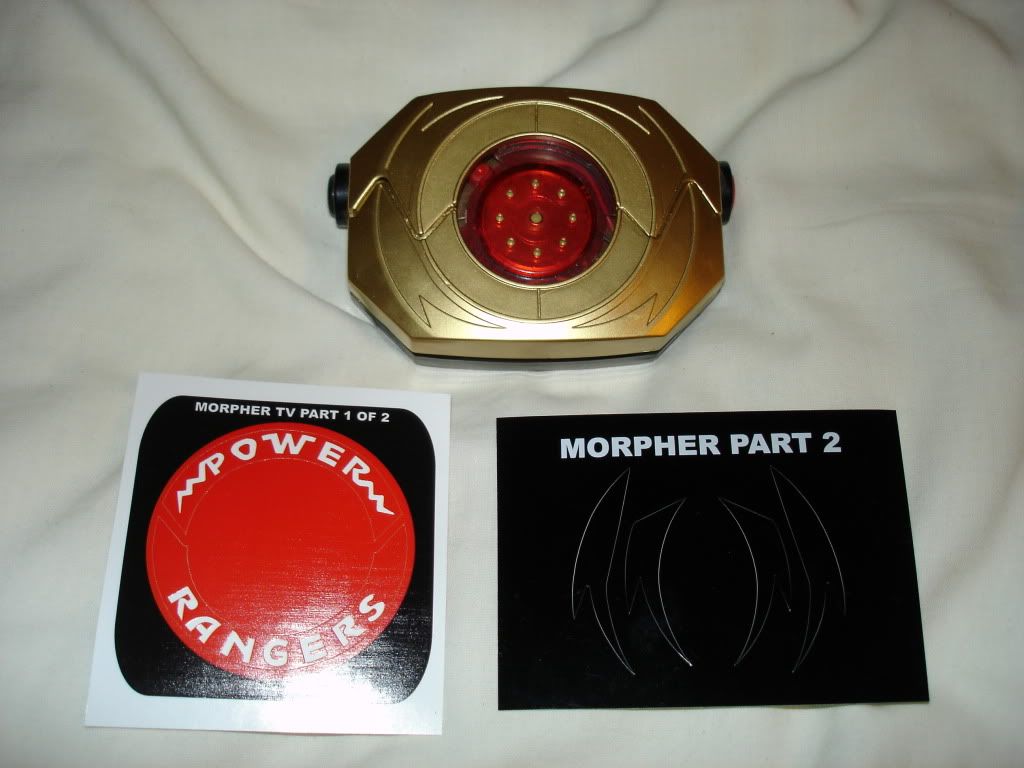 Morpher complete! The best part is that I have not damaged my original childhood morpher to make this and I can return it to its old look whenever I want by swapping the plates back. It feels damn wierd morphing the other way round though lol!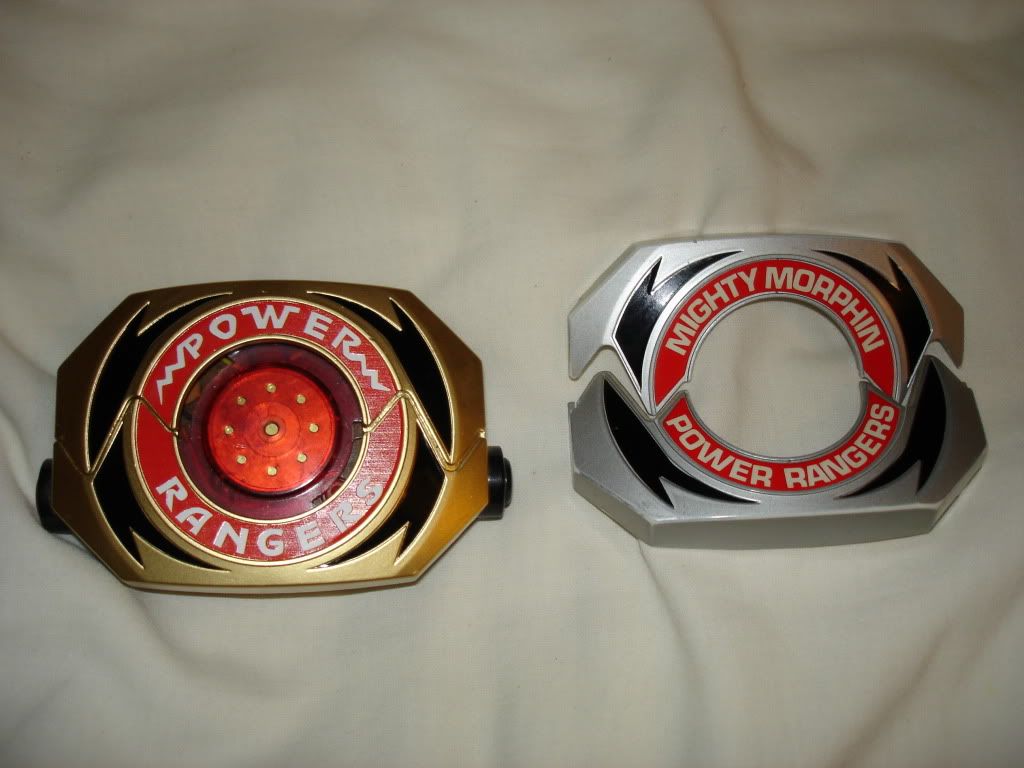 Closed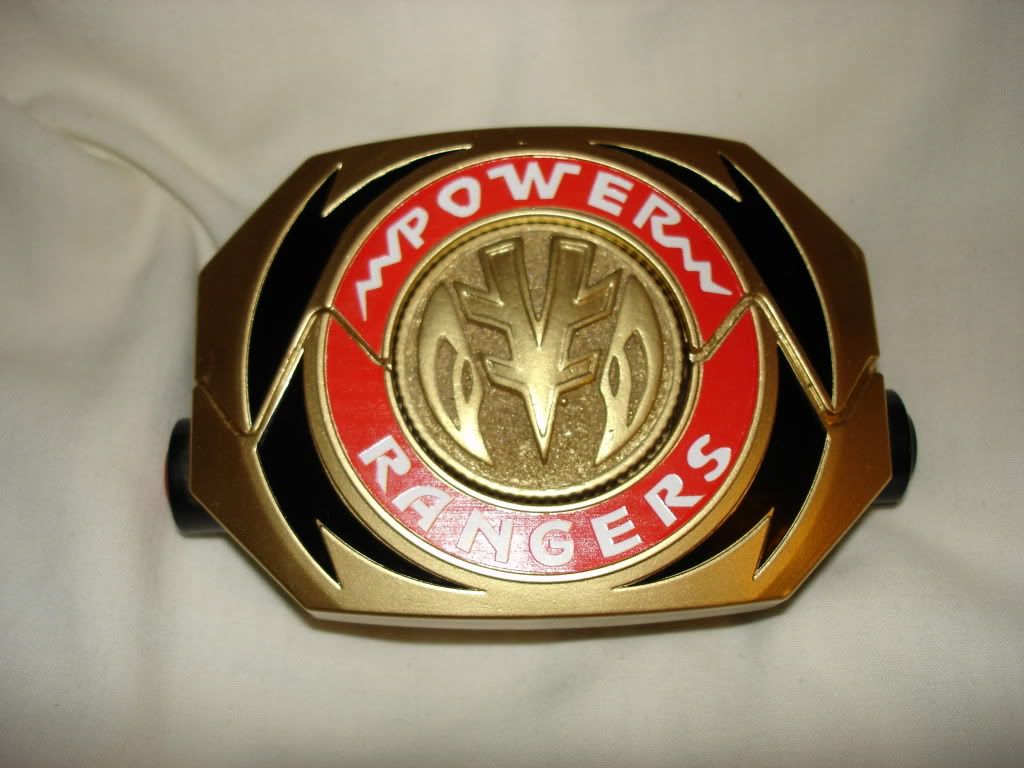 Open (Tigerzord coin by Buzzs_room)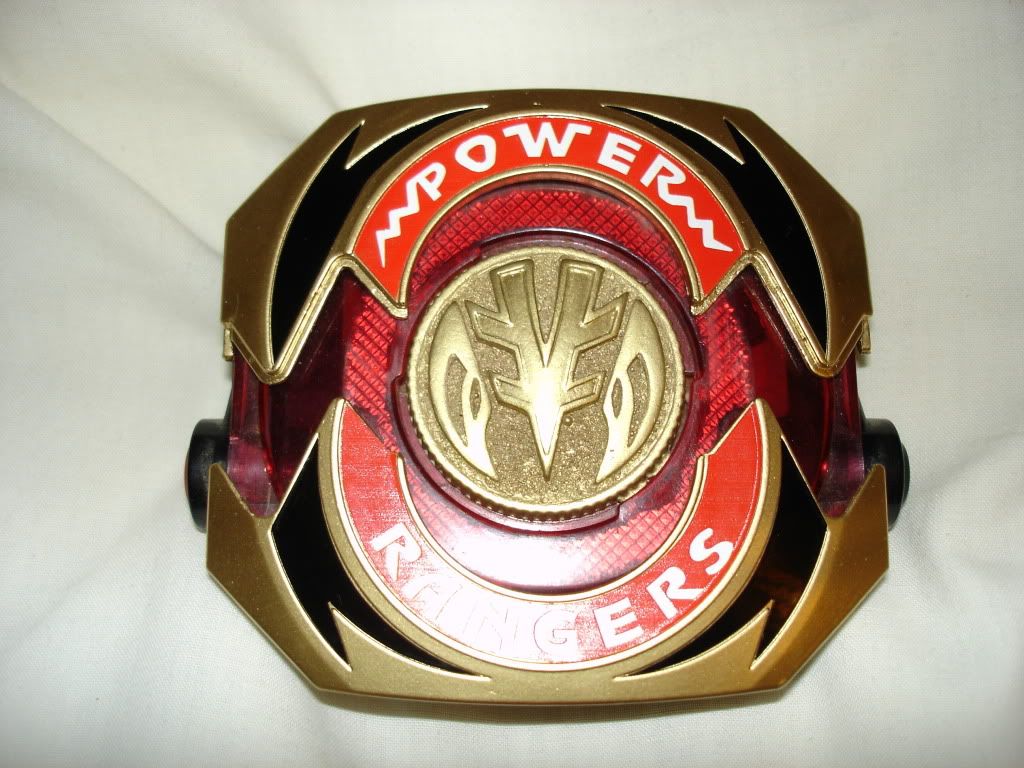 Dragon coin by Buzzs_room

Falconzord coin by Argus

Falconzord coin by Jess (PowerProps on Ebay)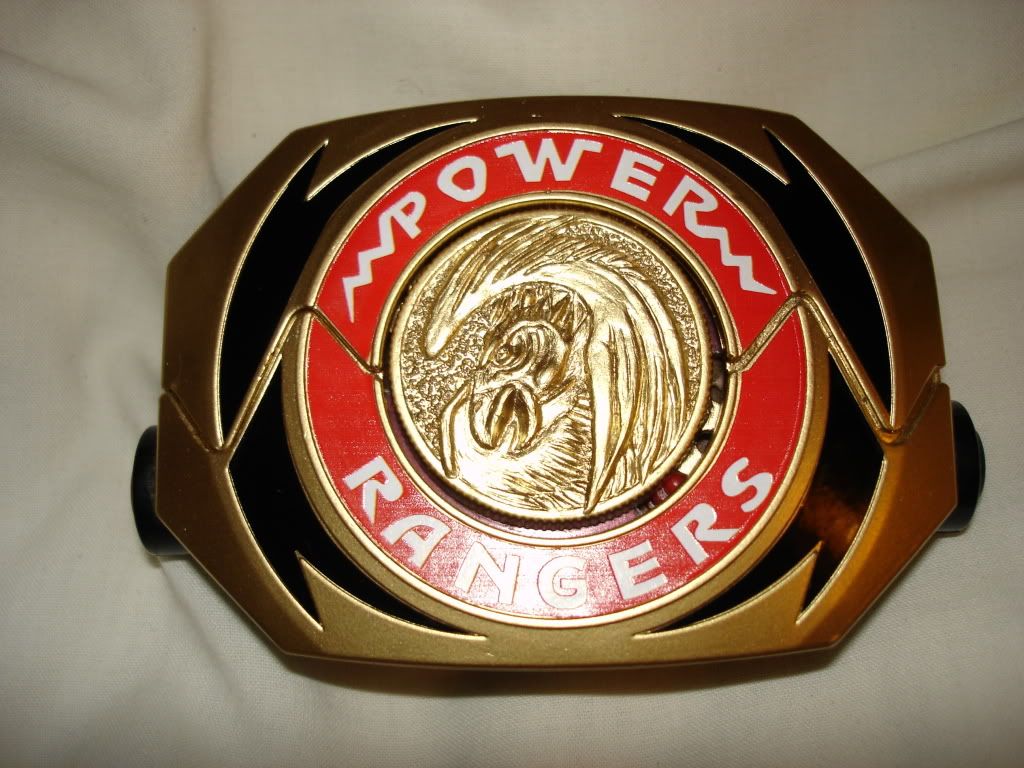 And finally with my new white communicator 🙂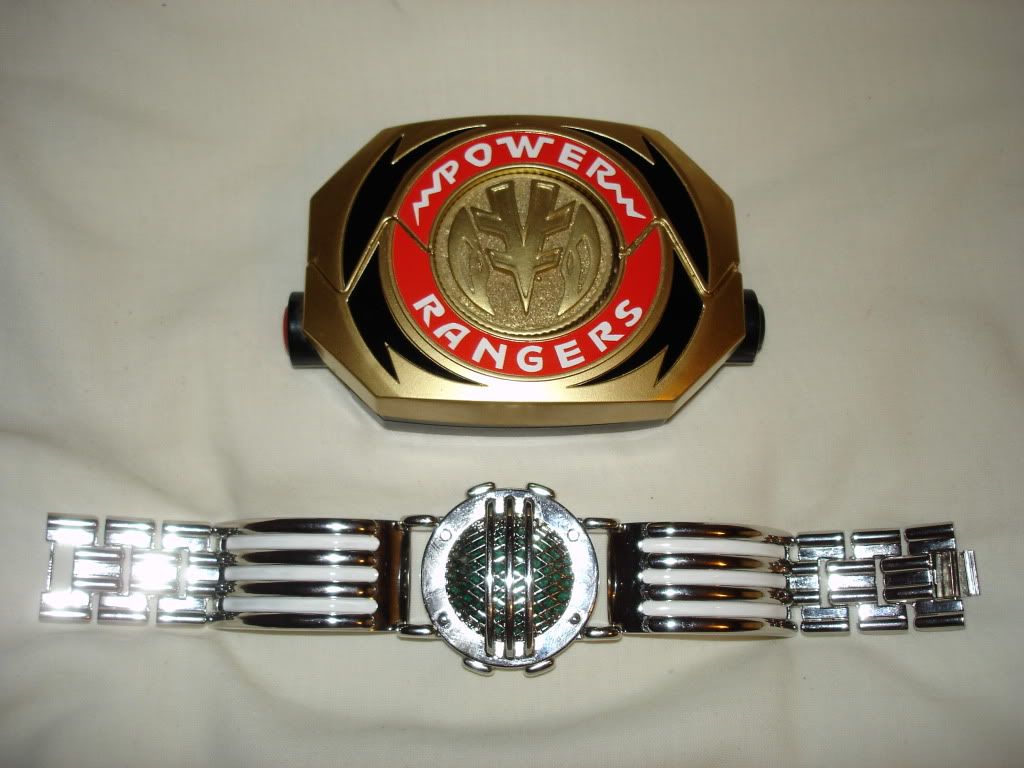 Sadly I'm re decorating my room this weekend so I can't take another group shot with the gold morpher as the others are packed away :(. I'll post one next week.
Now to get me some more reproplabels and finish the rest! Its gonna cost $120 to get the remaining stickers I need. $120 on stickers :o. Gonna get them a few at a time. Stay tuned!