Posts Tagged 'Kamen Rider Kabuto'
Wednesday, August 11th, 2010
Here's a quick video tour of my current collection display.
Tuesday, June 8th, 2010
Those of you that have been following my blog will know that I've had to keep most of my beloved collection in plastic storage boxes since I returned to collecting in 2004. Since I've been redecorating my room, I decided it was time to display (and enjoy) as much of my collection as my small room will allow. I'm also worried about things getting damaged in the storage boxes and also I'm not really appreciating each piece properly (and I should as it's cost me thousands. I still don't think I'll be able to have the lot on constant display but I'm slowly adding new shelves and breaking stuff out of their storage boxes.
Here's my new figure shelves for my Toku Figures: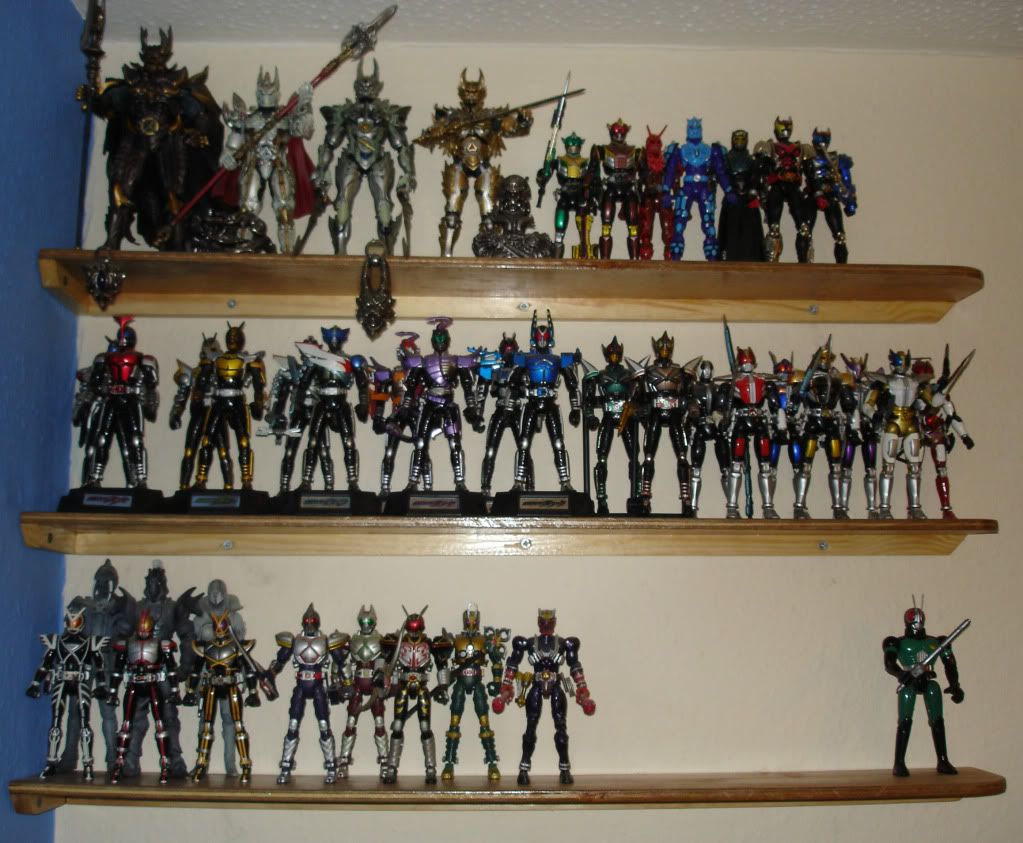 (Top Shelf) Garo Equip and Prop Collection, Miscellaneous Kamen Rider Den-O and Kiva SH Figures and Figuarts. (Middle Shelf) Kabuto SH Figures and Den-O SH Figures. (Bottom Shelf) Faiz SH Figures with RH Orphenocs, Blade SH Figures, Hibiki SH Figure and Saban's Masked Rider Figure.
I've also displayed my Power Rangers Figures on my pelmet above my window.

Power Rangers Auto Morphin Figures (I have Green too) with Ninja Ranger Figures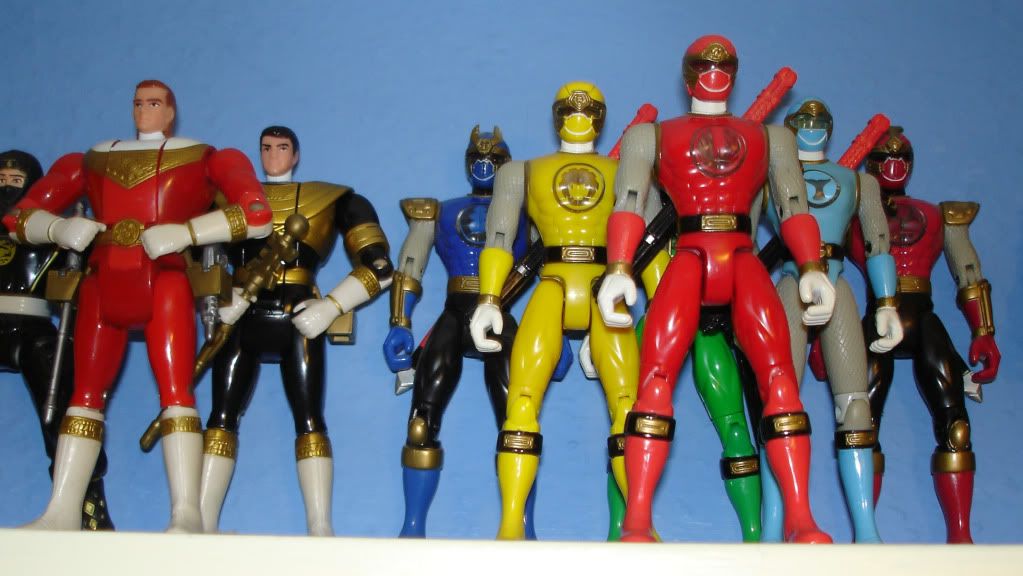 Tommy and Jason Power Rangers Zeo Auto Morhpin Figures and Power Rangers Ninja Storm Team.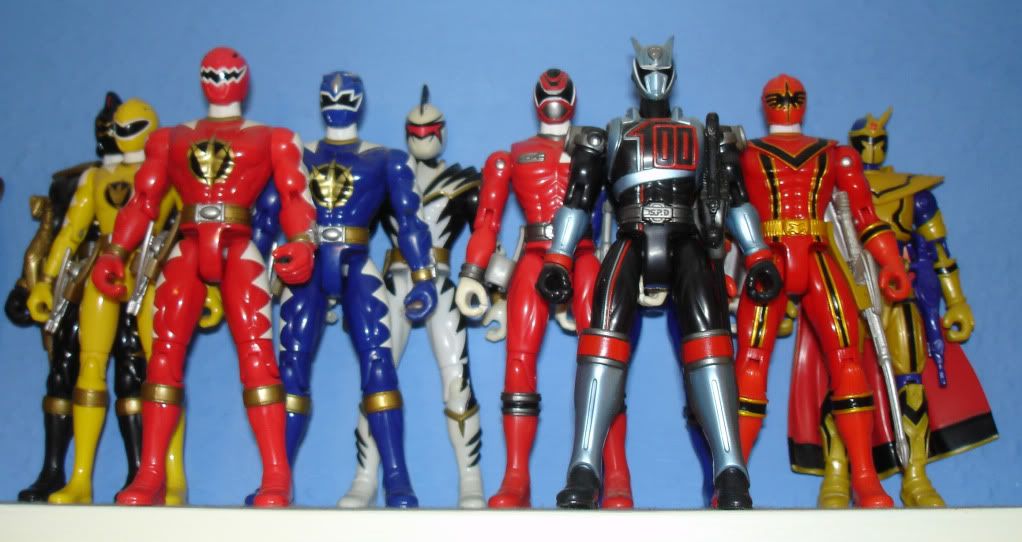 Power Rangers Dino Thunder Team and miscellaneous Power Rangers SPD and Power Rangers Mystic Force Figures.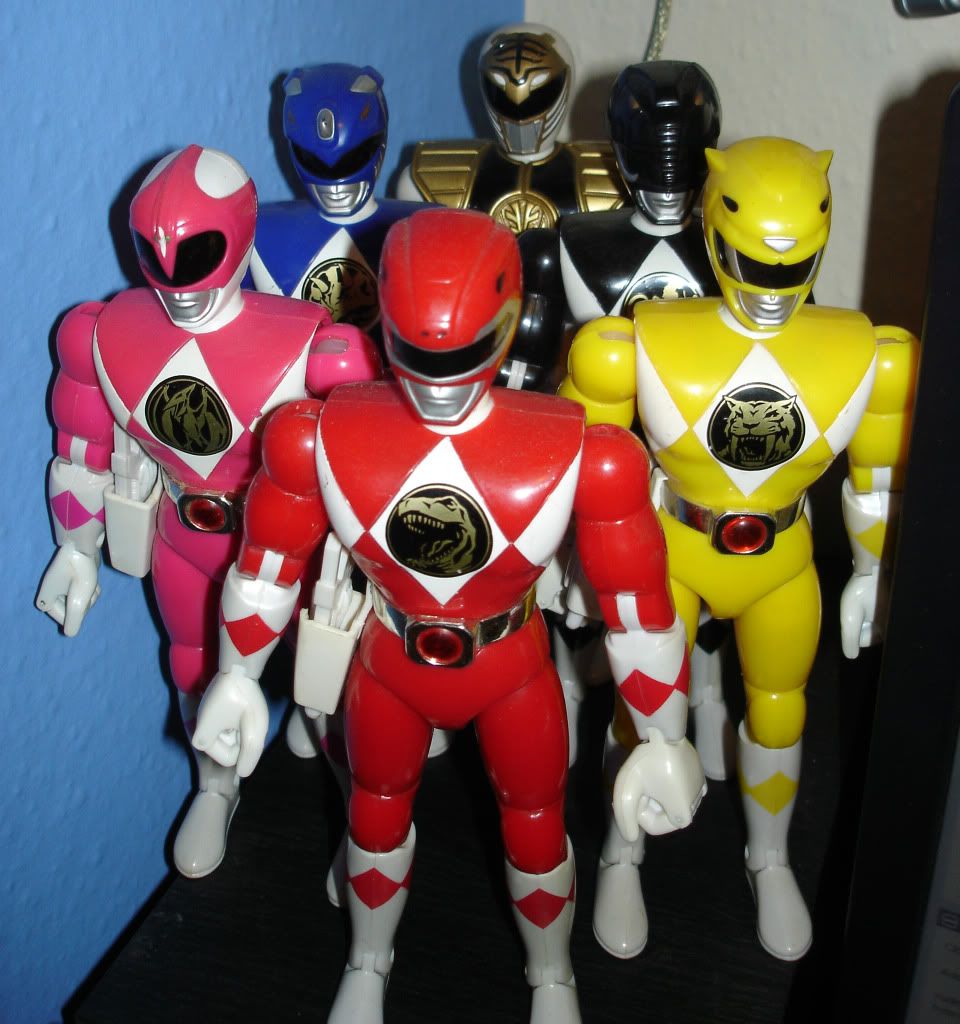 8″ Power Rangers Figures (I have Green too).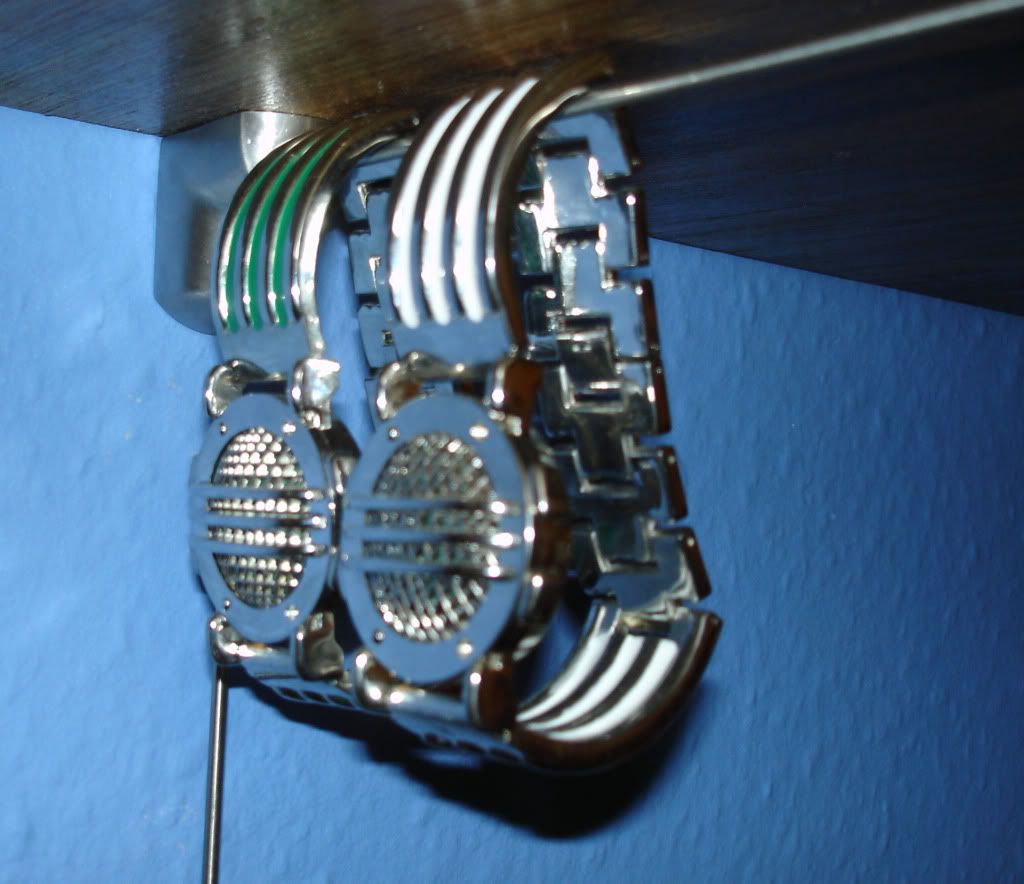 My starlight.studio communicator collection so far.
I just need to make one more shelf for the rest of my ranger figures and to allow room for my collection to grow. I still have some of my collection in storage boxes as I do not have room to display them (morphers, weapons etc).
Tuesday, January 5th, 2010
Last haul till end of February now as i have to watch my cash 🙁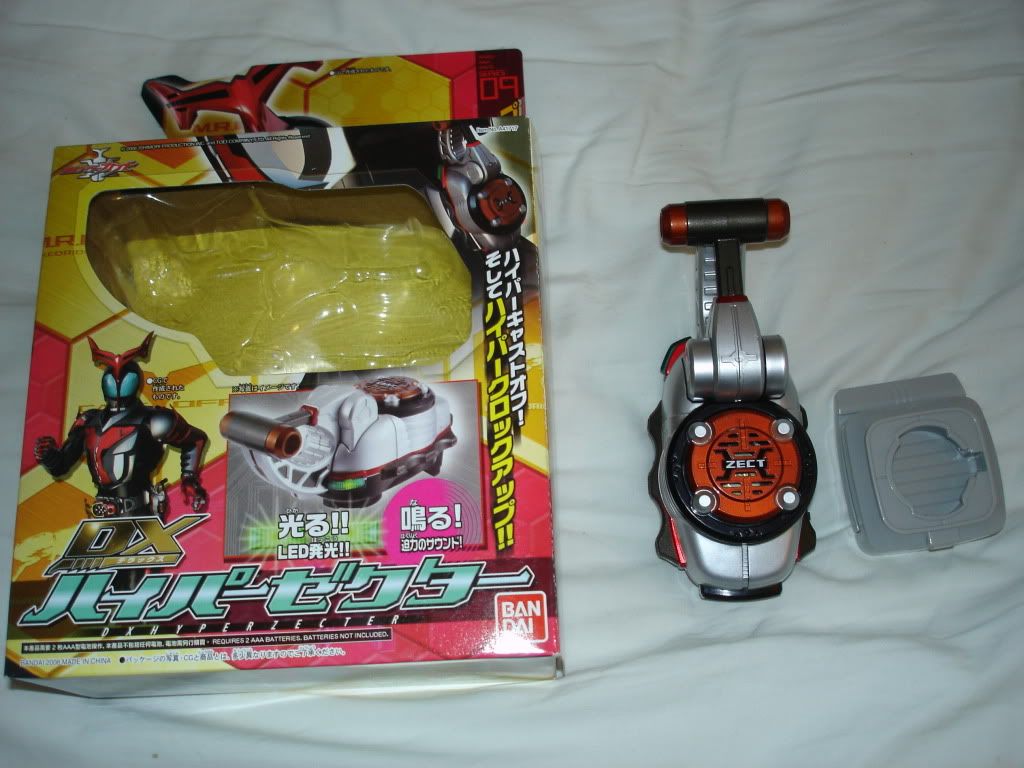 Kamen Rider Kabuto DX Hyper Zecter. Been after one of these for ages and finially found one for a good price.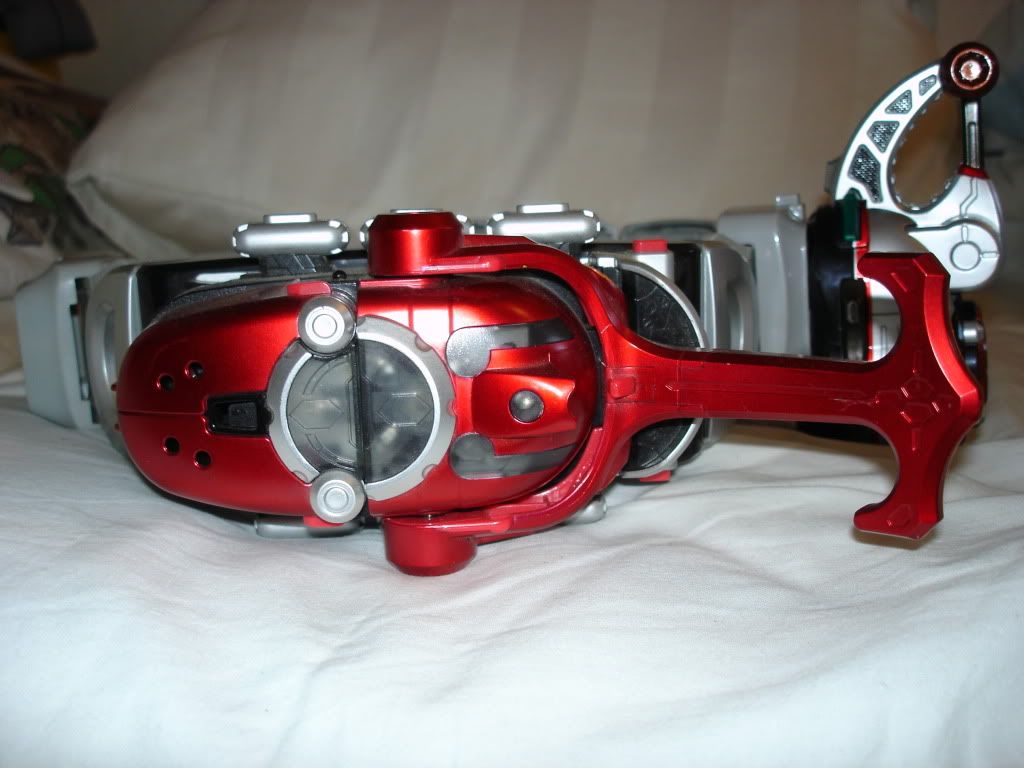 So now I can do this, Hyper Clock Up! Gonna get Kabuto's gun soon too. May buy the other Zecters eventually.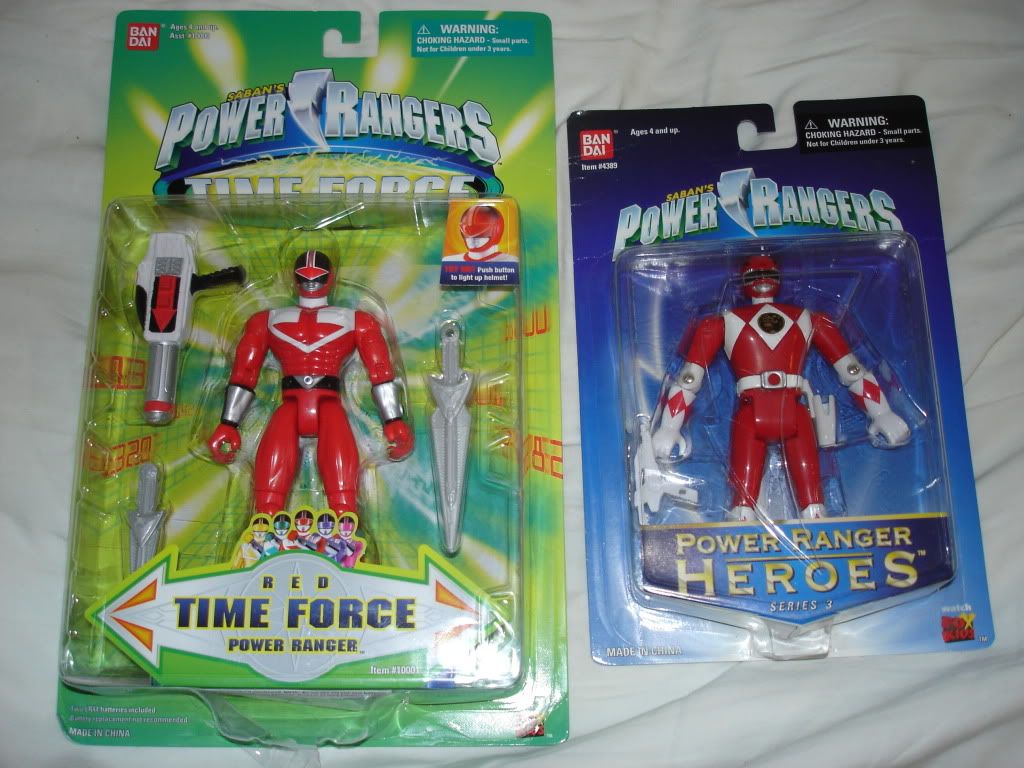 Red Time Force Power Ranger Figure and the much sought after Heroes Series 3 Power Ranger Figure MOC. Its gonna be difficult and expensive but I hope to own a complete set of these some day. I'm going to keep the heroes figure MOC for now.
Wednesday, December 31st, 2008


Kabuto pretty much complete, just need Hyper Kabuto and some kind of Dark Kabuto figure. Got Kabuto and the Hoppers yesterday.

My new Makai Knights I received yesterday. Got Kiba on its way. These figures look beautiful but are a real pain to put together. I swear they did not intend these figures to be transformed back into their human forms, I know I sure wont be changing them after it took me nearly an hour to put them together. The joints are so stiff, Garo's legs were certainly the hardest parts to put together. Beautiful figures though, the paint job is flawless and the swords and Makai Jewelery are metal!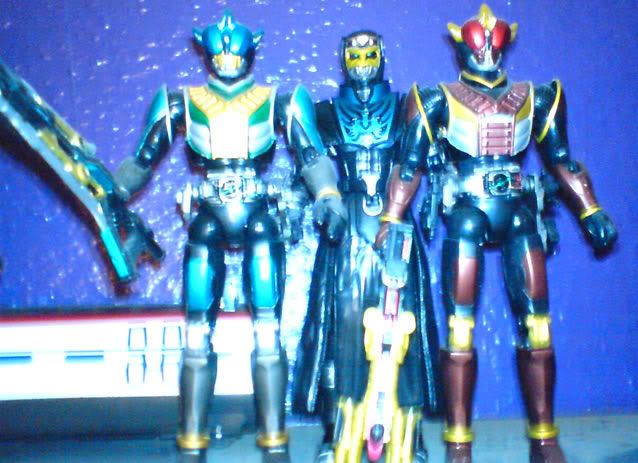 Got deneb yesterday. Ive also pre ordered Urataros. Any idea if they intend to release all the Figuarts Imagin?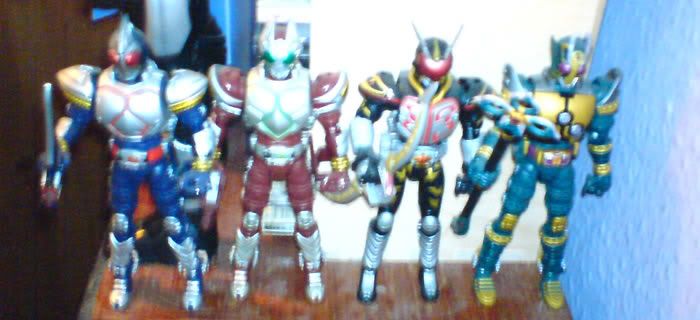 Had to move my blade collection to fit my new Garo and Kabuto figures. Cant believe after putting all my stuff into storage boxes, I'm running out of space again lol!
Gonna try to take some better quality shots with my Mum's digital camera tonight.
Monday, December 29th, 2008
Just been cleaning out my room and thought I would take some pics. Here"s just a small sample of my collection, a lot of stuff (mainly Power Rangers) had to be put into storage as my small room only holds so much toku :(. Heres what I currently have on display, forgive the crappy phone quality pictures:


My almost complete Kamen Rider Den-O Souchaku Collection with Seig and DenLiner in the background. Still need to get the new Climax Form and I want another Zeronos so I can display Vega Form too!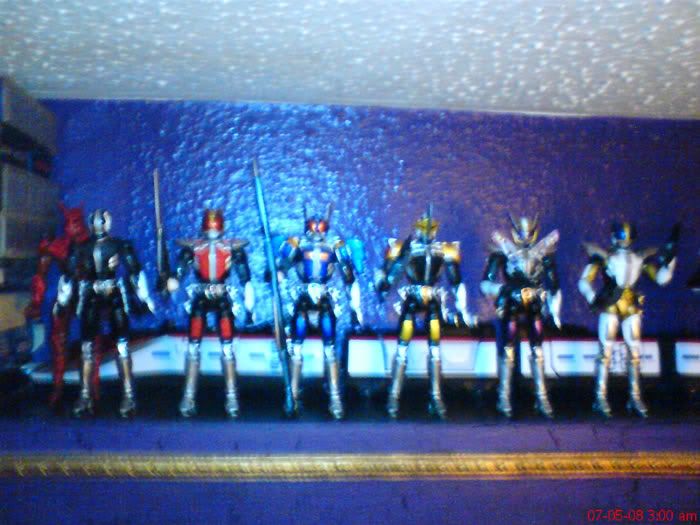 Close up of Den-O Forms

Close up of Liner Form, Zeronos' Forms and Seig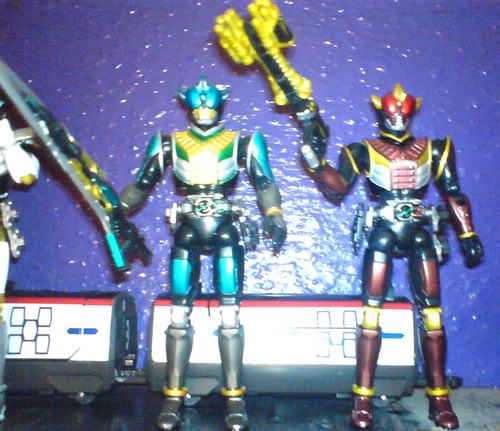 Better pic of Zeronos' Forms. Ive changed zero forms pose since as he fell of the shelf a few days ago and all the small parts were all over my floor. Was gutted as I only just got Zero form. Thankfully no apparent damage done in the fall.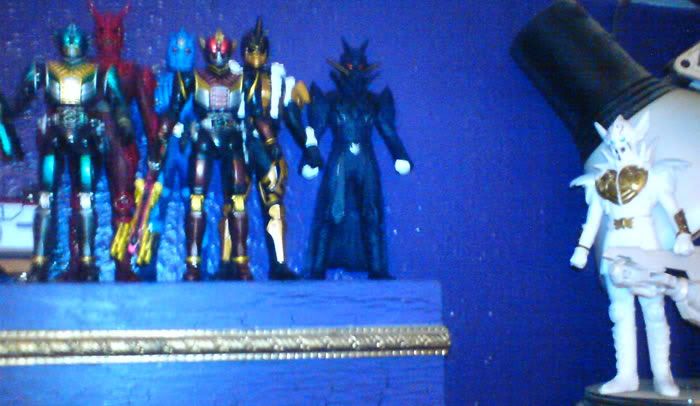 Already had Sieg and the Zeronos figures but just got RH figures of Momotaros, Urataros, Kintaros and Ryutaros. Damn, why didn't they release Deneb 🙁

Some Magiranger Mecha, Zeo Ultrazord, Orphenochs and my shiny Megaranger chokogin figures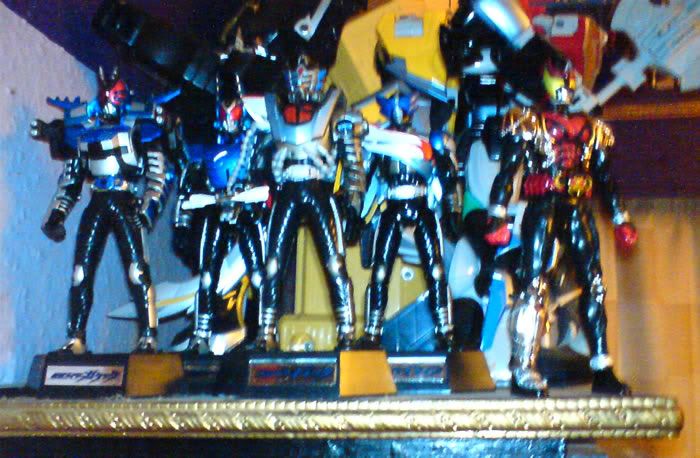 Gatack, Drake and Kiva Souchaku Figures

Random figures and zords. Original Ultrazord, Dinothunder zords, Abaranger auxillery mecha, Thunder Megazord. (Behind the dinothunder zords are Ninja Megazord, Shogun Megazord and Tigerzord)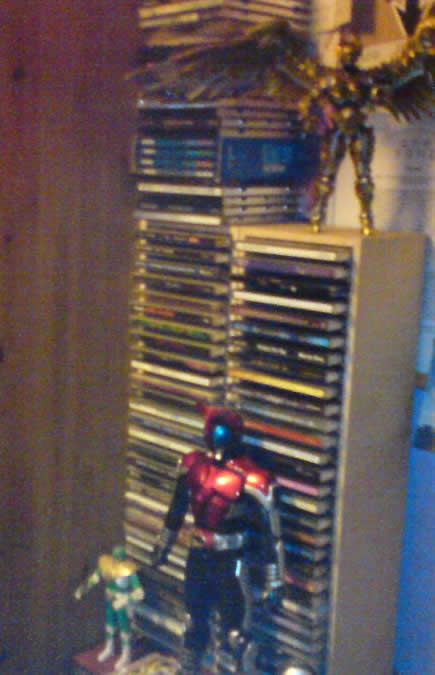 Garo Equip and Prop Vol. 7, DX Cast Off Kabuto and Red, Green and White Auto Morphins

Close up of the rangers. I'd forgotten how shiny these were when brand new MOC. My old auto morphins looked too rough for display but these new ones are perfect.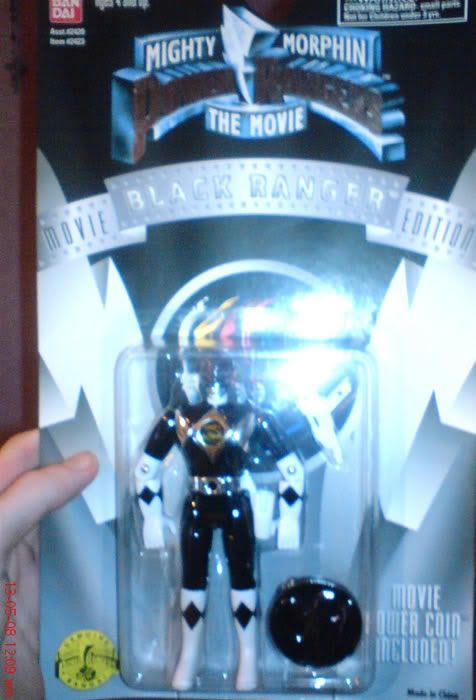 I have decided to get all 6 of these as well as my regular auto morphin collection so I got this one as he was the cheapest.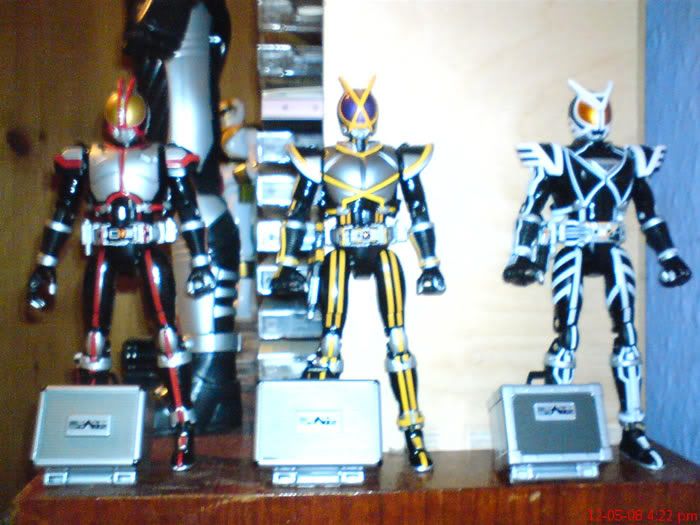 Delta finally came today, now I have completed the Faiz series. Wondering whether to bother with the movie riders.

Close up of DX Cast Off Kabuto.

Garo toys are very photogenic.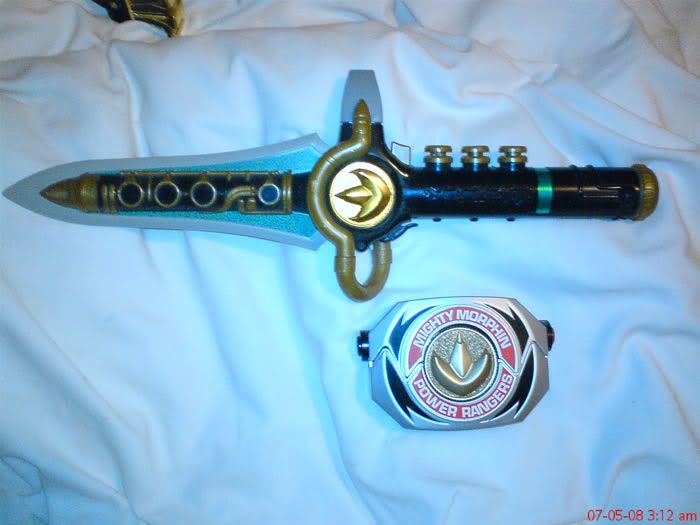 My Dragon Dagger and Green Ranger Morpher (yet to be painted gold).

My Green Ranger Morpher again. Coins by Buzzs Room on ebay/rangerboard.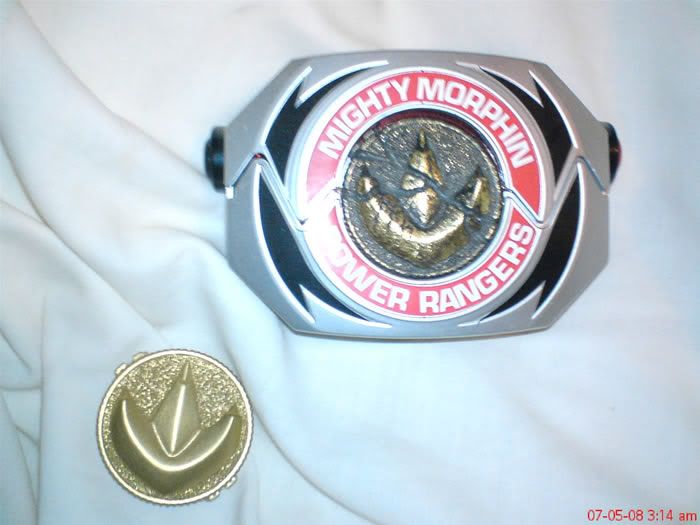 Buzz Room also makes cool Battle Damaged version of the coins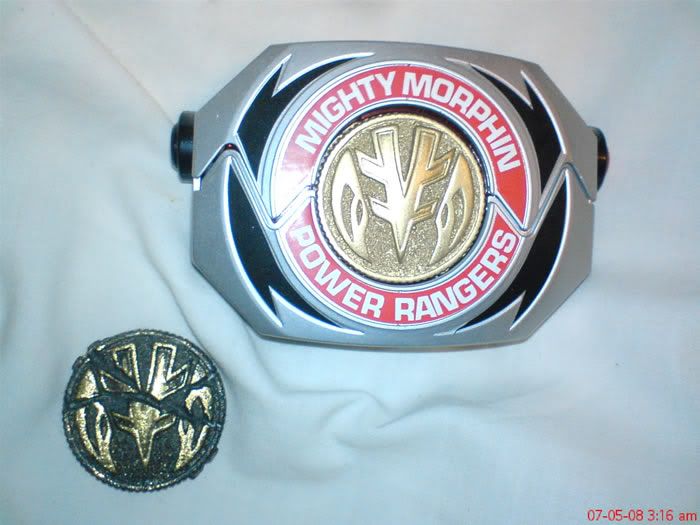 Same Morpher but with the Tigerzord Coin…

…and also the Battle Damaged version

My Blade Souchaku Figures, 6 Power Morphers (need to paint one gold) and dragonzord/tigerzord coins from from the awesome Buzzs Room.

Close up of Blade Souchaku Figures

My full morpher collection. The one at the back with the green coin is my battered, sticker missing, well loved original from 1994 and the others I bought MISB last year.


Finally my henshin belts (not bad considering I only discovered the kamen rider franchise a year ago). DX Faiz Driver, Faiz Pointer, Faiz Shot, DX Kabuto Zecter, DX Den-O Belt, Den-O Gold Pass, Den-O Cellphone Keitaros and my two newest additions, DX Blay Buckle and DX Kivat Belt
If you like these, I'll try to take some pictures of the rest of my collection soon.