I started a project in May to customize my MMPR Ultrazord with stickers from Reprolabels.com and I have completed the Tyrannosaurus Zord so far.
Today, it's Dragonzord's turn!
As many Power Rangers fans are aware, Bandai America changed the Dragon Ceaser (Japanese Dragonzord) stickers for the original Mighty Morphin Power Rangers toy line. This was always a disappointment to me and many other fans as the toy I wanted the most did not look as it did on the TV show (thought future western releases would see even more drastic changes from their Japanese counterparts). Many of the symbols on the Japanese sticker sheet were replaced with lightning bolts and the letter "M" including the Dragonzord coin emblems.
I really felt this ruined the toy when I discovered that my Dragonzord had lightning bolts on his feet instead of the letter "Z" I had seen on the show (though this was obviously an attempt to remove Zyuranger references for the western audience). I'll never understand why Bandai go to the trouble of changing the superior Japanese toys. Surely its easier and cheaper to use the same mold / sticker sheet?
As for my own Dragonzord, it is now 16 years old, the stickers are damaged in places and have really started to peel over the years. Also, I didn't do the neatest job of applying the stickers in the first place when I was 10 as I couldn't wait to play with Dragonzord!
Here is the finished, cleaned Dragonzord with new show accurate stickers:
Before

Dragonzord before new stickers (front)
After

Dragonzord after a good clean with new stickers from reprolabels.com (front)
Before

Dragonzord before new stickers (side)
After
Before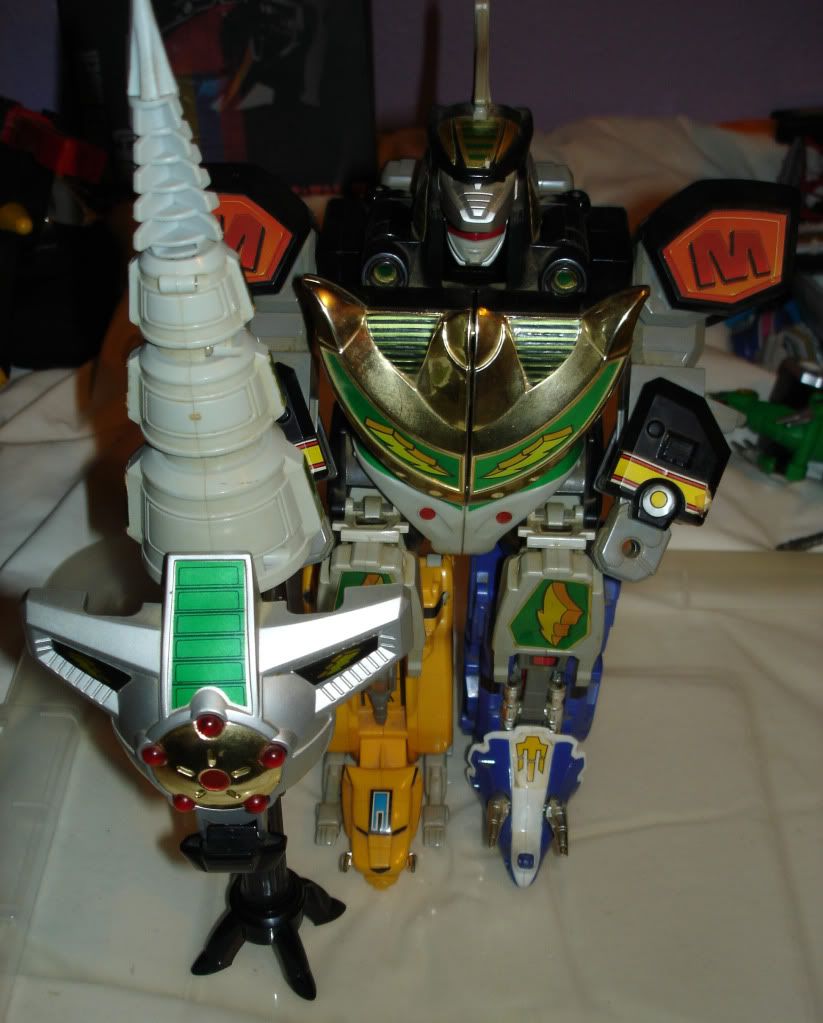 Mega Dragonzord Fighting Mode before new stickers
After

Mega Dragonzord Fighting Mode new Dragonzord stickers from reprolabels.com
An finally, here's a picture of the Ultrazord.

Ultrazord new Dragonzord stickers from reprolabels.com
This is how the US / UK release of Dragonzord should have looked! They have even made extra stickers that were not included with the original toy for extra show accuracy! For example, my original never had bands around it's tail or stickers for the horn on top of his head.
The stickers for this zord are mostly metallic and the photos do not do the shiny finish justice, they look fantastic!
Sadly, I'm told that the remaining sticker sets (Triceratops, Pterodactyl, Mastodon, Saber Tooth Tiger and Titanus) are missing some stickers. Reprolabels.com have assured us that they will release the missing stickers soon. I'm debating whether to wait till the missing stickers are released or do without them for the time being.