Posts Tagged 'Zords'
Wednesday, August 11th, 2010
Here's a quick video tour of my current collection display.
Friday, July 16th, 2010
I started a project in May to customize my MMPR Ultrazord with stickers from Reprolabels.com and I have completed the Tyrannosaurus Zord so far.
Today, it's Dragonzord's turn!
As many Power Rangers fans are aware, Bandai America changed the Dragon Ceaser (Japanese Dragonzord) stickers for the original Mighty Morphin Power Rangers toy line. This was always a disappointment to me and many other fans as the toy I wanted the most did not look as it did on the TV show (thought future western releases would see even more drastic changes from their Japanese counterparts). Many of the symbols on the Japanese sticker sheet were replaced with lightning bolts and the letter "M" including the Dragonzord coin emblems.
I really felt this ruined the toy when I discovered that my Dragonzord had lightning bolts on his feet instead of the letter "Z" I had seen on the show (though this was obviously an attempt to remove Zyuranger references for the western audience). I'll never understand why Bandai go to the trouble of changing the superior Japanese toys. Surely its easier and cheaper to use the same mold / sticker sheet?
As for my own Dragonzord, it is now 16 years old, the stickers are damaged in places and have really started to peel over the years. Also, I didn't do the neatest job of applying the stickers in the first place when I was 10 as I couldn't wait to play with Dragonzord!
Here is the finished, cleaned Dragonzord with new show accurate stickers:
Before

Dragonzord before new stickers (front)
After

Dragonzord after a good clean with new stickers from reprolabels.com (front)
Before

Dragonzord before new stickers (side)
After
Before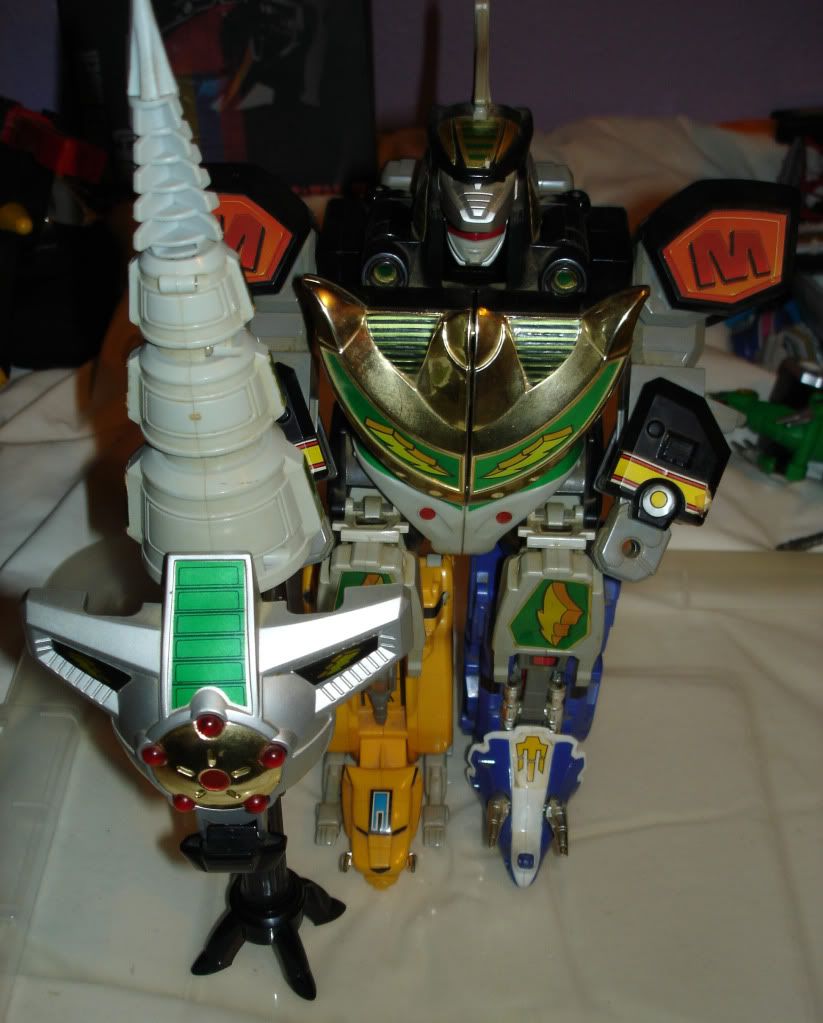 Mega Dragonzord Fighting Mode before new stickers
After

Mega Dragonzord Fighting Mode new Dragonzord stickers from reprolabels.com
An finally, here's a picture of the Ultrazord.

Ultrazord new Dragonzord stickers from reprolabels.com
This is how the US / UK release of Dragonzord should have looked! They have even made extra stickers that were not included with the original toy for extra show accuracy! For example, my original never had bands around it's tail or stickers for the horn on top of his head.
The stickers for this zord are mostly metallic and the photos do not do the shiny finish justice, they look fantastic!
Sadly, I'm told that the remaining sticker sets (Triceratops, Pterodactyl, Mastodon, Saber Tooth Tiger and Titanus) are missing some stickers. Reprolabels.com have assured us that they will release the missing stickers soon. I'm debating whether to wait till the missing stickers are released or do without them for the time being.
Tuesday, May 11th, 2010
Due to the eye pleasing success of my first toy custom, I decided to give my old zords the same tender loving care. Reprolabels.com is an excellent website, I used them many times when acquiring the necessary stickers for my last project and their stickers are show accurate, good quality and their service is excellent!
I'm starting with my Mighty Morphin Power Rangers Ultrazord and will be gradually cleaning each individual piece and will purchase the necessary replacement stickers as I can afford them (as with my morpher project).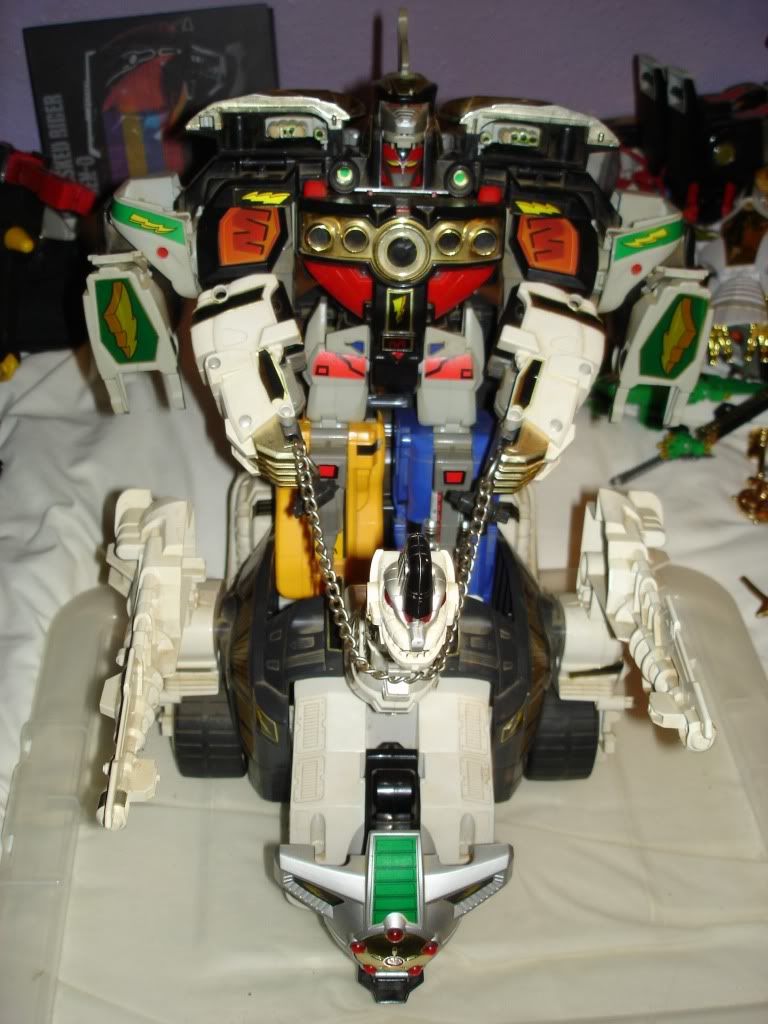 DX Ultrazord
First here some history on my Ultrazord for those who don't already know. I got all my MMPR Zords when I was a kid during the original run of the toys and show. In the UK, Toys R Us were the only shop that had any Power Rangers toys left in stock during the lead up to Christmas! Queuing started at 7:30am and, in an attempt to prevent crazy and unfair buying from desperate parents, each customer was allowed only one item! I queued with my Mum the first day and we got the Megazord that was intended for my birthday (day before Christmas). My Mum has always been good with Christmas presents but she must have queued up another 10 days in order to get the complete set that I ended up getting for Christmas. I was touched by this gesture even as a wild eyed kid desperate to open my presents and was a bit overwhelmed at how she had got all the toys I asked for given the magnitude of the show at the time and difficulty in finding the toys. Thanks Mum!
I left the fandom for a while shortly after the the first few episodes of Power Rangers Turbo. I wrapped all of my old toys up very carefully and stored them in the attic. Imagine my delight when my passion for the show and collecting started up again 10 years later and I remembered the Power Rangers treasure trove in my attic.
Sadly the attic had not been ever so kind to my toys and many of the stickers were peeling and they were in dire need of a good clean. Titanos is particularly in need of cleaning as he is mostly white plastic. So it's time to restore them to their former glory.
Reprolabels have release three sets of replacement stickers for the original Megazord. Tyrannosaurus, Mastpterzord (Mastodon and Pterodactyl) and Trisaberzord (Triceratops and Saber Tooth Tiger).
First up is my Tyrannosaurus Zord!
Before

Tyrannosaurus Zord before new stickers (front).
After

Tyrannosaurus Zord after a good clean with new stickers from reprolabels.com (front)
Before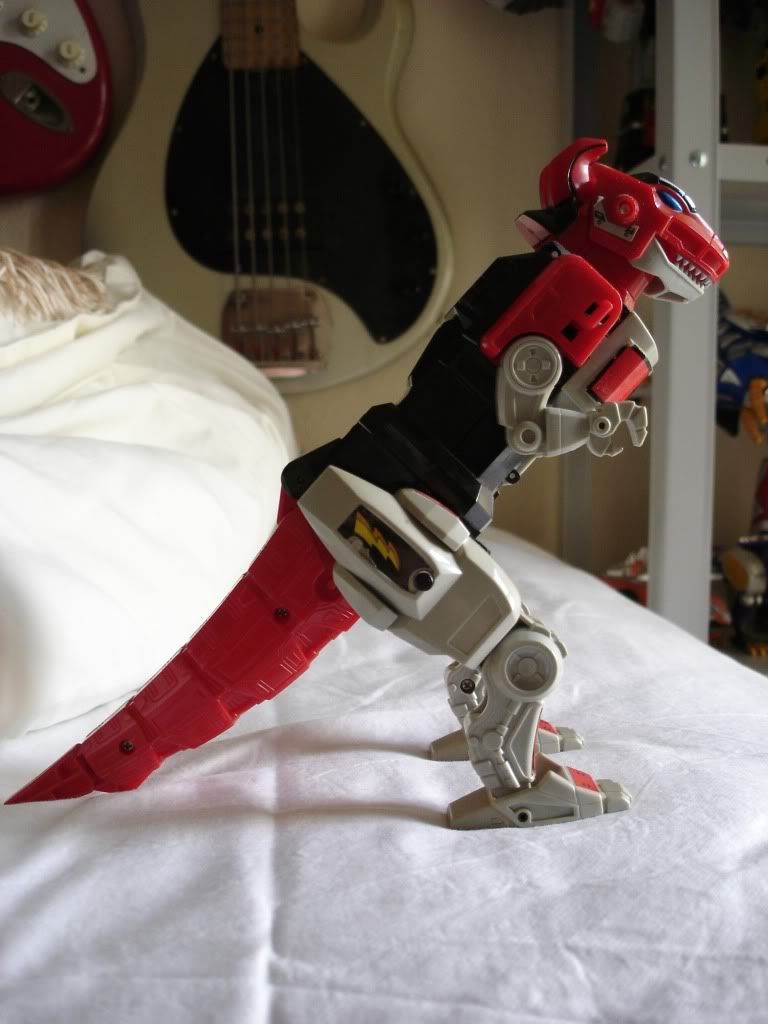 Tyrannosaurus Zord before new stickers (side)
After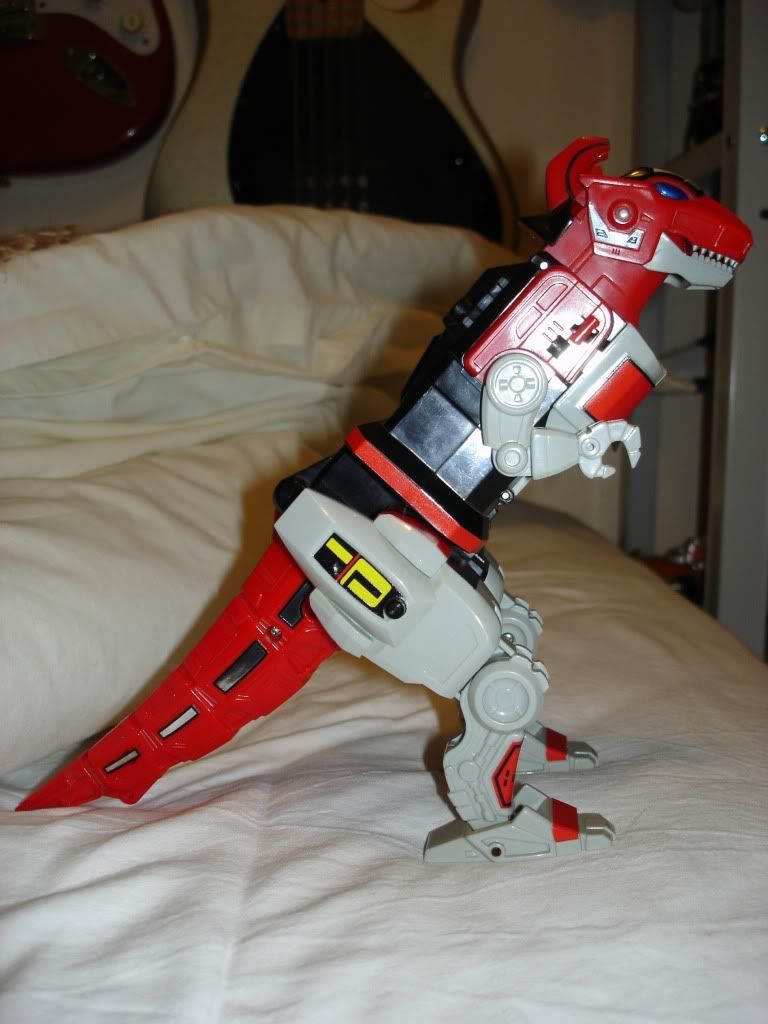 Tyrannosaurus Zord after a good clean with new stickers from reprolabels.com (side)
I'm really pleased with the overall look of the stickers for this zord. They have even made extra stickers that were not included with the original toy for extra show accuracy! For example, I'm fairly sure my original never had tail stickers or stickers on his waist or backs of the legs. I would post another pic of the Ultrazord but, aside from his legs, the overall look has not changed that much. Now I'm debating whether to finish the Megazord (sadly there are stickers missing from the other Megazord sets) or move onto Dragonzord (as his sticker set is complete).
As before, I'll be sure to post pics of the finished product as and when :).
Sunday, May 9th, 2010
Those of you that have been following my blog will know that I've had to keep most of my beloved collection in plastic storage boxes since I returned to collecting in 2004. Since I've been redecorating my room, I decided it was time to display (and enjoy) as much of my collection as my small room will allow. I'm also worried about things getting damaged in the storage boxes and also I'm not really appreciating each piece properly (and I should as it's cost me thousands. I still don't think I'll be able to have the lot on constant display but I'm slowly adding new shelves and breaking stuff out of their storage boxes.
Here's my newest shelf: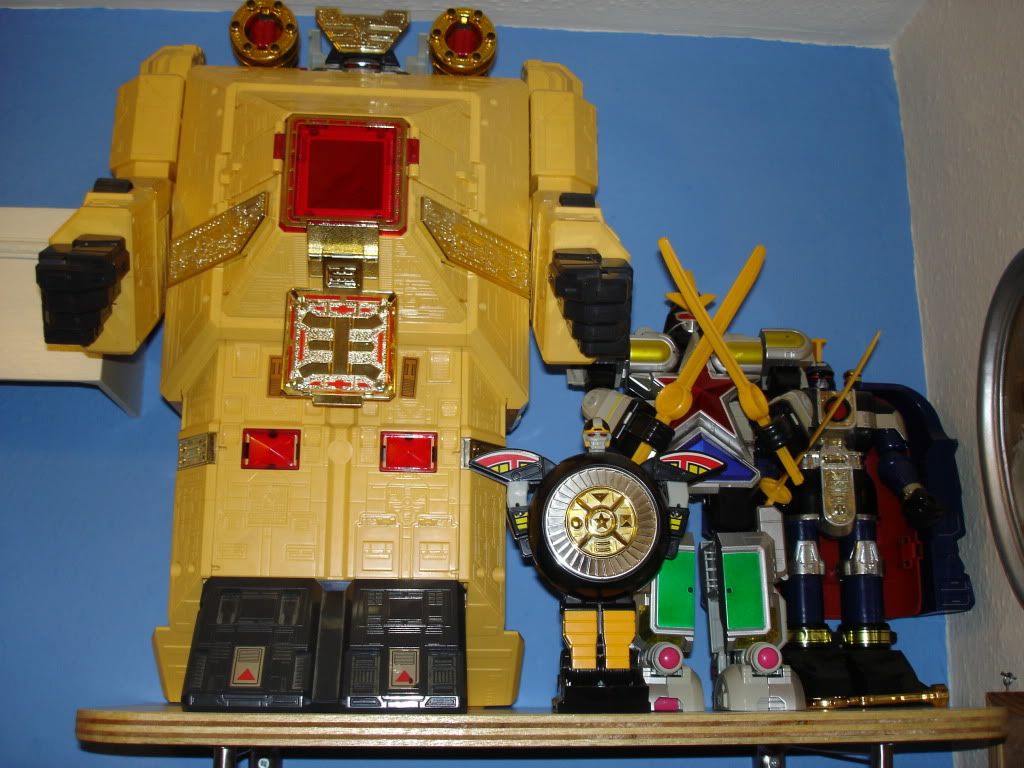 DX Zeo Ultrazord, DX Super Zeo Megazord, DX Auric the Conqueror and DXWarrior Wheel.
I couldn't fit the Zeo Ultrazord on the other display shelves I got in january because it is too tall. So Zeo has it's own shelf due to the height!
This now gives me a free shelf on my shelving unit and I can now also space the contents out a little more:


DX Ultrazord and DX Thunder Ultrazord.

DX Ninja Mega Falconzord, DX Shogun Megazord, DX Ninjor, DX Galaxy Mega (Japanese Astro Megazord) and DX Ninja Storm Megazord.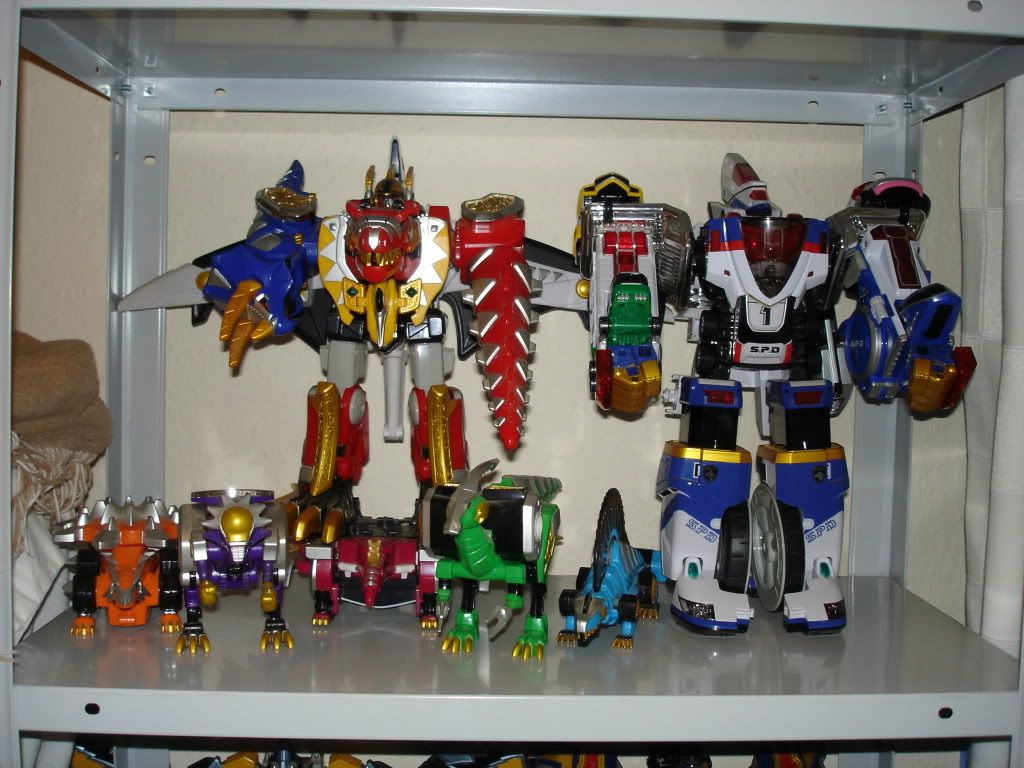 Valkasaurus Megazord (sort of), Japanese Anklozord and Cephlazord, Amercian Dimetrozord and Parasaurzord and DX Super DekarangerRobo (Japanese Deltamax Megazord).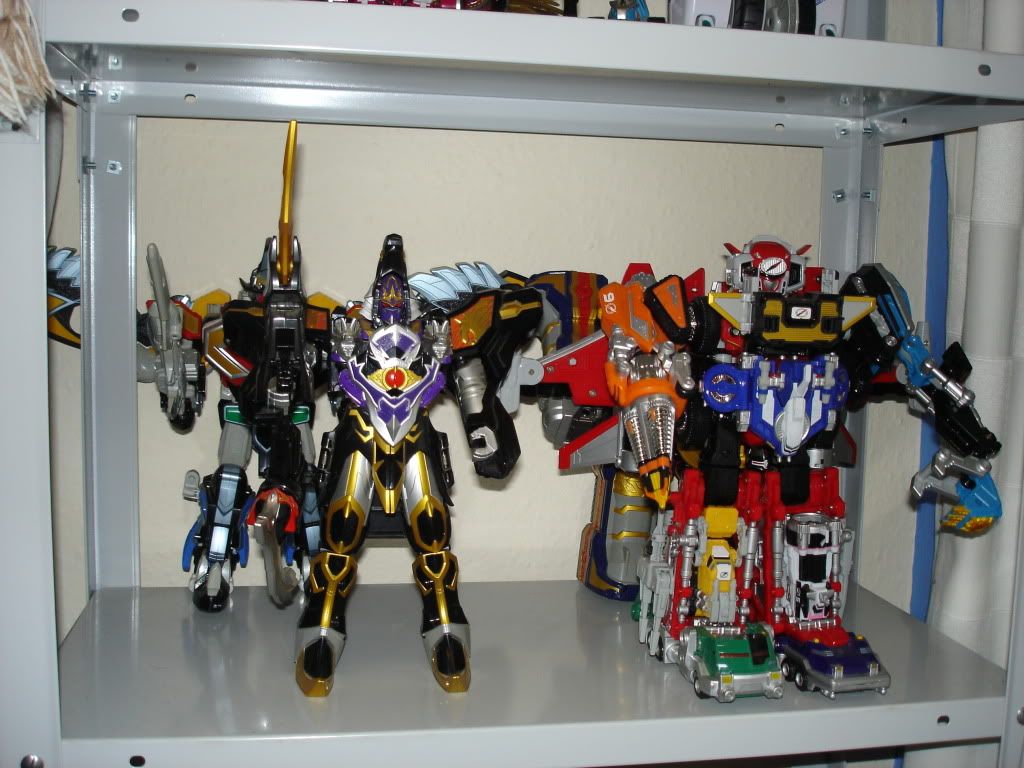 DX MagiKing (Japanese Titan Megazord), DX Wolkaizer (Japanese Centaurus Wolf Megazord), DX Travelion (Japanese Solar Streak Megazord) and DX Ultimate Daibouken (Japanese DriveMax Ultrazord).
I'm working on some smaller, thinner shelves for all my Power Rangers Figures and Kamen Rider Souchaku Henshin Figures. I'll be sure to post pics once they are up.
Friday, December 25th, 2009
Here's my Christmas Haul. With the Jet, Shovel and Crane I got for my birthday yesterday, I can finally make Ultimate Daibouken. Wanted to get the Boukenger Mecha last year but I wanted to focus on earlier seasons at the time. When I saw what a mess BoA made of the Boukenger Mecha, I knew I was gonna have to import. Seems I lucked out by waiting though as I got all the necessary vehicles to make Ultimate Daibouken for half the price it was going for last year 🙂
Merry Christmas Everyone!

DX Daibouken (MISB)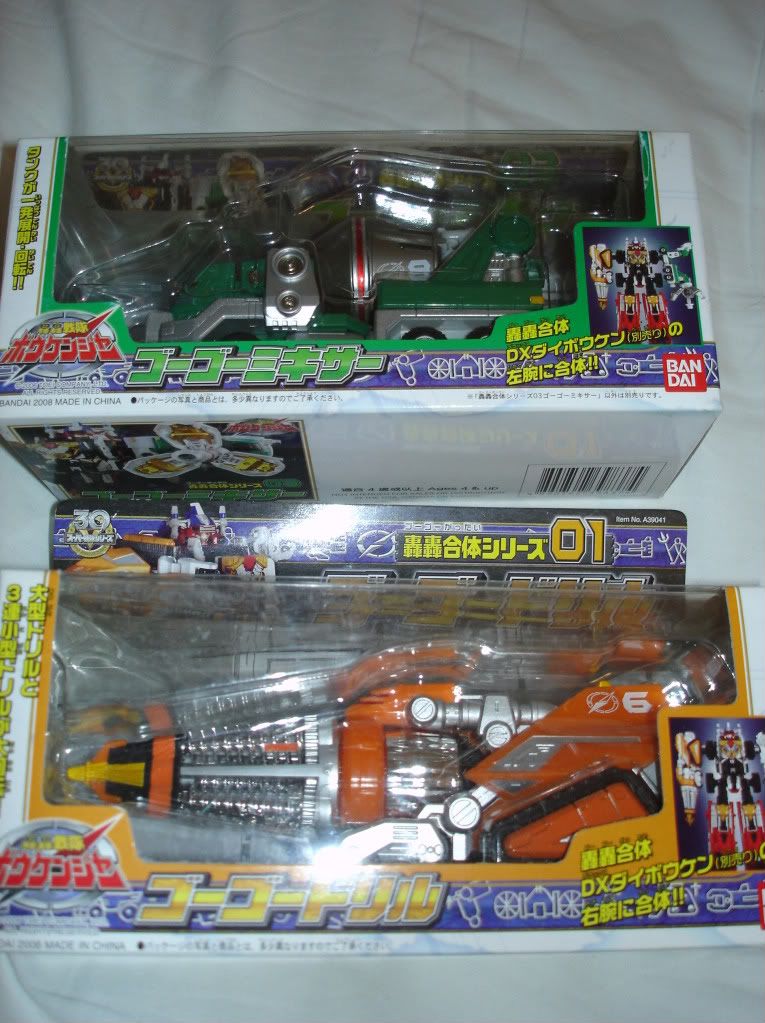 DX Go Go Drill and Go Go Mixer (MISB)

The Core 5 DX Go Go Vehicles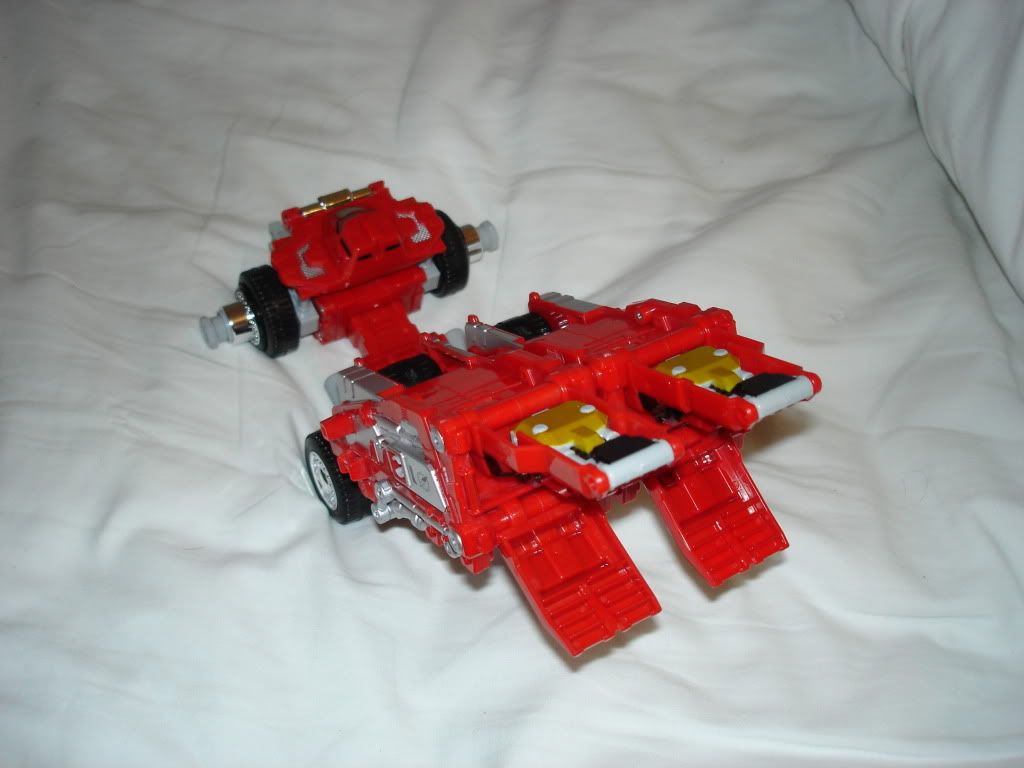 DX Go Go Dump (Claw Mode)

DX Go Go Trailer

DX Daibouken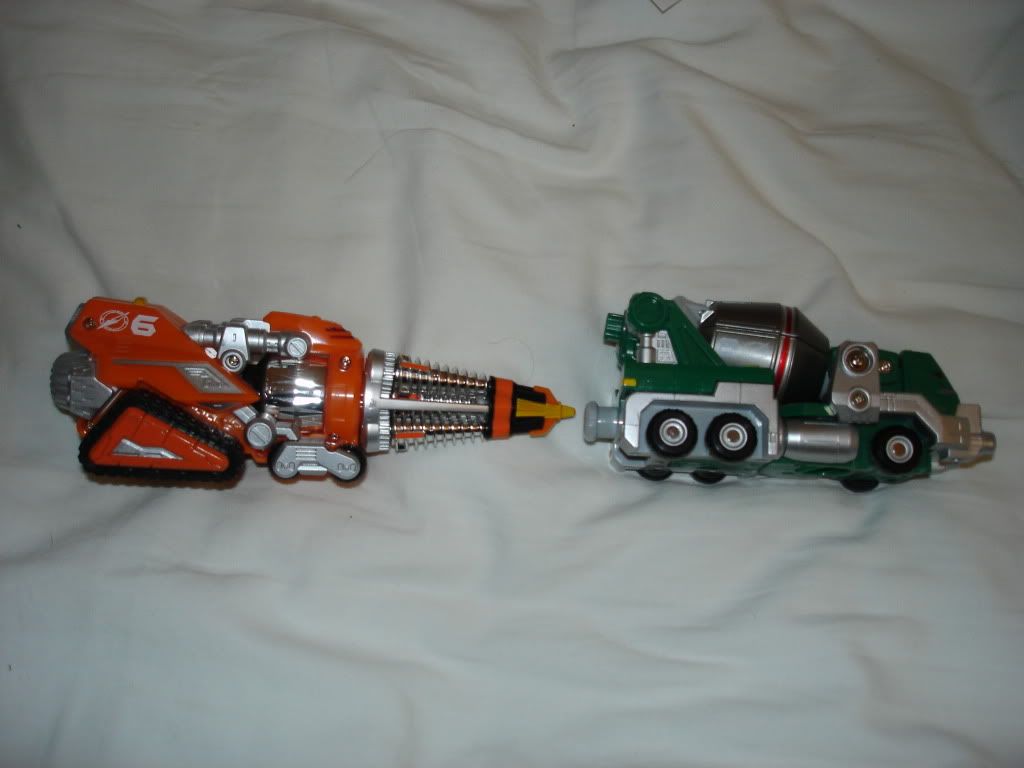 DX Go Go Drill and Go Go Mixer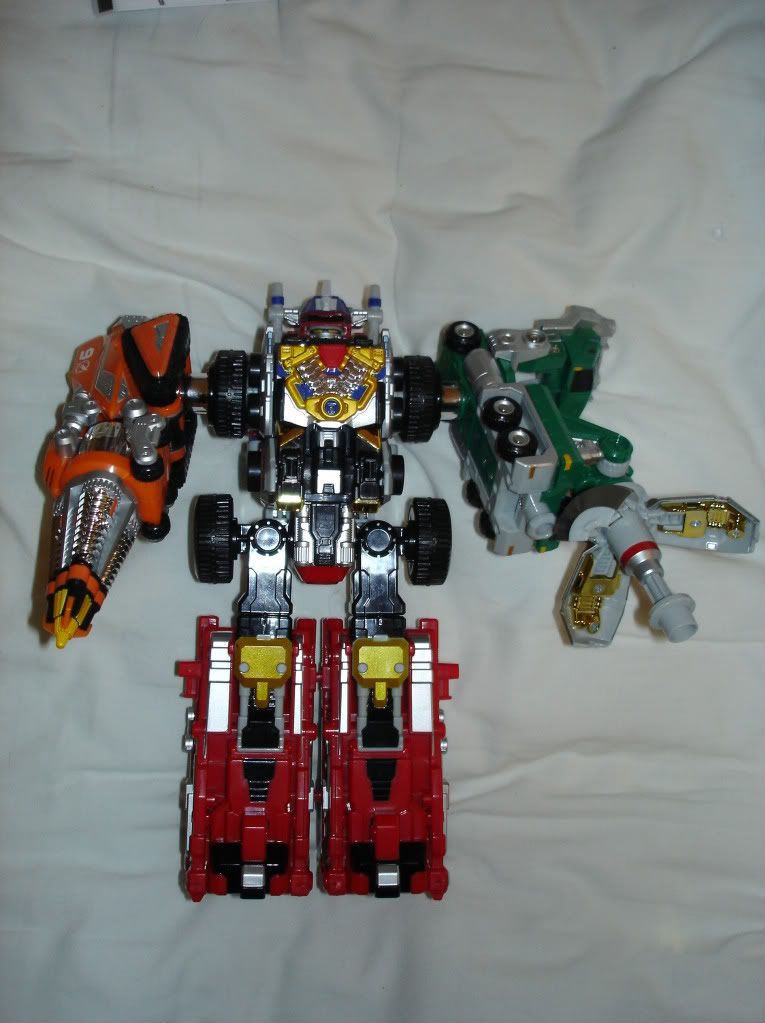 DX Daibouken Drill and Mixer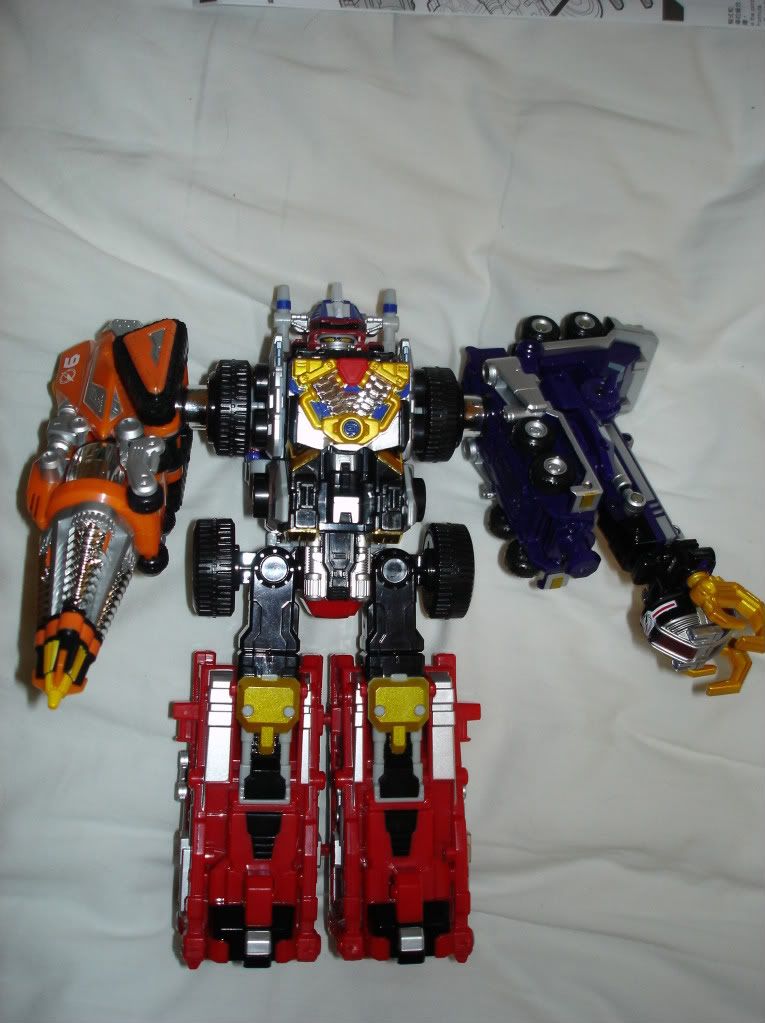 DX Daibouken Drill and Crane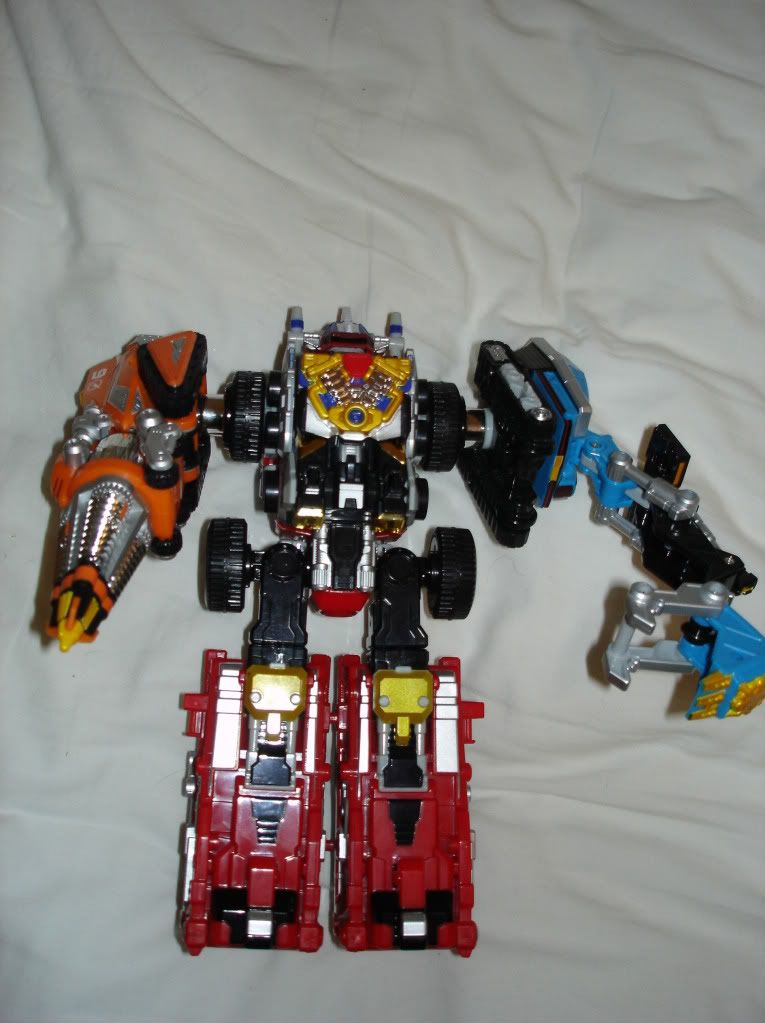 DX Daibouken Drill and Shovel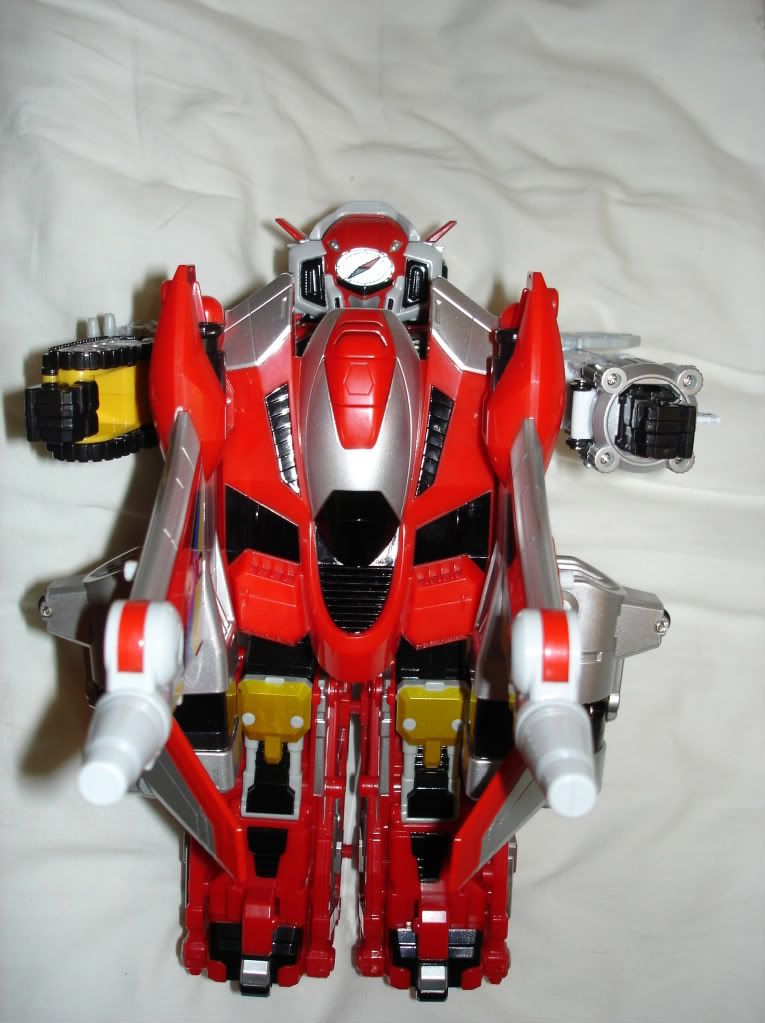 DX Daibouken with Go Go Jet (not sure of the name of this combination)

DX DaiTanken

DX Super Daibouken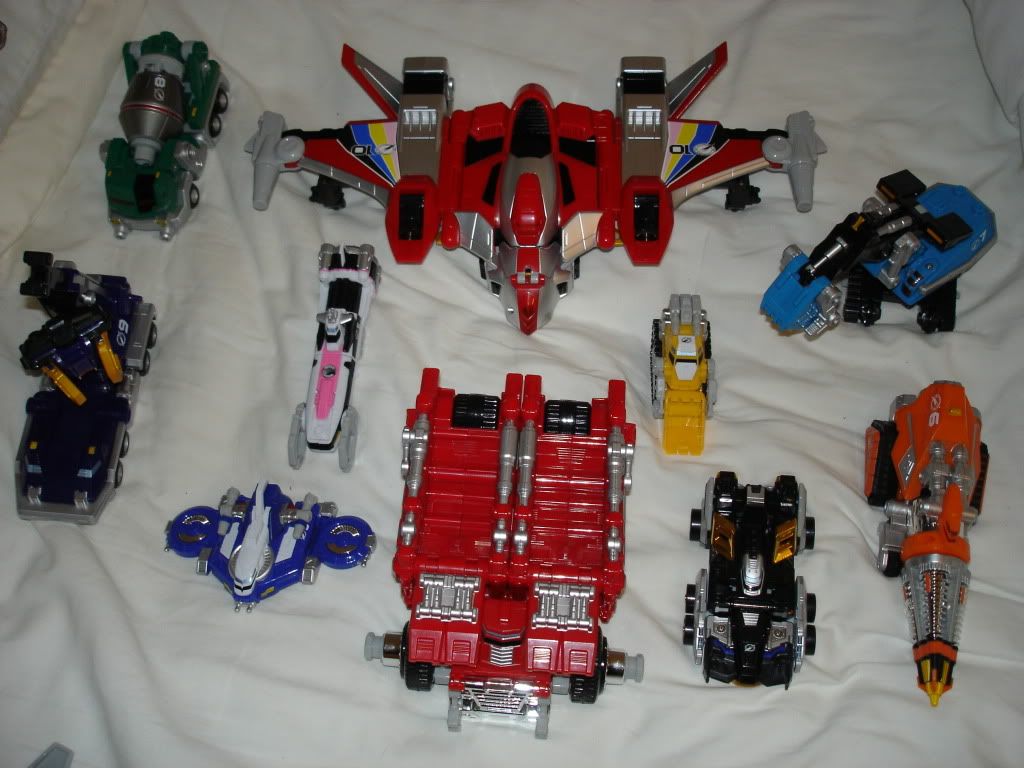 All 10 of the DX Go Go Vehicles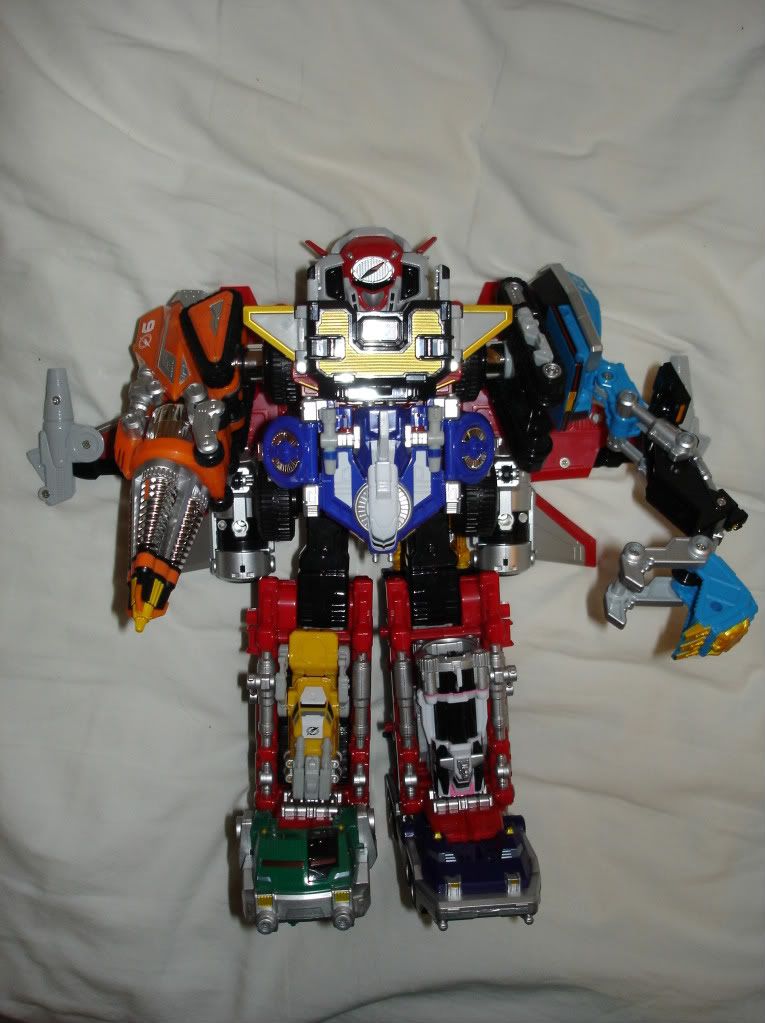 DX Ultimate Daibouken
Monday, December 29th, 2008
Just been cleaning out my room and thought I would take some pics. Here"s just a small sample of my collection, a lot of stuff (mainly Power Rangers) had to be put into storage as my small room only holds so much toku :(. Heres what I currently have on display, forgive the crappy phone quality pictures:


My almost complete Kamen Rider Den-O Souchaku Collection with Seig and DenLiner in the background. Still need to get the new Climax Form and I want another Zeronos so I can display Vega Form too!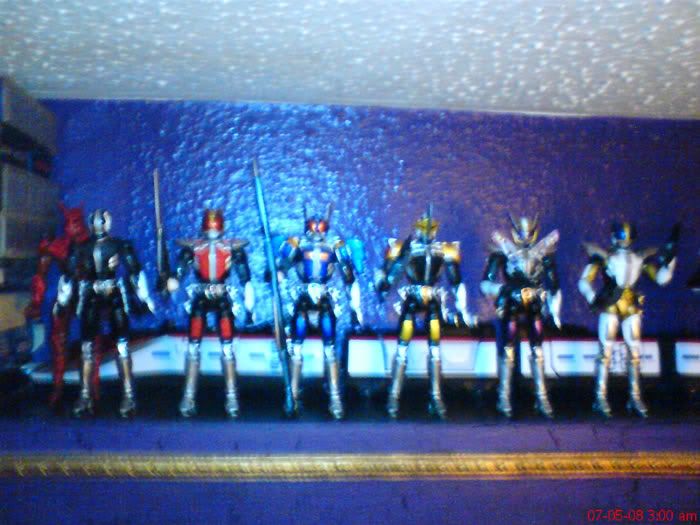 Close up of Den-O Forms

Close up of Liner Form, Zeronos' Forms and Seig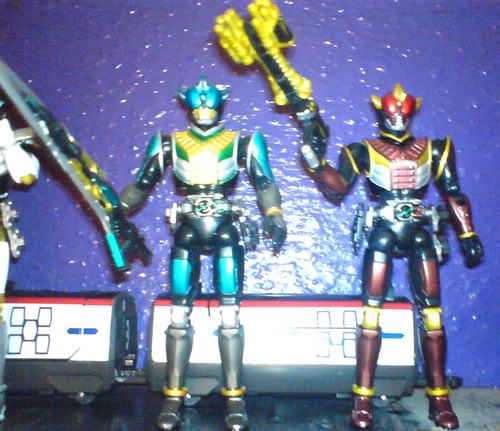 Better pic of Zeronos' Forms. Ive changed zero forms pose since as he fell of the shelf a few days ago and all the small parts were all over my floor. Was gutted as I only just got Zero form. Thankfully no apparent damage done in the fall.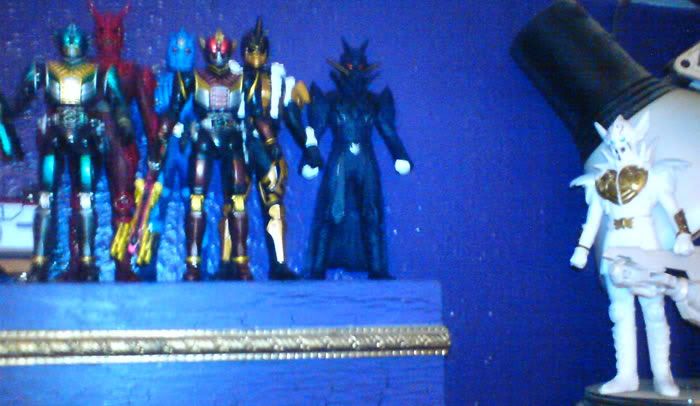 Already had Sieg and the Zeronos figures but just got RH figures of Momotaros, Urataros, Kintaros and Ryutaros. Damn, why didn't they release Deneb 🙁

Some Magiranger Mecha, Zeo Ultrazord, Orphenochs and my shiny Megaranger chokogin figures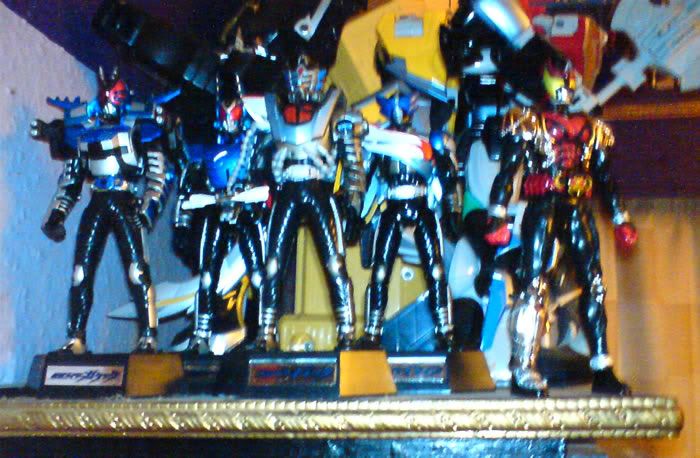 Gatack, Drake and Kiva Souchaku Figures

Random figures and zords. Original Ultrazord, Dinothunder zords, Abaranger auxillery mecha, Thunder Megazord. (Behind the dinothunder zords are Ninja Megazord, Shogun Megazord and Tigerzord)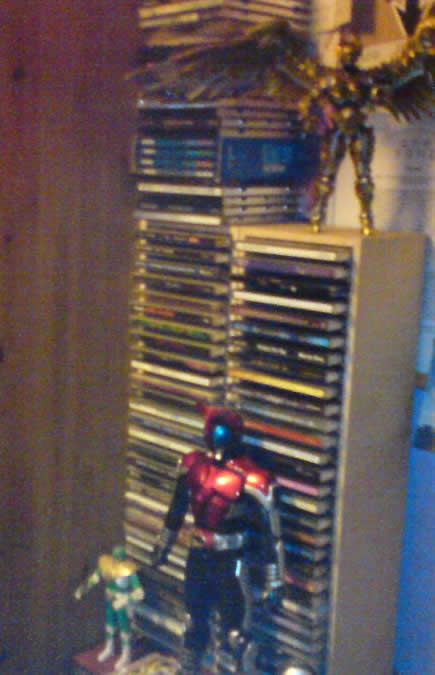 Garo Equip and Prop Vol. 7, DX Cast Off Kabuto and Red, Green and White Auto Morphins

Close up of the rangers. I'd forgotten how shiny these were when brand new MOC. My old auto morphins looked too rough for display but these new ones are perfect.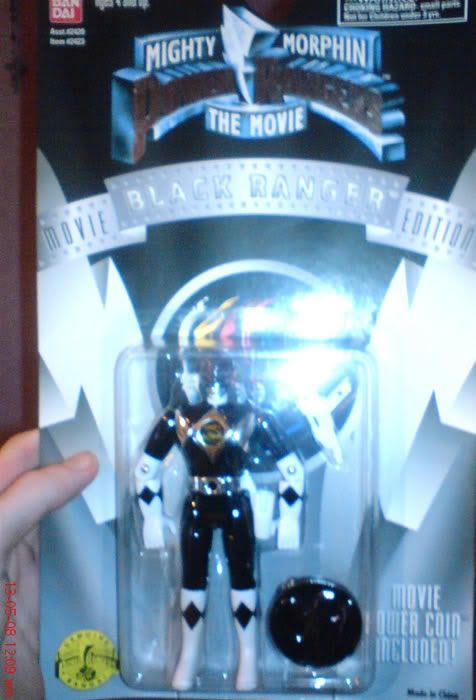 I have decided to get all 6 of these as well as my regular auto morphin collection so I got this one as he was the cheapest.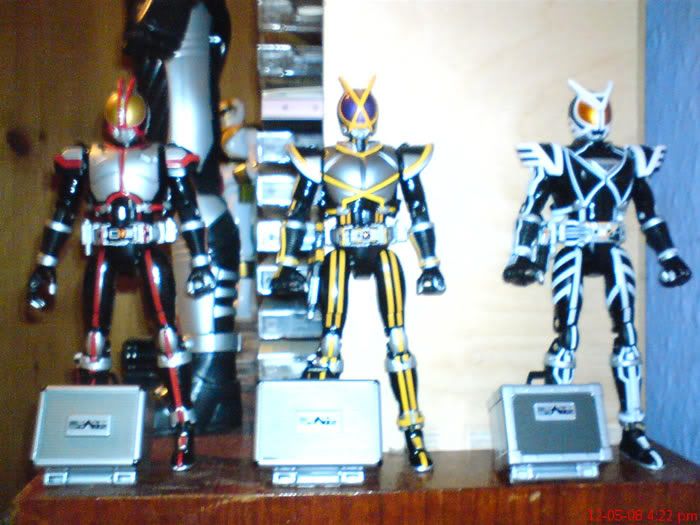 Delta finally came today, now I have completed the Faiz series. Wondering whether to bother with the movie riders.

Close up of DX Cast Off Kabuto.

Garo toys are very photogenic.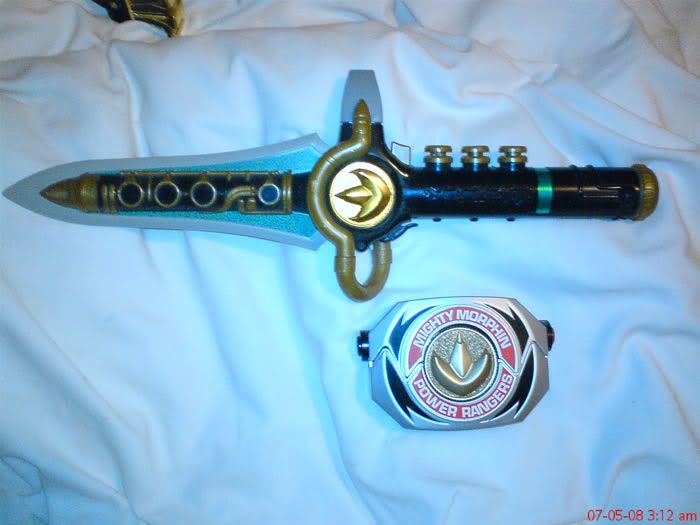 My Dragon Dagger and Green Ranger Morpher (yet to be painted gold).

My Green Ranger Morpher again. Coins by Buzzs Room on ebay/rangerboard.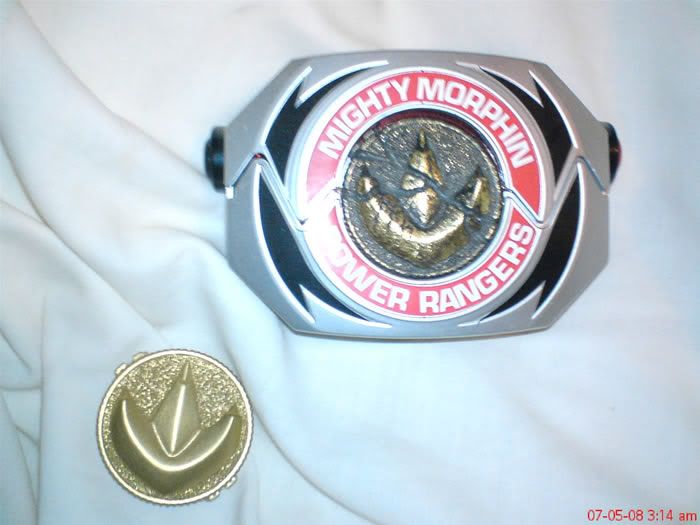 Buzz Room also makes cool Battle Damaged version of the coins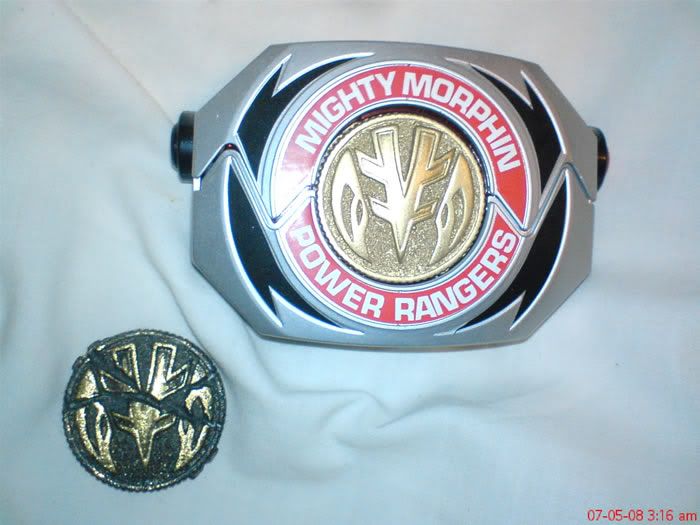 Same Morpher but with the Tigerzord Coin…

…and also the Battle Damaged version

My Blade Souchaku Figures, 6 Power Morphers (need to paint one gold) and dragonzord/tigerzord coins from from the awesome Buzzs Room.

Close up of Blade Souchaku Figures

My full morpher collection. The one at the back with the green coin is my battered, sticker missing, well loved original from 1994 and the others I bought MISB last year.


Finally my henshin belts (not bad considering I only discovered the kamen rider franchise a year ago). DX Faiz Driver, Faiz Pointer, Faiz Shot, DX Kabuto Zecter, DX Den-O Belt, Den-O Gold Pass, Den-O Cellphone Keitaros and my two newest additions, DX Blay Buckle and DX Kivat Belt
If you like these, I'll try to take some pictures of the rest of my collection soon.